Description
How to choose wisely from among a sea of available storage containers? Did you know that not all plastic containers are the same? It doesn't always pay to buy cheap! See the qualities of Status's set of smaller food storage containers.
A purchase that pays off through the years
Choose high-quality food storage containers that will serve your household for years to come. The main advantage of Status containers over the competition is their high-grade materials that don't adopt the colours or aromas of the stored foodstuffs. This is why they can preserve their original sheen and integrity even after several years of use.
The topmost advantages of Status food containers:
The containers are transparent, so you can easily keep inventory of your stored items, even when your cupboards are filled to the brim.
You can use them to freeze-store food and then reheat it in the microwave. This also means fewer dirty dishes to wash afterwards.
Their square shape enables the best possible use of space in your refrigerator and kitchen cabinets.
The containers have been developed and are made in Slovenia – their modern design is the work of industrial designer Tomaž Gorjup.
Our lock containers seal tightly; their excellent silicone gaskets ensure food will be transported safely.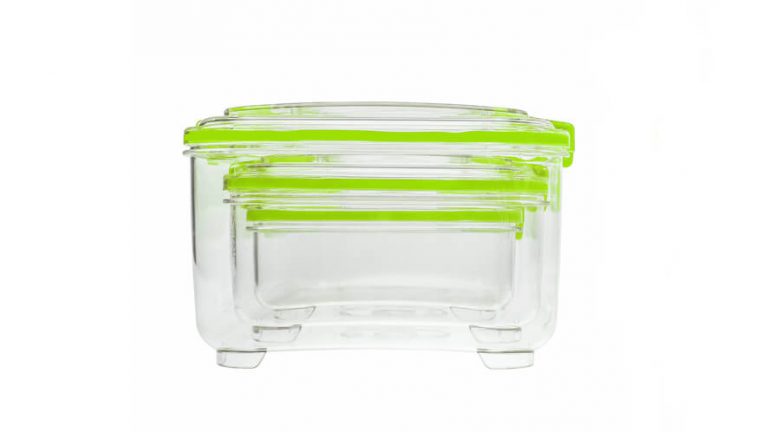 Use our 3-piece food container set at home or on trips
Plastic food containers are excellent for organising your pantry and storing your snacks on long trips. The containers seal tightly, which makes them safe for transporting food. The Status Set of Smaller lock Containers is made up of three containers with the capacities of 0.75, 1.5, and 3 litres.
Use the smallest container to store:
grits, sugar, and other granulated foods,
sweet and salty snacks,
baked goods and sandwiches,
leftover meals and sauces.
Our mid-sized 1.5-litre container is intended for storing:
slices of bread, cold meats and cheese,
sliced fruits and vegetables,
biscuits, and
leftover meals.
The largest 3-litre container works great for storing:
whole fruits and vegetables,
larger pieces of bread and dried meat products,
packed lunches for the whole family, and
many other things.
Their high-quality materials don't adopt the stored foods' aromas or colours.  So you can use the same containers to store biscuits or fruit after they've stored aromatic foods (onions, garlic) or foods of strong colours (tomato sauce, pesto), without passing on any unpleasant smells.
Materials
Status lock containers are made of high-grade SMMA plastic, which is Bisphenole A-free and food-safe certified. The handles are made of ABS plastic and the gaskets are silicone. The quality of the materials guarantees several years of use.
We guarantee quality with a 3-year warranty period
Our containers and other accessories are under a 3-year warranty. For detailed information contact your local retailer of Status products.
Cleaning
Wash the containers by hand or in a dishwasher using standard dishwashing products.