Description
Do you need handy food storage containers to take on trips and use in your refrigerator and kitchen cabinets? Consider Status lock containers; they are made of high-quality materials, which guarantee years of use.
Smaller storage containers with a capacity of 1 litre
Status storage containers are also known as lock containers because foodstuffs in them are locked tight and safe from external influences. Use them to store foodstuffs every day:
smaller slices of bread and baked goods,
leftover cheeses and cold cuts,
sliced vegetables and fruits,
dried fruits and nuts,
flour, polenta, sugar etc.
Also use food containers when travelling – store your sandwiches and snacks; their light materials and tight seal guarantee that your containers will be very practical to use.
What makes Status containers better than the competition?
The advantages of Status food containers are:
they're made from high-quality materials that don't take on the aromas or colours of stored foods;
they're transparent making it easy to tell what's inside;
they're designed to make good use of the available space (square angles fit well into drawers and kitchen cabinets);
their special lids and bottoms enable them to be stacked on top of each other when full, and inside each other when empty;
you can use them for freeze-storing and microwaving.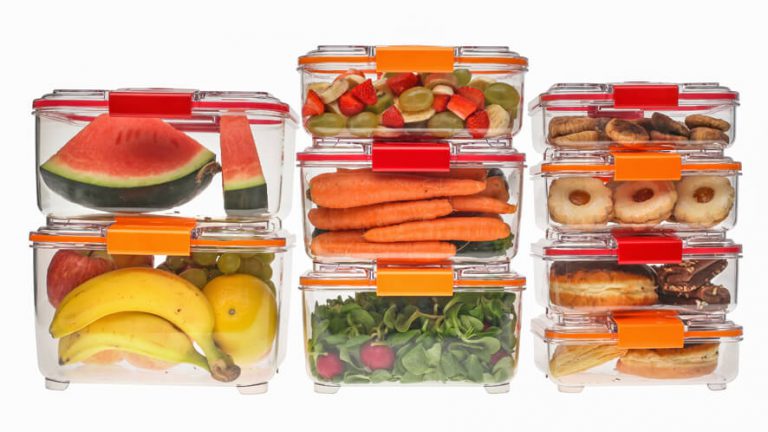 The Status one-litre storage container
The measurements of our one-litre container:
length: 18.5 centimetres,
width: 15 centimetres,
height: 8 centimetres.
An empty one-litre container can be stored in the two-litre container, while a full one can be placed on top of the 0.75-litre container.
If you need more storage containers we recommend getting our Set of Bigger Food Storage Containers that won't take up a lot of space in your kitchen drawers, because the empty set will fit in the largest container.
Materials
Our storage containers are made in Slovenia using SMMA material, which guarantees quality and safe use with food (BPA-free). Unlike certain storage containers made by our competition, it doesn't take on the colours and aroma of food. The handles are made from ABS plastic and the gaskets are silicone.
Cleaning
The quality of their materials make the containers easy to wash by hand or in a dishwasher.