Description
Are you disappointed with ordinary storage containers because they always get stained forever from storing leftover meals and aromatic foods, so you can't use them for other more delicate foodstuffs?
Why choose Status storage containers?
Status lock containers are developed and made in Slovenia. They were designed by industrial designer Tomaž Gorjup. Their main advantage is that they are made using high quality materials, which guarantee several years of use, because:
They don't take on the aromas and smells of stored foods – this means that you don't have to have one container for tomato sauce and a different one to pack sandwiches for your trip.
Due to their well thought-out design they make good use of the space in your kitchen by stacking on top of each other or fitting inside one another. This is possible because of their rectangular shape, specially shaped lids and bottoms, and the same width and length of different volume containers.
They are transparent so you can easily and quickly tell what they're storing; imagine how organised your refrigerator and pantry will be if you store your foodstuffs in the containers and stack them on top of each other.
You can use them in the freezer, refrigerator, microwave and wash them in the dishwasher; one container will be enough for storing and reheating leftovers.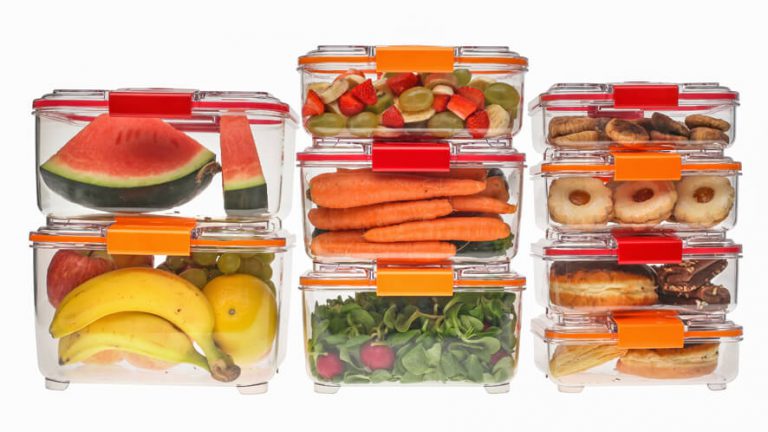 The three-litre storage container is our second largest container
The measurements of the 3-litre container:
length: 24 centimetres,
width: 20 centimetres, and
height: 13 centimetres.
The 3-litre container is suitable for storing larger food items
Store:
carrots, tomatoes, leaf lettuce, onions, etc.;
peaches, grapes, sliced watermelon, apples, and other fruits;
bread, croissants, sandwiches, and similar snacks;
Olivier salad, cooked pasta, and leftover meals.
The three-litre container has the same length and width as the four-litre container so they can be stored on top of each other. The smallest 0.75-litre container and the mid-sized 1.5-litre container will fit inside it too. Choose the set of smaller containers and save on your purchase.
Materials
Our storage containers are made from SMMA material, which is BPA-free and guarantees years of use and simple cleaning. The handles are ABS plastic and the gaskets are silicone. All the materials used are food-safe.
Maintenance
You can wash our plastic containers by hand or in the dishwasher using standard dishwashing products.