Description
Do you need a food vacuum-packing machine to occasionally store smaller quantities of home-grown vegetables you got from your relatives? Are you looking for a compact vacuum packer you can simply put in a drawer, when you're not using it? Or do you perhaps want to safeguard non-food items from humidity, and you have no need for additional functions such as vacuuming containers?
The Minivac food vacuum-packing machine is the best choice when you don't vacuum pack often, but you still don't want to compromise when it comes to storing your foods. You feel it's important that the vacuum sealer machine does its job to a high standard, and doesn't take a lot of space in your kitchen.
Why vacuum pack?
By storing food in vacuum pouches you prevent oxygen from coming into contact with your food, causing it to oxidise and thereby rot, go mouldy, or lose its aroma and taste. Vacuum storing foodstuffs is the best option, when you want to protect the food from spoiling, but you don't want its taste to change like it does with pickling vegetables or cooking fruit preserves. Not only does vacuum storage extend the food's shelf life for up to four times, it also preserves its nutritional value much better. What this means for you is that, in addition to throwing less food away, you are also consuming better foods with higher vitamin content.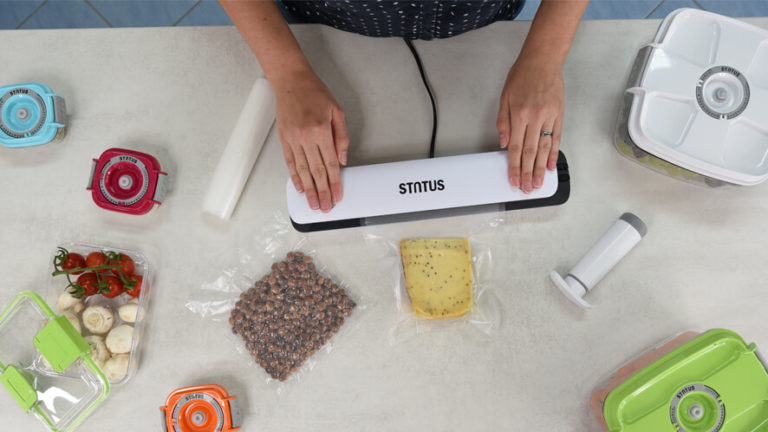 How to best store home-grown fruits and vegetables?
Vacuum pack home-grown cherries and plums to evoke your summer memories in the winter by making delicious fruit pastries or smoothies. The abundance of vegetables grown by grandma in her garden in the countryside is a proper treasury of vitamins that your body needs in the cold days of winter. Make the most of the advantages of vacuum and store the valuable home-grown produce to a high standard. In Status vacuum bags, grandma's vegetables and grandpa's dry sausage will retain their full nutritional value and aromas, which will rekindle your childhood memories of when you spent your holidays in the countryside.
Minivac Vacuum Sealer: the smallest food vacuum packing machine
Minivac Vacuum Sealer also lends itself well to use at cabins, vacation houses, or weekend retreats. The appliance's compact shape makes it easy for you to take anywhere, and when you're done using it, simply put it in the drawer, where it will await the next parcel of home-grown goodies from the countryside.  
The Minivac Vacuum Sealer can be used to store all kinds of foods
In spite of its mini design, the Minivac vacuum packing machine offers both the automatic and manual vacuuming functions, so you can vacuum store soft and wet foods as well as dry and firm foods.
Use the automatic vacuuming function to store dried meats, nuts, beans, carrots and the like. Place the bag in the vacuum channel, press the "VAC Seal" button and the machine will vacuum and seal the bag automatically. The vacuum packed foods are now kept safe from spoiling and losing their aroma, and ready to be stored in the pantry or freezer.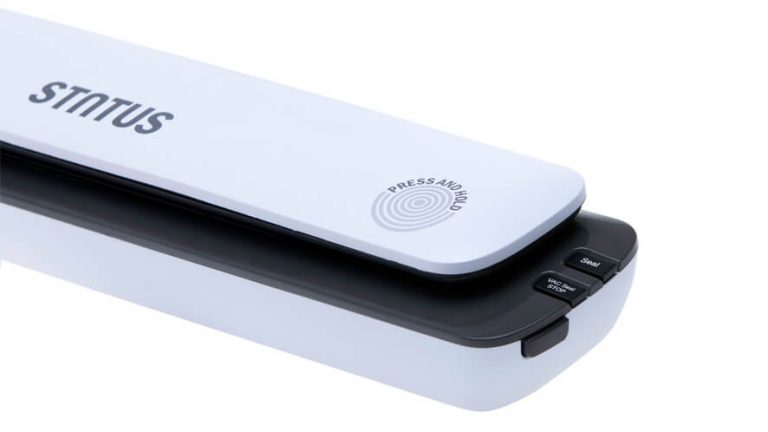 The manual vacuuming function will prevent soft and wet foods from getting damaged as well as preclude any liquids making their way into the machine. Place the bag containing the food into the vacuum channel and press "VAC Seal". Observe the vacuuming process carefully; when you notice liquid flowing towards the machine, stop the air extraction by pressing the "Seal" button and the machine will seal the bag.
Vacuum-packing made even simpler
Minivac vacuum sealer is simpler to use because it has no locking mechanisms; you just need to press down at the points indicated on the lid. This means you have one task less to perform when vacuum packing your foods.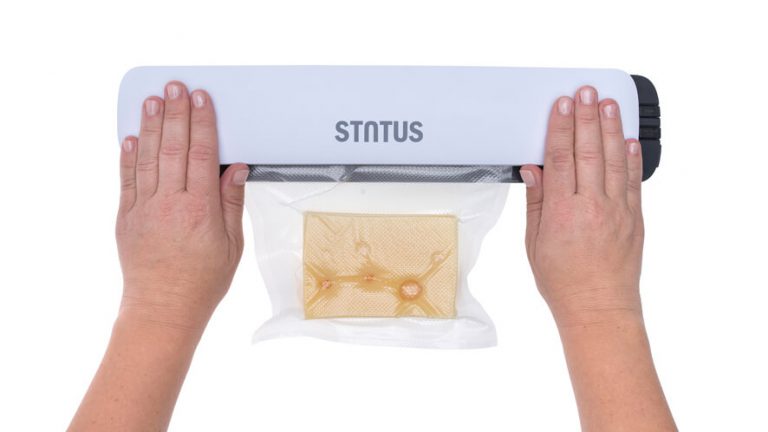 Easier bag placement bag and shorter unused ends 
Use the Status Stiki double-sided adhesive tape to make placing the vacuum bag in the vacuum channel easier. The bag will stay put and you won't have to worry about creasing during the vacuuming process.