Description
Are your kitchen drawers also filled with various accessories you used once only to determine they don't achieve the desired results? Blades that dull quickly and impractical handle shapes that turn preparing vegetables into proper torment.
Which peeler to choose?
For fast and safe kitchen work you need high-quality accessories that will make food preparation easier and stay operational for years to come. They don't need to be expensive and feature countless functions; what's most important is that their blades and housing are made of high-grade materials and that they're easy to use and clean.
The Fruit and Vegetable Peeler is the fundamental accessory for every household. You use it to peel all sorts of fruit and vegetables including those with softer skins, such as tomatoes, kiwis, or persimmons.
What makes Status peelers so sharp?
The exceptionally high-quality blade is our peeler's greatest advantage over comparable products. It's made of stainless steel and sharp enough to peel a pineapple. Because the blade is serrated it can also easily peel soft fruits and vegetables.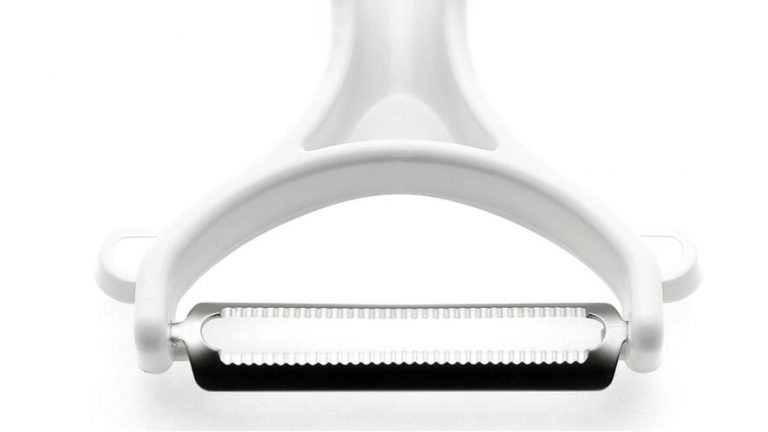 A peeling blade design that gets the job done much faster
Our peeler's blade is designed to peel in both directions. You can peel a carrot or other vegetables by sliding the peeler back or forth. To get it done faster, use a combination of both.
This at first glance truly simple accessory, also features the hidden option of adapting the thicknesses of peeling. By adjusting the angle of the peeler relative to the food item you are setting the thickness of the peel you are taking off. What this means for you is that you won't peel away too much of the fruit's or vegetable's flesh. When peeling thicker skins simply hold the peeler more upright.
Our potato peeler also features added side loops intended for quickly removing imperfections from food items (for example eyes on potatoes or apples).
An apple peeler you can also use to decorate desserts
Chocolate curls are easier to make than you think. All you need is a piece of good chocolate and a peeler. You can also use the peeler to add that final touch to your pasta. Slices of parmesan cheese will make your simple pasta dish look like it was prepared at a high-end restaurant. Slice carrots, zucchini, cucumbers etc. thinly for your salad or cold appetisers. Slices this thin are practically impossible to achieve with an ordinary knife.
A y-peeler with a special handle
In addition to an exceptionally sharp blade, our peeler is also distinguished by a special ergonomic handle that fits perfectly in any hand. The firm grip of the handle ensures pleasant and efficient peeling of all sorts of vegetables and fruits while at the same time minimising your chance of cutting yourself. What's more, experts confirmed that our peeler is also suitable for people with achy joints.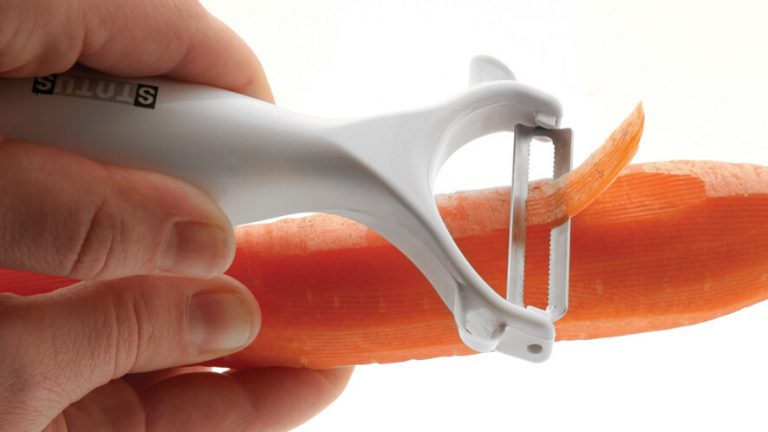 How do I clean the peeler?
Our peeler is simple to clean; just be careful not to cut yourself. It can be washed under running water. Some users even claim they wash it in the dishwasher and it doesn't affect its sharpness. The peeler is made with select materials that ensure pleasant handling and years of use.
DID YOU KNOW! We are sourcing the blade material from technologically advanced Japan.
Choose you colour of our peeling accessory to make the preparation of potato dishes more colourful
Among our colourful selection of peelers, you are sure to find one that will fit with the colour of your kitchen cabinets. Get another one for your weekend house because once you've experienced how easy peeling potatoes can be, you'll never again go back to the hassle of using an ordinary paring knife.
The most frequently chosen business gift
Choose the Status peeler as a gift. Its practicality will satisfy the strict standards of experienced homemakers, make life easier for working mothers, and delight all new gourmets, who only recently began to dabble in their kitchens. The Status vegetable and fruit peeler is also the most frequently chosen business gift in our selection.
Status's quality assurance
The quality of kitchen tools produced in Slovenia is backed up by three year warranty.