Description
Do you enjoy gourmet feasts but can't seem to make your steak as perfect as a high-end restaurant? Test the latest vacuum-cooking technique, which is no longer the secret trick reserved for top-tier chefs but is now available for you to use at home. Sous Vide cooking guarantees excellent results with less effort.
Sous Vide? What does this even mean?
The term "Sous Vide" literally translates to "under vacuum" or "in vacuum". It is a cooking technique where vacuum packed food is cooked at a precisely set temperature for a precisely set amount of time. The temperatures are well below boiling, so cooking can take several hours. Slow cooking results in softness and taste you cannot get with traditional cooking.
How does our circulator work?  
The Sous Vide slow cook circulator causes the warm or hot water in the pot to circulate. It maintains the water's temperature at a precisely set degree for several hours; this way the food cooks evenly at the edges as well as at the centre. You no longer need to worry about your foods cooking unevenly or overcooking. Ovens and hobs fluctuate in temperature (up to 20°C) much more, which is why traditional cooking cannot guarantee consistent results every time, even with the same cooking accessories, techniques, and temperatures. Did you know that there is no more than 7°C of difference between a medium rare and a well done stake?
Why cook in vacuum?
Traditional style of cooking demands that you are present for the entire time to monitor the temperature and state of the food. Sous Vide cooking is much more comfortable. You set the time and temperature of cooking in advance adapted to the sort of foodstuff cooking, and then let the precise cooker do its job.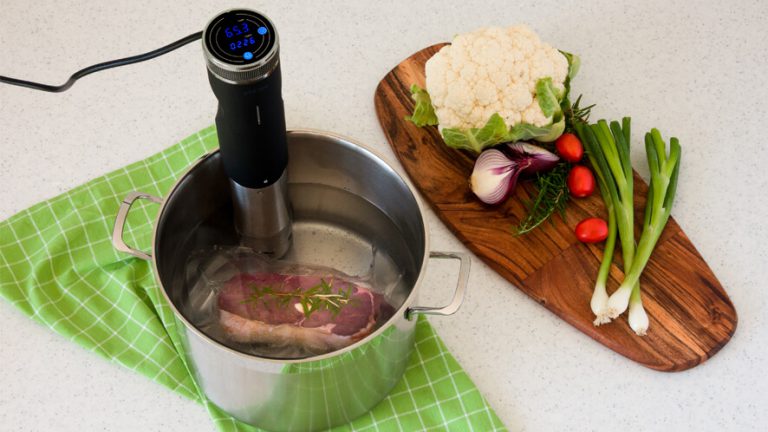 Superior taste with fewer spices
The foods cooked in their own juices will be very tasty and surprisingly soft even without too much seasoning. All the vitamins and minerals will stay in the food instead of getting lost in the water or oil like they do with traditional cooking – flavonoids and carotenoids will stay in the vegetables and sensitive fats in the meat and fish will not oxidise.
Spend less time in the kitchen
When slow cooking in vacuum, you will also have more time to prepare other foods or to spend outside the kitchen. All you need to do is set the circulator to the desired temperature and the job will get done without you needing to be there.
Satisfy your guests' demanding requirements
Is a member of your family allergic and needs their dishes prepared strictly separately from everybody else? Do you need to cook them in a special pot to avoid cross-contamination? The solution is simple – cooking in impermeable vacuum bags, without having to worry that the food will come in contact with unwanted ingredients.
Vacuum-seal separate portions of meat or vegetables and adjust the amount of salt and other spices to the tastes of individual family members. This also addresses their different desires about how well they want their steak done – you can cook a "medium rare" and "well done" steak at the same time.
Are you running out of kitchen space?
The Sous Vide machine will come to the rescue if your kitchen is small and you don't have enough space for making more complex dishes or cook for a larger company. You can place the pot you are using with the slow immersive Sous Vide wand in the garage or bathroom, where it won't get in anybody's way.
Why choose Status SVC100?
Immersive circulators are small and easy to use. Unlike Sous Vide water ovens the water immersion slow cookers don't take up much space and can be stored right in the drawer. They are also more affordable and thereby more suitable for domestic use in every aspect.
The Status Sous Vide slow cooker:
is simple to clean,
has a safety function, which will turn the circulator off in case of water evaporating,
can be set to up to 99 hours and 59 minutes of operation time,
has temperature stability with the accuracy of 0.1 °C,
features a handle that enables it to be attached to the edge of the pot,
is small and weighs only 1.18 kg.
Our Sous Vide slow cooker is simple to use
All you need to slow cook in vacuum is an ordinary slightly taller pot and the Sous Vide circulator cooker. Set the desired temperature and appropriate time of cooking on the slow cooker. The cooker will alert you with a beep when the water reaches the set temperature. This means it is time to vacuum seal the food item in a high-quality vacuum sealer bag and place it in the pot. Set the appropriate time and temperature for the food you are cooking. To find it, refer to the operation manual that came with the circulator cooker. You can set the timer to several days – up to 100 hours while the cooking temperature is up to 0.1 °C accurate to ensure the most precise cooking results.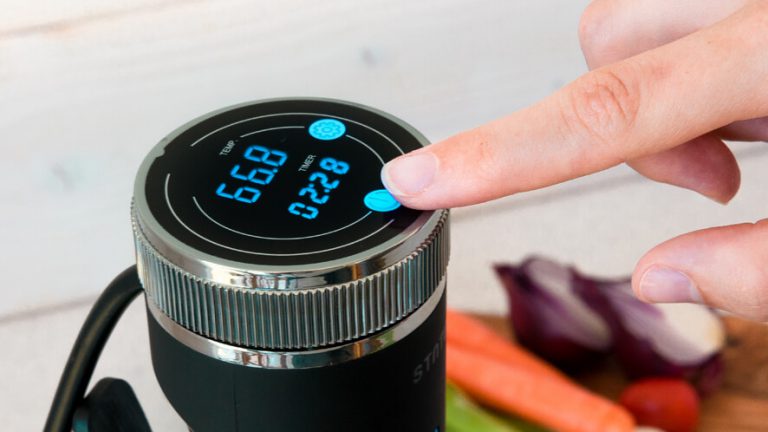 Various techniques of packing foodstuffs for vacuum cooking
The most important difference between traditional and Sous Vide cooking is whether food items cook in contact with water, oil, and air or not. As is already clear from the name of this cooking technique, Sous Vide's main advantage is that the food is cooked in vacuum. Some Sous Vide slow cooking machine providers recommend cooking in ordinary plastic bags, without vacuum sealing. You can only imagine the difference between the quality of a food item vacuum-sealed in a suitable food bag and food in an ordinary bag closed with a clasp that also contains some air. An ordinary bag could come open and some water could get in. It will also be a lot of work to place the bag in such a way that its edge will stay above water, that the bag will not move, and that the food will stay under water.
For superior results and carefree cooking, we recommend high-quality vacuum sealing bags. These are made of suitable materials and are certified to ensure that chemical compounds will not pass to the food when they are heated. Status vacuum sealing bags can be used for cooking because they are watertight, neutral in smell and taste, and because they don't contain harmful substances, such as BPA.
Sous Vide recipes and recommendations
The Sous Vide cooking technique is suitable for meat fish, vegetables, eggs, and some desserts
For true meat-eaters, you can make a soft beef steak and the juiciest chicken breasts. For more flavour, quickly fry the meat in a very hot pan before serving it.
Slow cooking is certainly also suitable for vegetarians and vegans. Carrots, asparagus, beetroot, artichokes, potatoes, and other vegetables cooked Sous Vide will be so tasty they will melt in your mouth.
Cooking poached eggs to perfection has never been this easy.
Don't forget about yoghurt and desserts, such as crème brûlée and poached fruit.
To find out about the precise times and temperatures for cooking individual dishes refer to the Sous Vide Circulator operation manual; you can also find additional ideas on the Internet.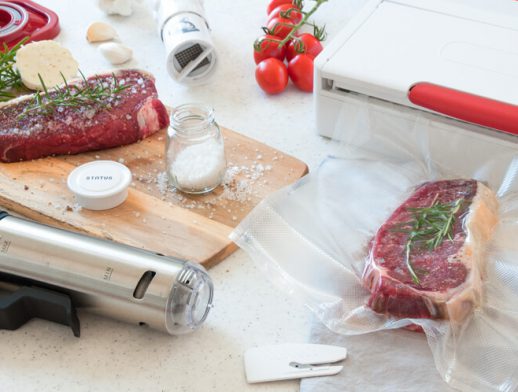 Your guests will be impressed by the juicy steaks and flavourful vegetables.