Description
It's time to stop crying while dicing onions. If you often make goulash, then you know that most of your time is spent on peeling and dicing onions. The solution is our patented Onion Cutter that will save you the boring process of dicing onions by hand and the annoying job of clearing the counter afterwards.
Onions are the basis of most cooked meals  
Sauteed onions are the basis of many dishes. It is probably the most frequently used used vegetable in any kitchen. For evenly sauteed onions it's vital that the pieces are of equal sizes. Like garlic, onions have several healing properties for a wide array of ailments, which is why it is also recommended to eat them raw. With our Onion Chopper, you'll be able to dice onions in such small and even pieces that they'll be easy to mix with salads, sauces, salsa, or sprinkled on finished dishes. This method of cutting preserves most of its nutritional value.
A patented system for dicing onions
Our Onion Chopper is very simple to use and works without electricity. The cutter utilizes the onion's naturally layered shape. What this means for you is that you can cut it in even pieces of 6 x 6 x 6 mm with a single push. Based on its natural shape, you can dice other vegetables into strips julienne or cubes. To get cubes, you need to use the cutter twice.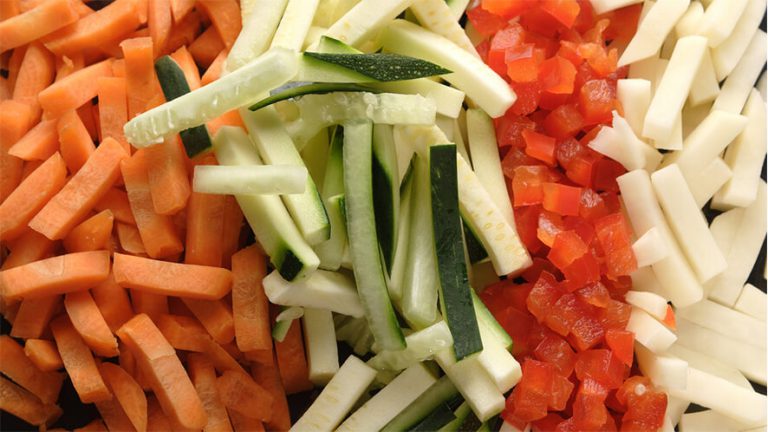 The Onion Cutter for any kitchen
The Status Onion Cutter is very safe to use, because you don't come in contact with the blades when cutting. You can even have your children help with lunch. The accessory is suitable for experienced chefs, who will profit from saving time on dicing onions and cleaning after, as well as beginner kitchen enthusiasts, who have not yet mastered slicing evenly.
Place a half of a peeled onion on the round raised central area. Put one hand on the collecting receptacle and the other on the elongated upper part of the cutter and press firmly. Once you've sliced the desired amount of onions, turn the cutter upside down and the diced pieces will fall into the receptacle.
A cutter with a collecting container for sliced pieces
The sliced pieces fall into the collecting container leaving your counter clean. You can also use the collecting receptacle to store sliced food items for a few days; use our number 3 Universal Vacuum Lid, and they will keep in the refrigerator for a few days, without the unpleasant smell spreading.
The onion chopper is simple to clean
The accessory is simple to clean because it disassembles in its individual components. You can wash it by hand or in a dishwasher.
A dicer that cuts the food items in strips julienne or cubes
Also use the onion dicer to cut:
zucchini, radishes, and peppers
potatoes, carrots, and pickles;
apples and pears;
celery, leeks, cauliflower, and mushrooms;
cucumbers, cheese, and eggs.
The cutter is made using top-quality materials ensuring many years of use
The cutter blades are made of stainless steel so they are safe from corrosion; the body is made of durable ABS plastic. The quality of all Status products is guaranteed by a 3-year warranty.
Additional blades for cutting larger pieces
To cut potatoes in longer strips to make fries you can buy the XL (12 x 12 millimetres) or XXL (18 x 18 millimetres) Blade Attachments separately. You can also use them to quickly make stews and salads.