Description
Are you trying to find a gift for a young family or does your household perhaps have a need for high-quality storage containers guaranteed to provide years of use? Let us introduce the Maxi Family Vacuum Container Set.
Maxi Family Vacuum Container Set: 6 containers for vacuum storing + pump
Our Maxi Family Set includes all the rectangular vacuum containers we offer. It enables you to store all types of food in your refrigerator or on the counter.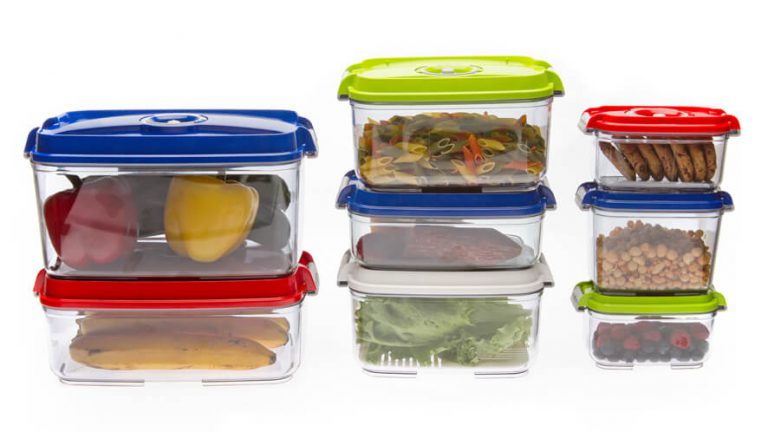 If you vacuum store you'll eat food of higher quality
Storing food in vacuum is the safest option because it extends their shelf-life for up to four times without any additives. By preventing them from oxidising, you protect your foodstuffs from the negative effects of oxygen, which causes food to spoil and decay. It's simple – use the included vacuum pump and extract the air from the container. Your foodstuff is now hermetically sealed in an oxygen-free environment, which is why its aroma won't spread in your fridge; its vitamins and minerals are also better preserved.
By buying the Maxi Family Set you save twice
Save by buying containers in set at a lower price than individually and by throwing away less spoiled food. Choose the Status Maxi Family Vacuum Container Set if you need high-quality storage containers that are guaranteed to last several years in any household. Our vacuum containers, which are made from tritan, are suitable for storing all kinds of foods because they don't absorb their aromas and colours, this is why they're the right solution for any household that appreciates high-quality kitchen accessories.
Our set of rectangular vacuum containers will enable you to make the most efficient use of the space in your pantry or refrigerator because the containers are designed to stack on top of each other and won't take up much space.
Thanks to the calendar on the lid, you'll always know when you stored which item or what its use-by date is.
Maintenance of the Maxi Family Vacuum Container Set
Simple! All you need are ordinary dishwashing products to either wash the containers by hand or in a dishwasher. Don't use scrapers or rough sponges to avoid damaging the gaskets and valve nozzles for the pump,
The manual vacuum pump doesn't need separate maintenance because it does not come into contact with food. If needed, lubricate the internal tube with paraffin oil.
Materials
All used materials are food-safe and appropriate for storing all types of foodstuffs. Status vacuum containers are made of top-quality tritan, the lids are ABS plastic, while the gaskets and valves on the containers and vacuum pump are silicone.
Vacuum storing greatly slows oxidation but cannot stop it completely, this is why we recommend that you keep your vacuum-packed foodstuffs in the refrigerator.