Description
Are you still looking for the best way to store your leftovers? Are you a busy mom that likes to pre-prepare the ingredients for faster dinner? Check our food storage solutions below. More information about Full Tritan Vacuum Container, 1.4 litre also in the video.
Vacuum containers are the best choice for storing food
Vacuum – the removal of oxygen, which causes the spoiling of food – helps to achieve conditions needed for prolonging the shelf life of foods. It is a healthy and completely natural way of storing food because only the environment around the stored food is optimized. No preservatives or additives are needed. Food stays fresher up to 4 times longer. Stop wasting money by throwing away spoiled food.
Buy larger packets of food and save money on groceries. Store them in vacuum and prevent oxidation and spoilage. Vacuum-packed foods are also completely safe from pantry moths, ants, and other pests.
Vacuum pack aromatic foods to prevent foul odors in your refrigerator. Store onion, garlic, fish, and alike – high-quality material prevents aromas from passing through.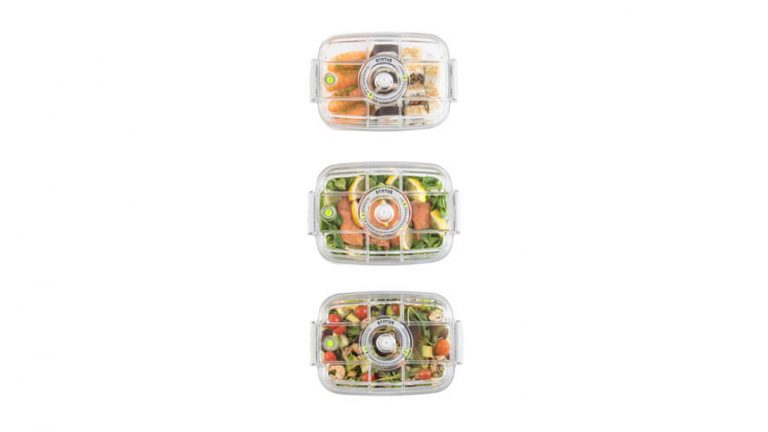 Food storage containers for everyday use
Use 1.4-litre Full Tritan Vacuum Container for storing foodstuffs for everyday use:
fruits and vegetables to prolong their freshness and prevent them from rotting,
leftovers for the next day or as lunch at work,
sweet and salty snacks to protect their crunchiness,
cookies and other desserts for storing or transporting, and many more.
1.4-litre container is great as a lunch box. Bring all kinds of foods to work or school – airtight closing prevents the aromas from spreading and even liquids from spilling.
Feel free to use the Status airtight containers in the pantry, refrigerator and freezer. They can also be used for reheating in microwave – without the lid for max. 2 minutes.
Meal preparation with vacuum containers
Vacuum containers are great for all those super organised moms and believers in healthy home-made meals that like to plan their meals and include only fresh ingredients. Prepare meals in advance without losing food's nutritional value, aroma or freshness. Vacuum prevents the loss of minerals and vitamins by blocking the effects of oxygen.
Cut and store vegetables for salads, soups and stir fry.
Peel and cut fruits for healthy smoothies.
Wash and store greens for salads, smoothies and side dishes.
Marinate meat in vacuum for better and faster results.
Food storage containers with practical, user-friendly solutions
Special shapes of the lids enable you to stack containers on top of each other. Combine 1.4- and 2-litre containers. Due to the complete transparency of the material foods will be easy to find even in stacked containers.
Lids have integrated vacuum indicators and calendars. The green vacuum indicator indicates when vacuum is achieved. Calendars enable you to mark the food's shelf life or the date when it was stored.
A vacuum pump is required to hermetically close the container
All Status products are compatible. You can use a manual or electric pump to create vacuum or even a special attachment for the vacuum sealer.
Full Tritan Vacuum Containers are made of high-quality materials
Eastman Tritan is a very durable plastic that guarantees many years of use – even more generations. The material does not absorb color and smells from foods. Tritan is unbreakable – Status containers are a great contribution to keeping the environment safe. Seals and valves are silicone. All materials are BPA, BPS, and phthalates free.
Maintenance and cleaning
Use regular detergents to clean the containers by hand or in a dishwasher.