Description
Do you enjoy a glass of fine wine with dinner and need a way to best store the open bottle so you can enjoy its full taste and aroma for days? By vacuum sealing the open bottle the taste and aroma of your noble drink will stay perfectly preserved.
How does oxidation happen?
In the barrel, wines are protected from oxidation with sulphur dioxide and oil. After the wine is bottled, it is slightly exposed to oxygen, which results in different shelf-lives depending on the wine sort, the way it was made, and other factors. Some wines mature in the bottle and taste even better, while others oxidise and spoil. All wines will go bad soon after they have been opened, because they are exposed to so much oxygen that their taste, aroma, and colour will suffer. This happens because a chemical reaction transforms alcohol into acetaldehyde. White wines will change colour and become brownish and start to smell like dried fruit. Red wines will lose their vibrancy.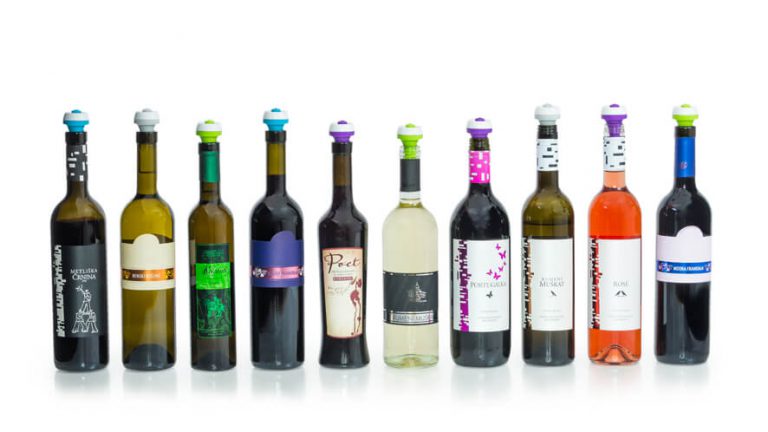 Wine connoisseurs recommend vacuum sealing open bottles
To preserve the wine's original taste and aroma after uncorking it, you need to limit contact with oxygen as much as possible. Sommeliers recommend the use of vacuum stoppers and the appropriate vacuum pump. It will allow you to extract the oxygen from the bottle and create evacuated pressure. The procedure is the same as with vacuum storing food items in vacuum containers and bags.
Vacuum Wine Stoppers are a simple way to prevent wine from oxidising
The stoppers for vacuum sealing wine are very simple to use. You need a vacuum stopper cap for the bottle and a vacuum pump. Status offers a set of vacuum stoppers in three colours, which can be used with a manual or electric vacuum pump. Simply insert the stopper in the bottle and extract the air (oxygen) until you feel resistance. Your wine is now protected against oxidation and will preserve all of its quality.
Advantages of vacuum sealing open bottles of wine
By storing wine with vacuum you can enjoy the tasty drink at your own pace, because you don't have to finish the bottle in three days. Have a glass of delicious wine each day with lunch or dinner without compromising its quality. Vacuum sealed with a special bottle stopper, the wine can stay supreme for even longer than a week, depending on the sort.
Use our vacuum stoppers for storing all liquids, where it's important to preserve original taste and aroma
Status Vacuum Stoppers for bottles are also appropriate for vacuum storing:
vinegar,
oil, and
juices.
We recommend that you don't vacuum pack fizzy carbonated drinks and sparkling wine.
Cleaning Vacuum Stoppers for bottles
Vacuum stoppers don't require any special maintenance because they normally don't come in direct contact with the stored liquids. Because they are made of silicone they don't absorb colours or aromas of stored liquids. If the stopper does get dirty, wash it by hand using standard dishwashing liquid, or in a dishwasher. Don't use rough sponges or powerful cleaning products so the gasket on the stopper doesn't get damaged.
Materials
Status Vacuum Stoppers are made of ABS plastic and silicone. Both materials are food-grade and safe for use with food and drinks.