Description
It pays to buy the highest-quality vacuum seal bags because they will guarantee effective vacuum packing, the food stored in your freezer will be safe from punctures, and the bags can be reused many times. Go for the 100-piece set and save!
Status food bags are the best choice both for home and professional use
At status, vacuuming foil is manufactured under the watchful eye of the departments of development and quality control. Tools and processes are revised annually to ensure our products are always top-of-the-line.
Our vacuum seal bags are manufactured at company headquarters. Materials are exclusively of European origin and have all the necessary certificates guaranteeing their food safety.
The criteria for high-grade vacuum bags
Apart from the combination of materials, the quality of vacuum bags also greatly depends on their thickness and ribbed profile. Proper thickness ensures a good seal while a ribbed profile enables the vacuum packing machine to extract air effectively.
Polyamide for impermeability and polyethylene for high-quality fusing
The outer layers of Status vacuum seal bags are made from polyamide while the inner layers are made from polyethylene. Polyamide ensures that the bags are impermeable and protects the food items from oxygen, which would otherwise cause them to oxidise and degrade. Status vacuum foil contains 20 µm of polyamide beating all competing vacuum bags on the market. Polyethylene ensures that the bags fuse to a high standard; we use 100 µm of it in the ribbed layer and 80 µm in the smooth layer. Research has shown that this is one of the best food-packing materials in existence.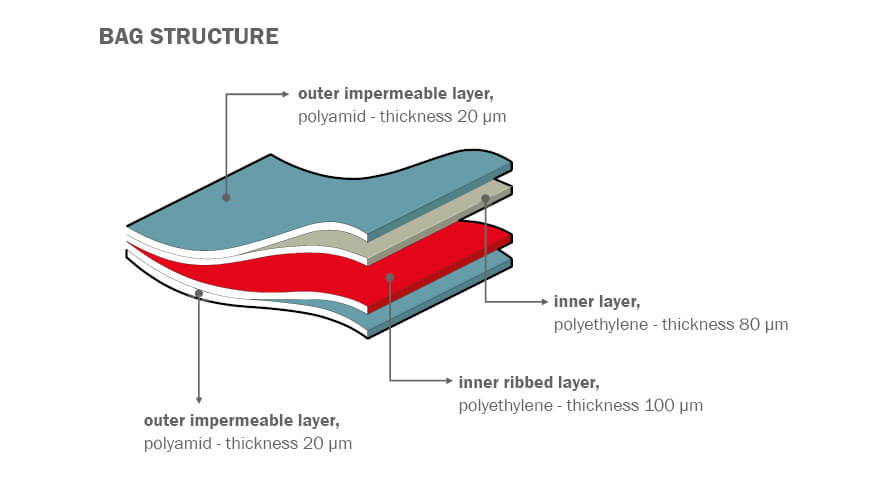 The thickest vacuum packing bags on the market
Dual-layered vacuum seal bags with the two layers measuring 120 µm and 100 µm each are also suitable for professional use, for example for packing cheeses and dried meat products for retail, because they're strong enough to preclude perforation during storage and transport.
Did you ever wonder why vacuum packing bags were ribbed rather than smooth?
Vacuum packing bags need to be ribbed because two smooth layers would stick together during the vacuuming process, which would stop sufficient airflow. The special pattern ensures fast and effective air extraction and no left-over air pockets around the food items.
0.2 millimetres for the highest-quality fusing
A sufficiently high ribbed profile ensures that the bags will fuse to a high standard in a series of vacuuming cycles. Status profiles are 0.2 mm thick, which makes the bags suitable for use with all good quality vacuum sealers and ensures they will be sealed just as tight on their 50th vacuuming cycle as they were on their 5th.
RECOMMENDATION! If you are having issues with vacuum packing and the bag won't hold vacuum, check which bags you are using, because there is a high chance that the machine is not the problem.
Status vacuum packing bags are also suitable for professional use
Large vacuum packing bags measuring 280 x 360 mm (11" x 14.2") are intended for storing all kinds of household food items as well as packing food products for retail.
The 100-piece set of vacuum packing bags in a medium-sized household will be enough for you to:
store fresh and dried meats;
freeze vegetables and fruits to store them for the winter;
extend the shelf-life of foods (cheese, cured sausage) in the refrigerator and
store all other foodstuffs, which you want to last longer.
Their high-quality materials enable the bags to be washed in a dishwasher and reused.
In professional use, Status bags guarantee that the food items will be stored impermeably and maintain their full flavour and aroma even after a long time in storage or after transport.
Bags for sous vide cooking
Large vacuum packing bags are neutral in smell and taste and BPA-free; use them for Sous Vide cooking.
How to prevent the bags from creasing during the vacuuming process?
For easier vacuum packing use Status Stiki adhesive tape, which will hold the bag in place and prevent wrinkling during the vacuuming process. As soon as the bag touches the tape it sticks to it leaving your hands free during the vacuuming process.