Description
Do you want to organise your pantry so that it will be easier for you to find all the ingredients you need for preparing meals for your family? We recommend our Full Tritan Vacuum Containers. Read more below on how they contribute to the preservation of food. See the 0.8-litre Full Tritan vacuum container in action in this video.
Use Full Tritan Food Vacuum Containers to organise your pantry and refrigerator
Completely see-through food containers are great for organising, because they enable you to quickly find what you are looking for even though you stack them one on top of the other.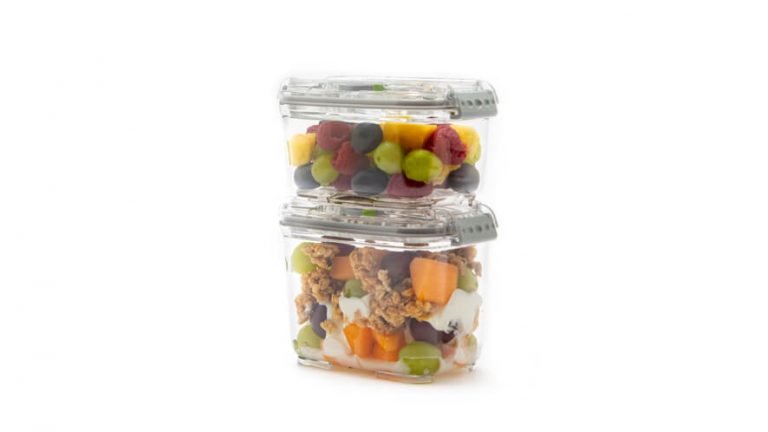 Vacuum prolongs the shelf life of food
Using vacuum for storing food enables you to save money and time, but also eat healthier. Let us elaborate. By storing food items in an oxygen free environment, you prevent bacteria and mould from growing so your food stays fresh for longer and you don't throw it away. Studies show you can save about 300 € per year just by smarter food storage.
Vacuum storage is also great for all the food preppers, because even if you clean and cut the vegetables in advance and store them in vacuum container for the next day, they will stay just as fresh and nutritious. Vacuum protests vitamins and minerals by slowing down the oxidation. Only the best is good enough for you loved ones!
Use of 0.8 litre Full Tritan Vacuum Container
The second smallest Full Tritan Vacuum Container can be used for all kinds of foodstuffs, whether you want to prolong their freshness, protect their aromas or protect them from pests.
Pack:
sugar and coffee and stack them neatly in your cupboard;
fresh or dried herbs to protect their aromas;
cookies and crispy treats to keep them crunchy;
salami, cheese, garlic and other aromatic ingredients to prevent foul odour in your refrigerator;
leftovers to safely transport them to school or work for lunch,
sauces and soups for freezing and many more.
Vacuum indicator on the lid
For vacuuming use manual or electric vacuum pump. When using manual vacuum pump, observe the green vacuum indicator on the lid to know when vacuum is created. BVP130 pump automatically stops when enough air is pumped.
But isn't plastic bad for the environment?
It sure is if you use single use coffee cups and food containers on a daily basis. Instead invest in high quality containers that are unbreakable and extremely durable and will last you for a life time and even for more generations. Do what's best for you and the environment.
Start packing your lunch in Status's vacuum containers and have no worries about spillage. When you remove the air from the container, you hermetically close the container and you don't have to worry about your soup or sauce. At the same time, don't worry about other passengers smelling your lunch, because all the aromas are safely closed in the container.
Tritan – what makes it the best material for food storage?
Our 25 years of experience in the industry have shown that tritan is the best choice for producing food containers. Why?
It's extremely durable and unbreakable. Check our website to see how it withstands overriding with a car.
It's BPA free and food grade – completely safe for all kinds of food ingredients.
It doesn't absorb smells or colour from food. It can be used once for tomato sauce and the next time for granola with fruits.
It can be used in the freezer, the microwave and washed in the dishwasher.
Cleaning
Clean the container by hand or in the dishwasher using regular detergents.
Materials
Containers and lids are fully made of Eastman Tritan (our supplier from the USA). The seals and valves are made of food-grade silicone.