Description
Are you wondering how to best prepare cured and fresh sausages for transport and retail? If you want to store your products to a high standard and protect them from outside influences during storage, vacuum pack them in Status vacuum bags for sausages.
Vacuum bags for cured sausages preserve the superior quality of cured and fresh sausages
Vacuum storage protects the sausages from drying out and maturing further. Status vacuum packing bags are the best choice for storing carefully prepared foods and food products because they are made from materials that guarantee impermeability and excellent fusing.
Bags for cured sausages are made from carefully selected materials
The Status vacuum bags for cured sausages feature dual-layered foil made from a combination of polyethylene and polyamide. Polyethylene is the best material when it comes to being in contact with food, which is why it is used in the foil's inner layer. It's food safe and guarantees that the bags will fuse to a high standard.
Polyamide is the material that prevents the effect of oxygen on stored foods by ensuring their impermeability. This is why the 20 µm thick layer of polyamide forms the outer side of the vacuuming bags. This is the thickest layer of polyamide on the market making Status vacuuming bags the best choice for vacuum packing delicacies for home use as well as storing food products for retail.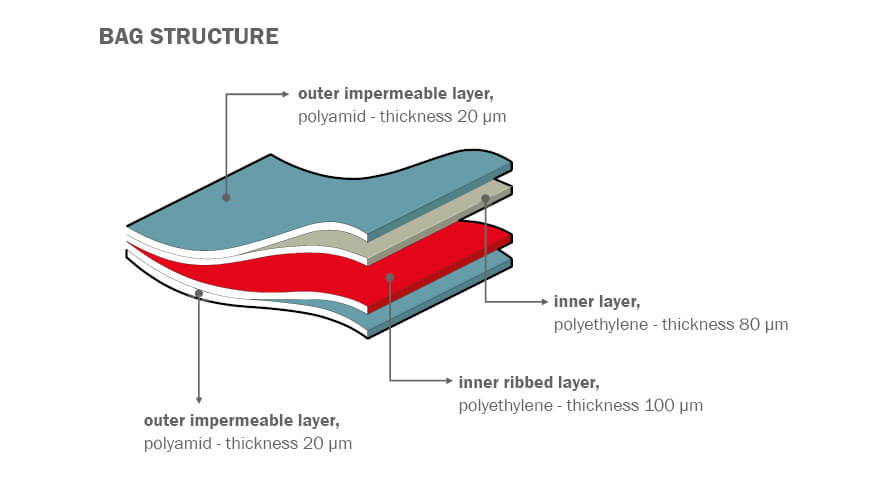 Their high-grade materials also give Status bags the following advantages:
The bags are neutral in taste and smell, so your stored foods will develop no strange plastic aftertaste.
The vacuum packing bags are dishwasher friendly and can be reused several times, for as long as their length allows.
The bags are suitable for sous vide cooking. A fresh sausage cooked in the bag in its own juices just below boiling temperature tastes exceptionally good.
What makes Status bags better than the competition?
The quality of vacuum packing bags is determined by three factors: foil thickness, the combination of materials, and the height of the ribbed profile. Status vacuum packing bags are the result of several years of research and development. They are made exclusively from materials of European origin, have all the required certifications for food storage, and are manufactured in Slovenia.
Status foil has a 100 µm thick smooth layer and a 120 µm thick ribbed layer.
Status bags have the thickest (20 µm) layer of polyamide, which guarantees they are airtight and protect food items from oxidation. Along with the two inner layers of polyethylene (80 and 100 µm) it combines to make bags, which also afford the food complete protection from freezer burn and aromas of other non-vacuum-packed food items.
The ribbed profile of Status vacuum packing bags is 0.2 mm thick. This is a key factor in producing a high-quality seal that endures in long-term vacuum storage. Status bags will provide just as high quality of vacuum seal in initial cycles as after their 50th.
Issues that arise from using unsuitable vacuum packing bags
Most vacuum packing issues aren't caused by some sort of vacuum packing machine malfunction, but rather by using unsuitable bags. If you find you are having trouble vacuum packing your cured sausages and other products, check what kind of bags you are using:
Thinner bags made from unsuitable materials can melt during the fusing process; as a result, they cannot hold vacuum.
Without an appropriate ribbed profile, the food items will be enveloped in air, which makes it more likely for the stored food to spoil.
Bags whose profiles aren't thick enough will vacuum pack well on the first few cycles but will no longer sustain the vacuum well on later uses because the sealing strip will overheat and pierce them.
It pays to buy the 100-piece sets
By buying larger sets of bags for cured sausages you save money and stock up; this way you will be sure not to run out of bags in the middle of preparing your winter reserves or storing the dried or fresh sausages you've just bought in bulk.
Bags for cured sausages are also suitable for vacuum storing other food types that benefit from protection against oxidation preventing them from degrading and losing their nutritional value.
long vegetables such as asparagus, string beans, and leeks;
sliced vegetables;
nuts and
spices.