Description
Are you planning to introduce solid foods in your baby's diet but find it difficult to imagine when you'll be able to prepare several fresh meals a day? We recommend that you take the time when baby's asleep or in someone else's care and recover at least some of your strength. Prepare meals for your child once a week. Storing them in vacuum will keep your pre-made meals rich in vitamins and other nutrients.
Why store in vacuum?
Vacuum containers store pre-prepared baby meals in vacuum and prevent them from losing their nutritional value. Vacuum slows oxidation, which causes deterioration of vitamins and minerals and extends the shelf-life of stored baby food. Vacuum is free of oxygen, which is the main food for microorganisms, which are the chief cause of food going bad. This means you can easily introduce solid foods into your baby's diet. With pre-prepared meals, your baby will eat high quality foods.
Baby Food Vacuum Containers to keep pre-prepared meals safe
Vacuum packing extends food shelf-life in a perfectly natural way without (harmful) additives. Take advantage of the benefits of vacuum and prepare healthy meals on your schedule. Vacuum seal them in vacuum containers and store them in the refrigerator or freezer. When it's time for lunch, simply reheat the container in hot water or microwave and your baby will be fed before waiting makes her fussy.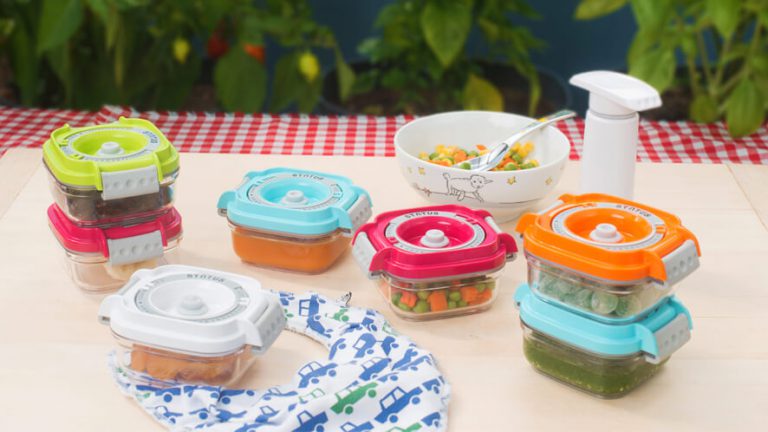 Vacuum is an excellent choice for storing leftovers
Experienced mommies know that introducing solid foods doesn't always go to plan. Often, mommies will put a great deal of effort in preparing fresh meals using quality foodstuffs only to have the baby eat no more than a spoonful or two. There's no need to throw prepared meals away. Store them in Baby Food Vacuum Containers, where they'll preserve their nutritional value and try serving them again in an hour or two.
Baby Food Vacuum Containers are made using food-safe materials
Vacuum containers are made of high-grade tritan, which is BPA-free and entirely food safe, even for the first meals when introducing solid foods. This means that you can freely use them to store a wide variety of food combinations because they don't take on any food aroma or colour – for example spinach and potatoes, pasta with tomato sauce, or pureed carrots and apples. Status baby food containers are suitable for:
freeze-storing,
reheating in microwaves, and
washing in the dishwasher.
What if I am using the Baby-Led-Weaning method?
Even if you're introducing solid foods using the BLW method, vacuum containers are still the most practical way to store meals. Carrots, meat, apples – store each food item in a separate container and use it when it's time for lunch, either at home or on a stroll. Vacuum containers are an excellent choice for storing fruits and vegetables that oxidise quickly. Apple, avocado, and carrots won't turn brown and have a detrimental impact on your baby's digestion.
Baby Food Vacuum Containers are also designed for best use of space
Their special design enables the containers to be stacked on top of each other. This way you will make the best possible use of the space in your refrigerator and freezer.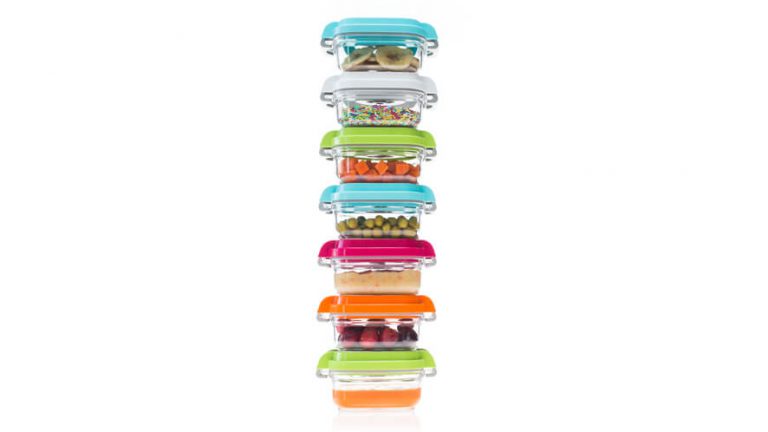 The calendar on the lid remembers instead of your worry-filled head
Our container lids feature an inbuilt calendar that can be used to mark dates. This way there's no way for you to forget how long your pureed food has been standing in the refrigerator or freezer.
What makes vacuum containers the best choice to take on your walks?
Use our vacuum containers and store prepared meals or leftovers to feed your toddler at home or at the park. You can easily throw the vacuum containers of pureed foods, snacks, and even soups into your baby-changing bag and head out for a walk. Vacuum-sealed containers keep your food safe from spilling, because vacuum packing seals them hermetically.
What to do with baby food vacuum containers once the baby is skilfully eating with adults?
After solid foods have been successfully introduced, baby food vacuum containers can come in handy for storing spices, spreads, sprinkles for decorating cakes, and similar items. You can also use them to store non-food titbits such as pins, your princess's hair accessories, bolts, and batteries.