Description
Are you upset because your bathroom tiles came loose? Do you keep tripping over uneven tile ends in your hallway? Stop postponing your apartment renovation, just lay the ceramics yourself! With the EasyTiler system you will get professional results.
How does the patented EasyTiler system work?
Our carefully developed tile levelling system for evenly laid ceramic tiles comprises clips and wedges; they level the tiles in relation to each other as you are laying them and keep them in place until the adhesive dries. For a more detailed demonstration of how they work watch the video.
EasyTiler spacers and wedges are suitable for use with any ceramic tiles, stone, or marble. They will be particularly helpful with laying larger tiles, making your job much easier.
EasyTiler clip with a 1.5 mm wide stem   
For best results, use our 1.5 mm clip with ceramic tiles of thicknesses from 3 – 12 mm. The width of the stem determines the width of the tile gap, in this case 1.5 mm. Due to the special shape of the clip you can even level tiles of different thicknesses.
The clips are single-use and have to be bought additionally when you run out, however the wedges can be used several times.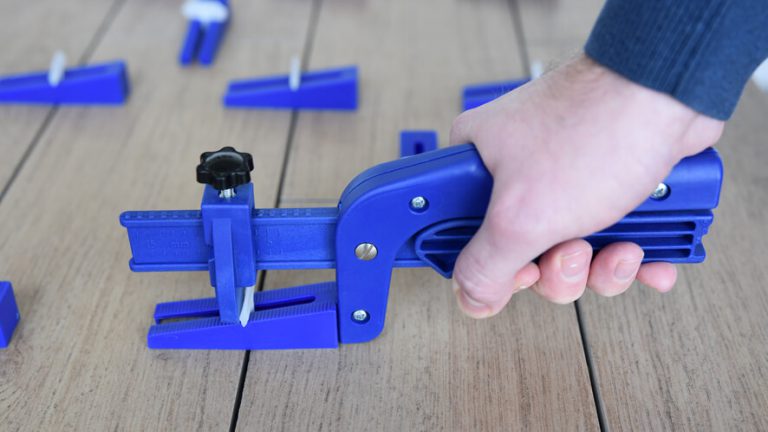 EasyTiler will get the job done simpler and quicker
You'll achieve professional results faster and with less hassle, even if you do the job as a DIY project.
Removing the wedges and clips is perfectly simple and requires no special tools – use a plastic hammer, or simply kick them away.
You can use the Status system for level laying of tiles with external or internal surfaces, and with floors or walls.
When laying tiles on larger surfaces we recommend the use of EasyTiler pliers to relieve your hands and get the job done even faster. You can choose between EasyTiler Pliers for Wall Tiling and Pliers for Floor Tiling.
Where to start renovating: the kitchen or the bathroom?
The EasyTiler system for tile levelling is simple to use and also suitable for absolute beginners. Stop waiting around for a master tiler and just lay the tiles yourself. Start with the basement or at your weekend house; once you gain confidence, move on to your apartment.