Description
Are you looking for a way to save time and money on buying food? Does going to the store several times a week take too much of your time? The solution is to vacuum store-purchased foods.
Vacuum packing for food
Food exposed to the air spoils because the bacteria need oxygen to grow and develop. Vacuum packing removes oxygen, which prevents rotting, and mold. As well as preserves taste, vitamins, and aroma without adding preservatives or other (harmful) additives. Vacuum packing is the healthiest way to extend food durability.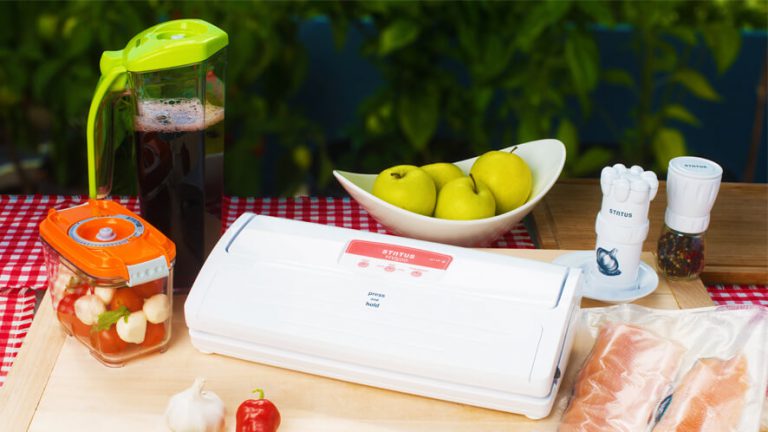 How to save on food shopping?
Buy larger quantities of food items on sale, vacuum pack them to stock up, and save yourself daily shopping trips. The Homevac HV500 vacuum sealer and vacuum accessories are all you need to stop your household's food from going bad. It'll take care of the food items in your pantry and refrigerator as well as of your leftover meals or snacks. Choose the one-of-a-kind set of vacuum accessories available on the market. In addition to the vacuum packer and vacuum foil, the set also includes two vacuum containers (0.5- and 2-litre), a universal vacuum lid, a vacuum hand pump, and a Fresh Stick bag fastener.
How to safely store leftovers from lunch?
Do you avoid saving lunch leftovers because you're worried you'd end up offering spoiled food to your loved ones? If you vacuum pack your leftovers and store them in your refrigerator or freezer, you can stop worrying. Vacuum-packed food is safe from bacteria because they don't have the oxygen they need to develop. Make larger quantities of Bolognese or another kind of sauce and store it in a vacuum container. It will keep in the fridge for the rest of the week. And you'll be able to have lunch ready for those hungry little tummies in half an hour or less.
Why choose the Homevac HV500 vacuum sealer?
The HV500 vacuum packer is immensely functional but remains small and easy to use. It is ideal for city families to vacuum store the produce from their gardens or the farmers' market or small quantities of dried meats. The ideal choice, when food quality comes first!  
The automatic vacuum packing function makes vacuum packing firm and dry foods completely simple. This means you can vacuum store with a single press of a button. The machine extracts the air and fuses the bag when the evacuated pressure level of –750 mbar is reached.
When dealing with delicate foods such as fresh meat, mushrooms, and soft fruits use the so-called manual vacuum packing function. In this case, observe the vacuuming process and stop air extraction, when the liquid in the bag begins to run towards the machine or before the bag squeezes so tightly that it would harm the soft food items. The machine then fuses the bag and your food is ready to be stored in the pantry or freezer.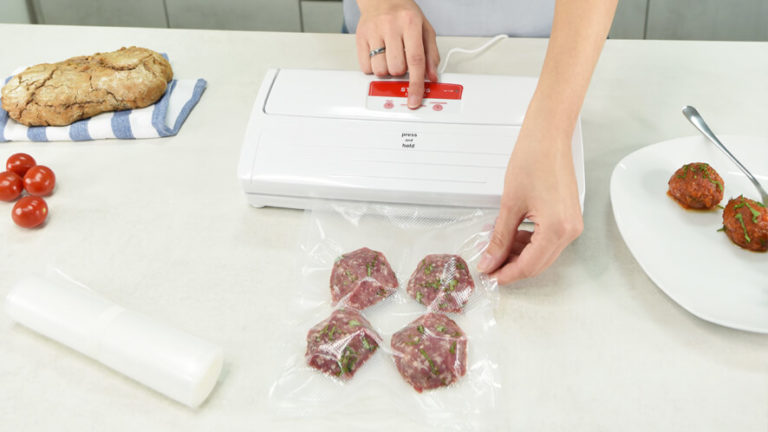 How to reduce your vacuum bag consumption?
Use the Status Stiki double-sided adhesive tape to make placing the vacuum bag in the vacuum channel easier and reduce the length of the unused bag at the edge. Attach the Status Stiki adhesive tape to the edge of the machine to hold the bag still and keep your hands free. Status Stiki tape is not included in our comprehensive set.
Vacuum packing wet foods without damaging the machine
Are you afraid the machine might suck up liquids when vacuum packing fresh meat? Don't worry, such slip-ups are taken care of by the safety liquid trap. Even if some liquid gets into the machine, it won't damage the motor; just unplug the machine quickly and empty the container at the bottom of the machine. For more detailed instructions, read the user manual and follow our advice about vacuum packing wet food items.
Vacuum packing liquid foods
Vacuum pack soups and other liquids in vacuum containers, a vacuum jug, or with our universal vacuum lids. Using the special included attachment and the "vacuum container" function will prolong the freshness of your soups and juices and preserve their nutritional value. Vacuum-packed liquids are also great to carry around because vacuum-sealed lids can't open until the valve on the lid is released.
Vacuum-seal any jar or pot in your kitchen
Don't throw your leftover salad, jam, or smoothie away. Our Universal Vacuum Lid 3 can be used to vacuum seal any pots, cups, or glasses of up to 13 cm (5 inches) in diameter. Place the lid on any receptacle with a straight rim and extract air using the vacuum packing machine or manual pump. This will extend the shelf-life of the food inside because vacuum will prevent it from oxidizing, drying out, developing mold, and spoiling.
Vacuum-sealing dishware daily without a vacuum machine  
When you want to quickly vacuum seal a pot or vacuum lid, use the Status manual pump, which is so small that you can always keep it at hand. Put your vacuum machine away in the cupboard, until you need to vacuum-pack larger amounts of food.
How to reclose the vacuum bag impermeably again without fusing it?
Any bags can be closed using our 22-centimeter-long Fresh Stick bag fastener, which impermeably seals food packets of various kinds ranging from coffee bags and crisps bags to open vacuum bags, for you to put back in the freezer or use the content within a day or two. The bags closed with the fasteners are watertight and will keep your crisps and biscuits crunchy and your coffee aromatic. They also help you keep your drawers tidy – no more spilled grains of flour or sugar to attract pantry moths.
Homevac HV500 Vacuum Sealer: warranty
The HV500 vacuum packer is made in Slovenia and comes with our two-year quality guarantee.