Description
Stop using single-use stretch foil and low-quality food containers that absorb colour and smell from food. Do something good for the environment and invest in high-quality containers that will last you many years. Full Tritan Vacuum Container, volume 3 litres is ideal for storing fresh produce.
Why Full Tritan Vacuum Containers? Video
Eastman Tritan is a top quality plastic renown for being unbreakable and extremely durable. What is most important for storing food is that the containers don't absorb the aromas and colours from food. What this means for you is that you can use Status's containers for storing all kinds of foodstuffs without any risk of permanently damaging the containers. You will be able to use them for many years. Tritan is also BPA, BPS and phthalates free.
Vacuum is the most natural way of storing food to prolong its freshness. By removing the air from the container oxidation is reduced to minimum so that the microorganisms cannot develop. No preservatives or additives are needed.
Additional features of Status Full Tritan Vacuum Containers
We've improved our classic vacuum containers with vacuum indicator. Green valve on the lid will let you know when the right vacuum pressure is achieved. Lids also have a calendar which enables you to mark the use-by date of food or when it was stored.
Freezing food in a 3-litres Full Tritan Vacuum Container
Vacuum containers can be used
for storing food for everyday use in the refrigerator or pantry,
for freezing leftovers or pre-prepared meals,
for reheating in the microwave (without lid, max. 2 min).
By adding dividers you can transform the 3-litre container into a neat lunchbox or a serving container for different snacks. It is even suitable for transporting liquids because it is hermetically closed and cannot be opened without releasing the valve.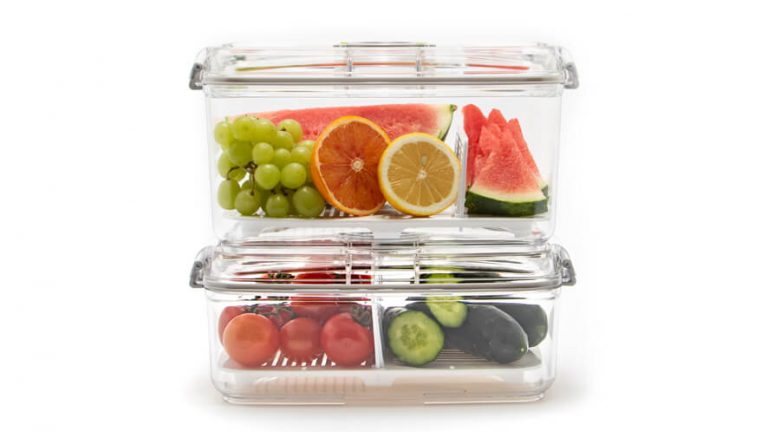 3-litre Full Vacuum Container: examples of use
Here are some of our examples of how we use vacuum containers:
protect bread, pastry and other baked goods from drying out;
store whole or cut fruits and vegetables to prevent oxidation and protect their nutritional value;
refrigerate or freeze leftovers to prolong their freshness and prevent aromas from mixing;
store wash and cut vegetable to prevent rotting and loss of nutrients. When storing leafy greens, add drip trays to drain excess water;
use dividers and serve different kinds of snacks in one dish – what ever is left just vacuum pack for another day;
pack snacks for kids when travelling. You can rest assured that hermetically closed containers won't come open in your bag.
What accessories do I need for vacuum storing food?
Vacuum packing food is easy. Once you try it you won't settle for anything less. Use a manual or electric pump and if you own Status vacuum sealer, you can also use a special attachment for containers.
Maintenance and cleaning
Full Tritan Vacuum Container can be washed with regular washing detergents by hand or in a dishwasher.
Materials
Containers and lids are made of Eastman Tritan plastic. Valves and seals are silicone.