Description
How to store larger quantities of washed lettuce for several days? Did you know that you can prepare vegetables and fruits a day in advance without sacrificing their freshness or nutritional value? See how you can incorporate our Gastro Vacuum Container, 10 litres into your kitchen.
Extending food shelf-life in vacuum
Vacuum storing preserves food freshness and shelf-life four times longer because the foodstuffs are sealed in a container with minimum oxygen content. Oxygen is vital for the development of bacteria and mould. At the same time this means that aromas and nutritional value will be preserved as well.
Gastro Vacuum Containers with a capacity of 10 litres
Our largest professional-grade vacuum container is 31.5 cm tall and suitable for vacuuming large amounts of whole or sliced fruits and vegetables, pasta, flour, as well as meat. Prepare your ingredients in advance and make your work process easier during periods of increased turnover.
Wash and slice the leaf lettuce you plan to serve at dinner – in vacuum the lettuce will keep fresh the following day as well.
Slice the vegetables (peppers, onions, zucchini) needed to make your daily meals; the cooking will go faster and the ingredients will stay aromatic and nutritious for up to 5 whole days.
Will you serve cutlets or seasoned chicken steak for lunch? For fast meat marinating use a vacuum container and surprise your guest with a perfectly seasoned steak.
And for dessert – fruit salad with fresh fruit? No problem – you can slice it in the morning and vacuum-pack it. The flavour, aroma, freshness, and vitamins will be preserved excellently even through the night.
All foods, vacuumed in our containers, are also safe from moths, ants, and other pests because the containers seal hermetically.
With new gastro lids, following the HACCP standards is even easier. The lids come in 7 colours:
red for storing raw meat,
green for storing vegetables,
white for dairy and bread,
blue for raw fish and other seafood,
yellow for safe storage of poultry,
brown for cooked meat and
neutral grey for other categories.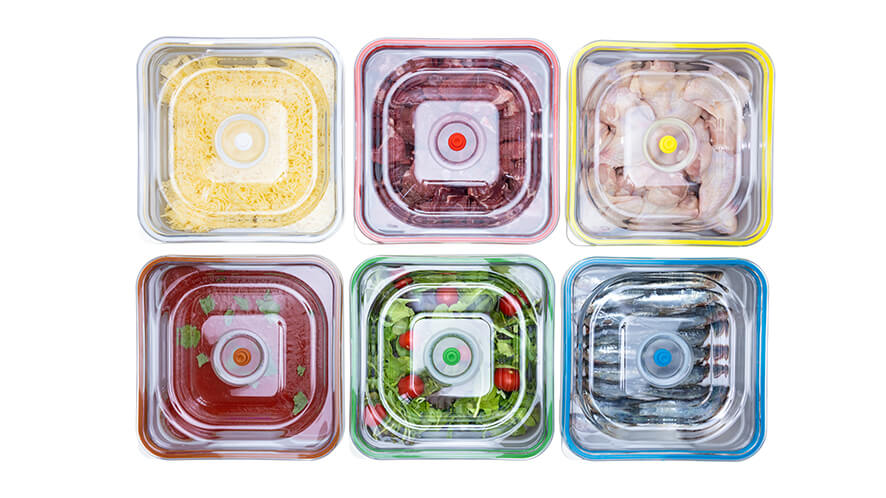 10 litre Gastro Vacuum container is available:
as a single container without the lid or
in 6-pcs, which includes 6 vacuum containers (volume 10 litres).
Versatile applications of vacuum containers for food professionals
Vacuum containers for professional kitchens are suitable for restaurants as well as catering providers, bars, hotels, and other food-serving establishments.
What makes storing foods in Status Gastro containers the smart thing to do?
Our vacuum containers are made with top-quality materials, resulting in their extremely long lifespans, lasting even across generations. You can use them in the freezer, microwave, and dishwasher.
The lids are transparent, so you can easily tell what's stored in individual containers, even if they're stacked on top of each other. With a better inventory of your supplies, you will ensure the stored foods have an even longer shelf-life because you won't open containers needlessly and expose the foodstuffs to oxygen and other detrimental factors.
The containers are designed for professional use as the container corners are round for easier pouring of liquids. They have litre and quarts scale markers for easier measuring of ingredients.
Another particular asset of the containers is their capacity to be stacked on top of each other and so make maximum use of kitchen space. Containers of all volumes share equal lengths and widths, which also means that one lid fits containers of all dimensions so you don't have to go searching for the appropriate lid to fit individual containers.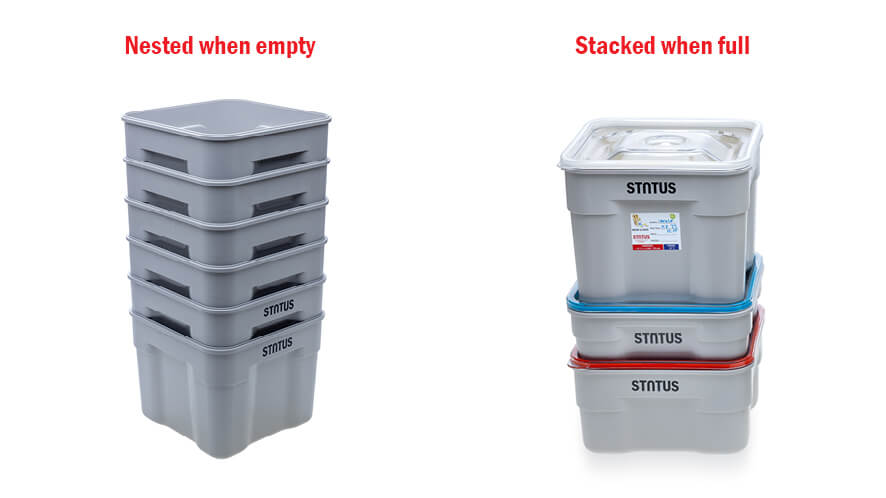 Materials
Status professional-grade containers are made of high-quality Xarec plastic. The transparent lids are made of Tritan. The gaskets and the valves on the lids are silicone. All materials are BPA-free and food-safe.