Description
Did you ever run out of vacuum bags in the middle of trying to store vast amounts of food? If you buy the 100-piece pack, you won't have to worry for a whole year, even during winter stocking season. You'll also be saving money at the same time.
Small Status Vacuum Bags for quality food storage
Small vacuum bags measure 200 x 280 mm (7.9" x 11") and are suitable for storing:
sliced dried and fresh meats,
fruits and vegetables for freezing,
dried fruits and nuts stored on shelves, and
cheese and other foods in the refrigerator

.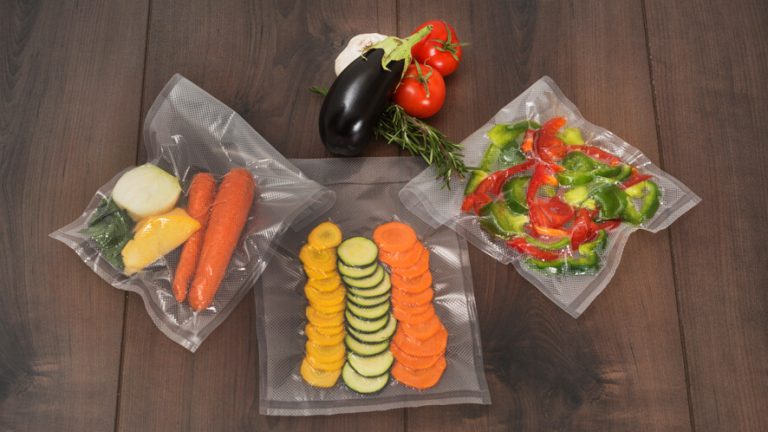 Why vacuum?
By vacuum packing foods in impermeable Status bags, you protect them from oxidation. This extends their shelf-life and preserves their nutritional value. You will protect your frozen fresh meat from freezer burn, which causes rancidity, and prevent dried meat products from drying and maturing further, while vacuum-stored fruits and vegetables will preserve their aroma, flavour, and vitamins.
Status vacuum-packing bags are made in Slovenia under constant quality control
Status vacuum bags are manufactured at the company headquarters in Metlika. Materials are of European origin and have all the necessary certifications guaranteeing they are food safe. Small vacuum bags are neutral in taste and smell, which means that your stored foods won't taste of plastic, and the bag can be reused after washing (even in a dishwasher). The bag materials are BPA free making Status vacuum bags suitable not only for freezing but also for sous vide cooking.
What makes Status food bags better than other cheaper bags on the market?
Did you know that vacuum packing issues are most often caused by bags rather than machines?
Check the declaration of the bags you've bought and make sure you are using high-quality vacuuming foil, which will protect your stored food from oxidation and physical damage.
The three important factors determining the quality of vacuum packing bags are:
their material composition,
the thickness of their foil layers, and
the shape and height of their ribbed profile.
Polyamide and polyethylene are the keys to ensuring high-quality vacuum packing of food
The material composition of the bags is a vital factor in ensuring they will be impermeable and that they will fuse to a high standard, to hold vacuum. Status bags have the thickest layer of polyamide on the market and so entirely protect stored foods from oxidation, which would cause them to degrade. 20 µm of polyamide on the outer foil layer work as a wall stopping oxygen from entering. The inner layer of the vacuum bags is made from polyethylene, which is the best material for food storage. The ribbed part of the foil contains 100 µm, and the smooth 80 µm of polyethylene.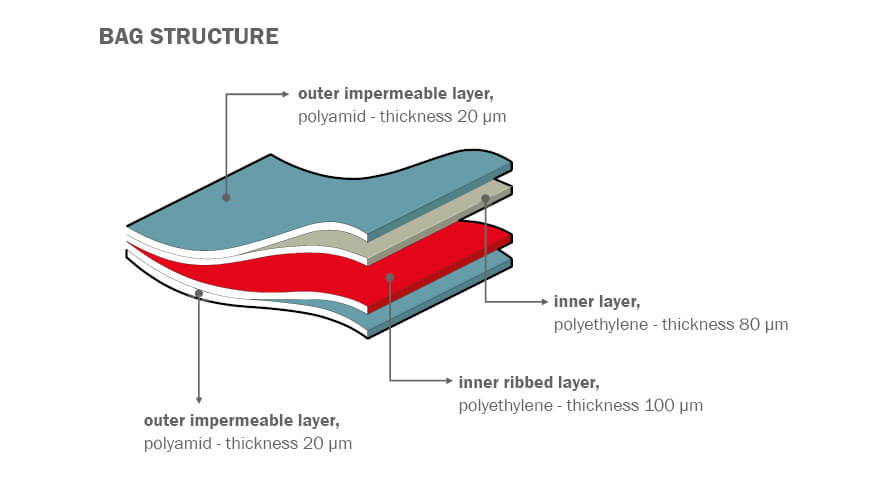 Vacuum bags must be thicker
Vacuum bag thickness is important because it works as a mechanical barrier preventing tearing and breaking during freezing or, in case of professional use, transport. At the same time, it ensures that the bags won't melt too far during the fusing process and then stop holding vacuum. The ribbed layer of the small Status vacuum bags is 120 µm thick, while the smooth layer measures 100 µm. This bag thickness is suitable for professional use and ensures that the stored foods will hold their taste and nutritional value longer. Just for comparison: ordinary plastic bags are only 20 µm thick.
Vacuum packing bags must be ribbed
The shape of the ribbed profile plays an important part in both the vacuum packing and sealing process. They feature a special pattern, which enables effective air extraction during the vacuuming process and ensures no air pockets left will be left around the food items. The thickness of the ribbed profile (in Status bags as much as 0.2 mm) enables a quality seal even after several cycles, which is impossible with lesser-quality bags.
Status vacuum bags are the best choice for storing food
Due to our high-grade materials and several years of investment in improving our production process Status vacuum bags are:
impermeable,
food safe and BPA-free,
neutral in taste and smell,
suitable for reuse (you can even wash them in your dishwasher),
suitable for sous vide cooking.
Additional advantages of storing in vacuum bags
Apart from extending the stored foods' shelf life, vacuum packing also leaves more space in your freezer and prevents unpleasant odours from spreading inside your freezer.
Use Status Stiki to prevent the bags from creasing during the vacuuming process
Our Stiki two-sided adhesive tape will leave your hands free when vacuum-packing foods. It can be fitted to any vacuum-packing machine. The bag attaches immediately upon touching the tape and stays put during the vacuuming procedure, this makes it possible to vacuum pack two narrow vacuum bags at a time without creasing.