Description
Take advantage of your Provac 360 vacuum sealer's special function to marinate meat in as little as 18 minutes. Use the Provac 360 Marinating Set and cut the dinner preparation process by many hours.
Why is marinating so fast in vacuum?
Vacuuming the meat opens its pores enabling the marinade to penetrate it faster, deeper, and more efficiently. This gives the meat a fuller flavour and softens it.
Provac 360 Marinating Set marinates meat even more efficiently
We've improved the process of marinating meat in vacuum and made marinating even faster with a special pre-set function on our Provac vacuum sealer. The process of marinating comprises five cycles of vacuuming and resting. Each cycle counts 150 seconds of marinating and 60 seconds of resting. All together 18 minutes for even tastier and softer meat.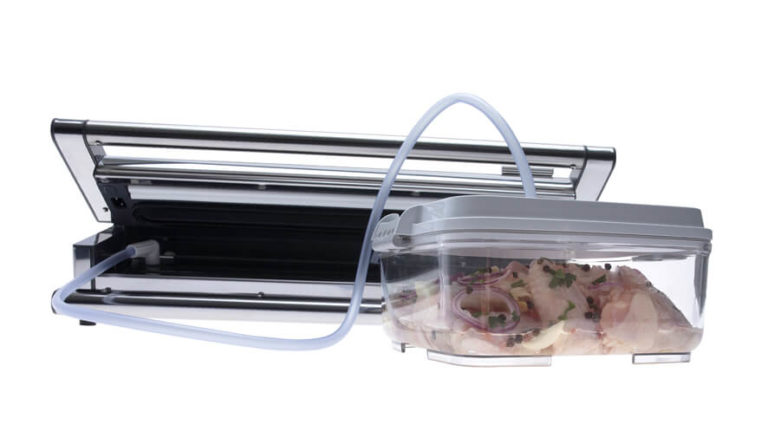 The Marinating Set includes everything you need to quickly prepare your meat for cooking
The set includes a special tube attachment to connect the container to the vacuum packing machine and a 2-litre vacuum container equipped with a special valve.
You can also use the Status square container for vacuum storing foodstuffs
You can also use the 2-litre Status square container to vacuum store ordinary foodstuffs such as fruits and vegetables, pastries and biscuits, leftovers etc. In this case swap the valve on the lid for an ordinary Status vacuum valve and then use the manual or electric vacuum pump. For assistance contact the manufacturer.
Cleaning and maintenance
Wash the vacuum container either by hand or in the dishwasher using ordinary dishwashing products. Don't use scrapers, rough sponges, or powerful cleaning agents to avoid damaging the sealing components – edges of container and gaskets. The tube attachment does not come into contact with foodstuffs, so it doesn't require special cleaning. If needed, wipe it with a moist cloth.
Materials
The vacuum container is made from Tritan and its lid from ABS plastic. Valves and gaskets are silicone. All materials are beyond reproach, present no health hazards (BPA-free) and are completely food-safe.