Description
Irrelevant of whether you make your own dried meat products or merely appreciate seasonal foods and stock your freezer a few times a year, it is important that both your homemade and bought foods are stored well. So they retain their full flavor even after they've been frozen for a long time. The best choice is to vacuum pack the food in food-grade vacuum bags.
Foil rolls for storing larger pieces of food
Choose foil rolls when you want to adapt the size of the vacuum bag to the food items you're storing. The only thing limiting the length of your bags is the size of your freezer. You need above-standard vacuum bag sizes when storing a whole pork tenderloin or a larger pork chop, a whole salmon, or a loaf of bread. Vacuum pack and freeze the leftover half of your Christmas pudding. Defrost it for Easter and see that it is just as tasty as it was on the day you stored it.
Wide Foil Rolls are intended for storing:
larger cuts of fresh and dried meats,
cheese,
bread and pastries,
fruits and vegetables in chunks, or
larger packets of sliced fruits and vegetables.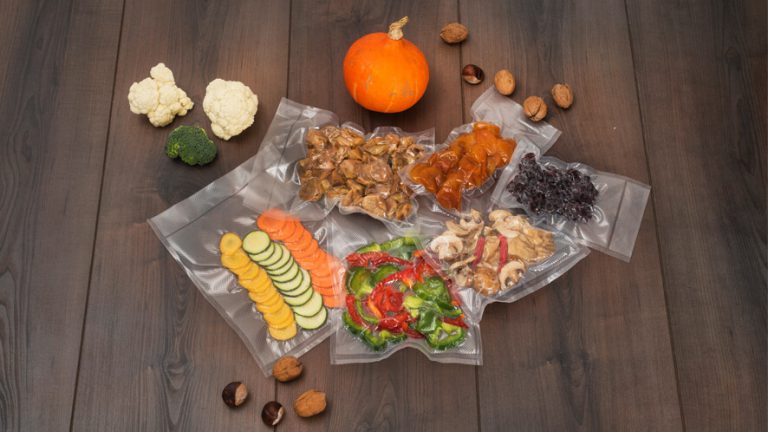 Why store in vacuum?
Air removal extends your food's freshness and shelf life because microorganisms don't get the oxygen they need to form and develop. This is why food stored in vacuum deteriorates much slower than it would in the open air or in permeable packaging such as ordinary bags.
Why are Status vacuum bags more expensive than the competition?
For a vacuum bag to be suitable for freezing, it must be thick enough and made from the right combination of materials, which ensures the bags will be impermeable and seal to a high standard. 
Status vacuum foil is the highest-quality foil on the market and guarantees your delicacies will be stored to a high standard. Their smooth layer is 100 µm thick while the ribbed layer measures as much as 120 µm. The foil is made from a combination of polyamide and polyethylene, which ensure the bags will be impermeable and fuse well. At 20 µm, the outer polyamide layer is among the thickest available making Status bags the best choice for quality preservation of fruits and vegetables or dried and fresh meats. In comparison: regular storage bags are no thicker than 20 µm.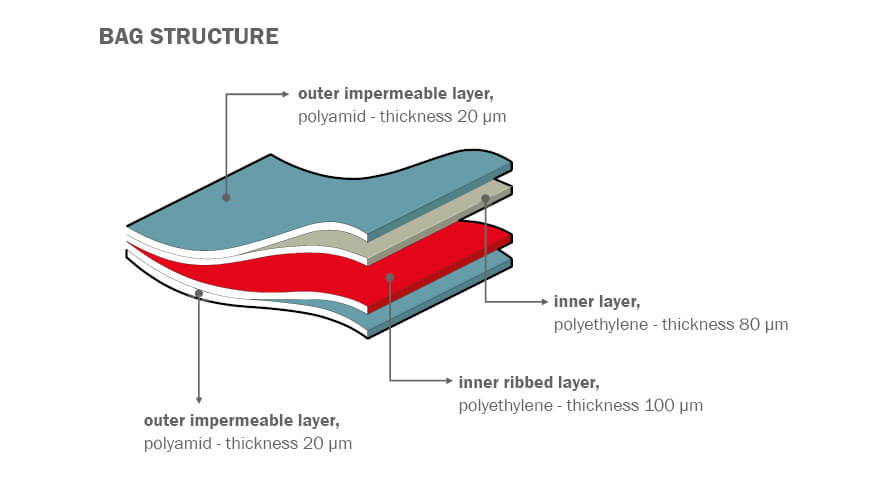 Why is the ribbed part of the foil important?
Status foil's 0.2 mm thick ribbed profile ensures equally high-quality vacuum packing on the first or the hundredth cycle. More affordable bags often seal well for the first five cycles, but later simply don't hold the vacuum anymore. Proof in the video.
Due to their high-grade composition, Status bags can be reused numerous times
You can wash them by hand or even in a dishwasher. However, be careful with bags that stored raw meat or fish; you can take the precaution of placing food items in ordinary bags first, before putting them in vacuum bags. This will keep the vacuum bags clean. You're free to use them for as long as they are long enough for the machine to vacuum pack them.
Quality certificates
Status vacuum packing foil is made in Slovenia using European materials. Its quality is attested by certificates confirming that they are food safe and that they will not influence the taste or smell of the stored foods. Our vacuum food bags are of exceptional quality and suitable for sous vide cooking and freezing.
Status Stiki
Status Stiki double-sided adhesive tape is a practical solution that makes it easier to place the bag correctly during the vacuuming process. Attach the adhesive tape to the edge of the vacuum packing machine and it will hold the bag in place instead of you. The bag will not crease, which is why it will be fused properly. This also means that you can vacuum pack two narrow bags for cured sausages at the same time.