Description
Are you proud of your homemade dried meat products? Did you cure your sausages exactly the way you wanted to? Then it's time to store them just as carefully so that you'll still be able to enjoy your tasty snacks in half a year's time or later. The best way to store cured and fresh sausages is to pack them in vacuum bags for salami. Cured sausages are preserved with salt and smoke, so there's no need to freeze them. If you want to prevent them from drying and maturing further, you need to minimize the effect of air.
Why vacuum?
Vacuum is space without air, which you create in suitable bags and containers using a vacuum packing appliance. Vacuum extends food shelf life by up to four times because oxygen, which would cause the food to degrade, is not present.
What makes a bag suitable for long-term storage?
Vacuum-packing bags are made from a special combination of materials, which ensure their impermeability and a superior seal. High-quality bags are a minimum of 100 µm thick and ribbed on at least one side.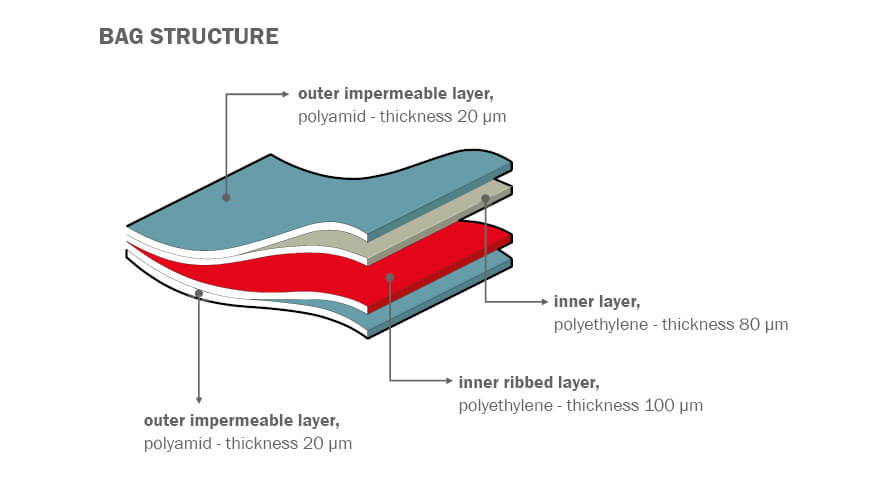 Status vacuum bags for salami
Status bags are among the highest-quality bags on the market. The thicker layer is 120 µm thick, and the thin layer measures 100 µm. Layers are made from a combination of 20 µm of polyamide in outside layers and 100 µm or 80 µm of polyethylene in inside layers. Polyamide ensures impermeability while polyethylene is food safe and also guarantees a high-quality seal. This means that your cured sausage will be preserved in impermeable bags without oxygen and you can rest assured they will retain the finest flavour.
Status vacuum bags for salami are:
made in Slovenia from food-grade materials with EU-origin certification,
impermeable, featuring the thickest layer of polyamide on the market,
neutral in taste and smell, which means that your vacuum-packed food won't have any plastic aftertaste,
dishwasher safe and suitable to be reused several times,
BPA-free and suitable for (sous vide) cooking, enabling all the juices and nutritional value to remain preserved within the bag making food softer and tastier.
Have you tried cooking fresh sausage in a vacuum bag? It's guaranteed to be even tastier and more succulent.
The pattern on the inside layer of the foil is also important for effective vacuum packing
The pattern on the vacuum packing bags improves the efficiency of air extraction during the vacuuming process and ensures there are no air pockets left around the food items. A vacuum packing bag must have at least one ribbed side; two smooth layers would immediately stick together when vacuumed, making it impossible to extract the air further.
Why is the height of the ribbed profile important?
The height of the ribbed profile also plays a crucial role in ensuring uniform high-quality vacuum packing and sealing even after numerous repeated vacuuming cycles. Status ribbed profile is at least 0.2 mm thick, enabling you to vacuum pack the bags to a high standard using any good quality vacuum packing machine on the market irrelevant of how many packets of dried meats you're preparing.
When to use ready-made vacuum packing bags, and when to cut bags from the foil roll?
When you're vacuum packing a large number of cured sausages, you will achieve the fastest results by using ready-made vacuum packing bags. These are already fused on three sides so all that's left for you to do is insert the cured sausage into the bag and seal the top using the vacuum packing machine. Use the foil roll when you are vacuum-packing smaller food and you need custom-made vacuum bags.
Additional help – Status Stiki
Use Status Stiki double-sided adhesive tape and you'll easily vacuum pack two vacuum bags for cured sausages at the same time. What this means for you is that you'll get the job done in half the time.
Bags for cured sausages can be used for vegetables as well
Vacuum bags for salami can also be used to store:
smaller chunks of bacon,
sliced vegetables, beans, and peas,
whole asparagus, string beans, and carrots,
walnuts, hazelnuts, and other nuts.