Description
Do you sometimes find you've forgotten to put the meat to marinate the night before a picnic or make a last-minute decision to grill your daily meal outside? We have a solution that lets you marinate meat in a mere few hours instead of overnight. The Marinating Set makes sure the meat is perfectly marinated in a couple of hours.
Why does meat marinate faster in vacuum?
Pores open up in vacuum allowing the marinade to penetrate faster and deeper into the meat. It will season it even better than if you left it in the ordinary marinade overnight. Place your fish or meat in the square vacuum container, add your favourite marinade, and extract the air using the included vacuum pump. Within two hours, the food will be full-flavoured and ready to grill or bake in the oven.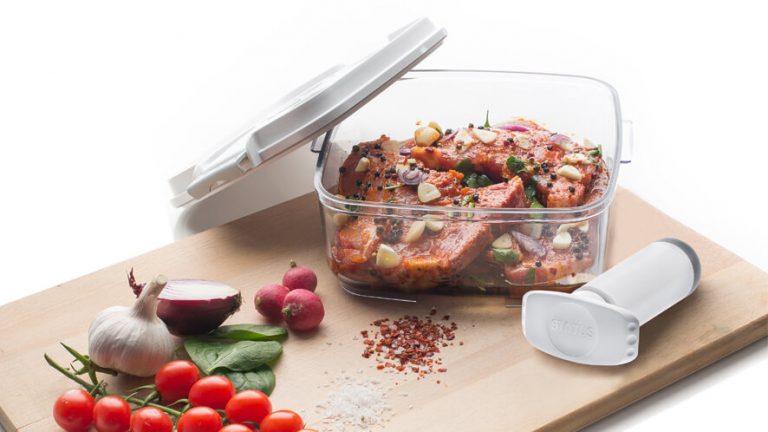 Use the square container to vacuum pack all kinds of foodstuffs
Our 2-litre vacuum container is made using high-quality tritan, which doesn't adopt the smell of the stored food and marinade; this makes it possible to use the same container for vacuum packing other kinds of food such as fruits and vegetables, baked goods, and biscuits.
Vacuum packing extends the shelf life of the stored foodstuffs by preventing contact with oxygen, which is vitally important for the microorganisms to grow and develop. By slowing oxidation, you prevent food degradation, mould, and loss of vitamins. Aromatic foods preserve their aromas better in vacuum while your crunchy biscuits will keep that pleasant crunch even after a few months.
The two-litre vacuum container seals hermetically, which also makes it an excellent choice for:
transporting marinated meat to a holiday resort or picnic location,
storing aromatic foods that you don't want to smell in your refrigerator,
a healthy lunch at school or work, because buying additional containers to insert makes it possible to store different food items in the same container.
Vacuum storing cannot completely stop oxidation, which is why we recommend that you keep marinated meat and other vacuum packed foods in the refrigerator.
Maintenance
Status vacuum containers do not adopt aromas or colours of the stored foods, which makes them simple to clean. Use ordinary dishwashing products for washing in the dishwasher or by hand and a soft sponge to avoid damaging the gaskets.
The vacuum pump doesn't require special cleaning, because it doesn't come into contact with food in the course of normal use. If needed, simply wipe it with a damp cloth. To ensure smooth operation during the vacuuming process, lubricate the inner tube slightly with paraffin oil.
Materials
Status vacuum containers are made using the best materials for storing food, which are BPA-free and guarantee several years of household use. The containers are made of tritan, the lids are ABS plastic, and the valves are silicone.