Description
Do you want to reduce the number of containers for food in your household because you're slowly running out of space in your cabinets? We recommend glass vacuum containers, which can be used in four different ways.
Glass vacuum containers are the right solution for any household    
Our series of glass vacuum containers can be used for four different tasks:
cooking food in the oven,
serving meals on the table,
vacuum storing leftovers, and
reheating in the oven or microwave.
This means fewer dirty dishes for homemakers, as you'll only use one container to make and serve lasagna; if there's any left, simply leave it in the container and vacuum pack it. The next day, you can reheat the leftovers in the very same container and have them for lunch.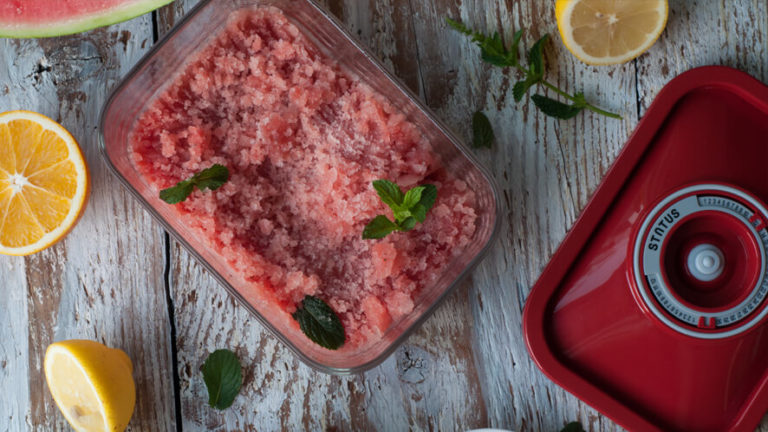 Status glass vacuum containers are thermal shock resistant
Our glass vacuum containers are made of borosilicate glass, which enables safe use in the oven (no lid) and in the freezer. Glass vacuum containers are safe to use at temperatures between -20 °C and +300 °C, which is why you can use the same container to pre-prepare your dish, freeze it, and cook it in the oven.
Why store in vacuum?
Vacuum packing is the best way of extending food shelf life, because it preserves the food's freshness, aroma, and taste without using additives. By extracting air from the container, you slow down oxidation, which would cause foodstuffs to spoil and lose their nutritional value. In this way, vacuum packing saves you money because you throw away less food. At the same time, you're also eating higher-quality food with higher vitamin and mineral content.
How to best preserve leftover meals?
Use the 1.5-litre glass vacuum container to store all types of foods:
leftover meals, which you can later reheat in the same container;
snacks and sliced fruits and vegetables, which will keep fresh longer;
cakes and pastries that won't take on aromas of other foods in the refrigerator.
Special lids of the Status glass vacuum containers
Our glass vacuum container lids are made of ABS plastic (like the lids of the classic Status vacuum containers), which guarantee years of quality use. The gaskets and valves on the lids are silicone. All materials used are food grade and perfectly safe for contact with food.
The shape of the lids is designed for best possible utilisation of space available in your kitchen. Glass containers of equal and different volumes can be stacked on top of each other – from largest to smallest.
Use the calendar on the lid to mark the date you stored your foodstuffs and meals, or to mark their use-by date. This way, you will never wonder whether a stored item is still good or not.
Resilient materials ensure simple maintenance
High-quality materials used in Status glass containers enable them to be washed in the dishwasher or by hand using ordinary dishwashing products. When cleaning the gaskets on the lids, just be careful not to damage them with rough sponges or aggressive cleaning agents.
Vacuum packing is simple
To create vacuum in the container you need a vacuum pump. You can use: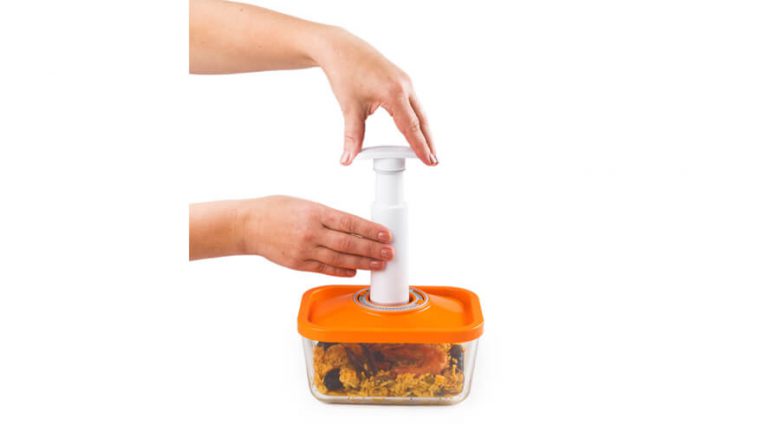 The dimensions of the 1.5-litre glass vacuum container
At its widest part, our mid-sized glass vacuum container measures:
18 cm in length,
12 cm in width, and
5 cm in height.
Vacuum storing cannot stop oxidation entirely, so we advise storing delicate foodstuffs in the refrigerator.