Description
Do you like to grow a few vegetables and fruits in your garden and want to store some for the winter? Vacuum packing is the best way to store food items you want to freeze. All you need to do is choose vacuum bags of high quality that will protect your food. See why Status vacuum foil roll is the best choice.
Preparing reserves for the winter
Narrow vacuum foil roll is suitable for storing:
smaller whole food items such as cheese and meats,
sliced zucchini, carrots, cauliflower, broccoli,
mushrooms, and
berries as well as other food items of appropriate dimensions.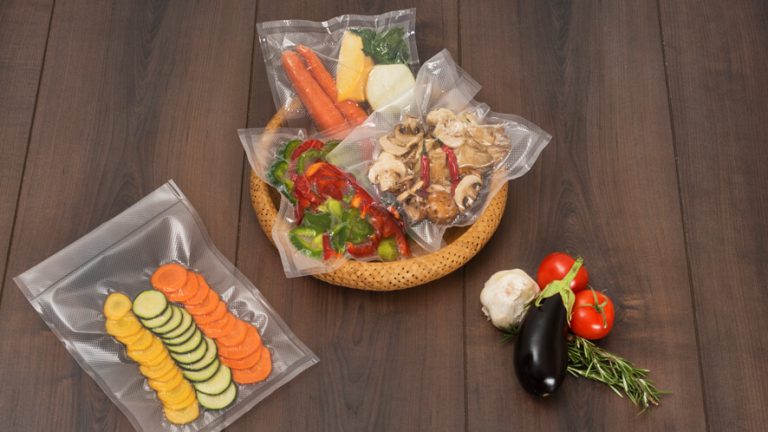 Advantages of vacuum storing
Vacuum storing extends food shelf life by up to four times because removing oxygen deprives the bacteria of their living conditions. Vacuum packing significantly reduces oxidation, which causes mold, food deterioration, and a change in taste, appearance, and smell. What this means for you is that your vacuum-packed (frozen) foods will preserve all of their original taste as well as vitamin content.
Which vacuum-packing bags should I choose?
There is a vast array of vacuum packing bags of various sizes and qualities available on the market. The level of vacuum bag quality can be assessed according to the following criteria:
bag thickness,
material composition, and
ribbed profile.
High-quality bags are at least 100 µm thick. The thickness of individual bags can be found on the producer's declaration; in any case, we recommend that you also measure it yourselves with calipers.
Thickness is important for bag permeability and high-quality fusing. If the foil is too thin and does not contain enough polyamide, it will pass oxygen, which will cause the food to go bad; it will also allow freezer burn to occur, particularly since the bag can tear more easily allowing a food item to rub against other food items in the freezer. A thin bag also won't contain enough polyethylene, which is the material that ensures a good seal. What this means for you is that the bag will melt during the sealing process and won't be able to hold vacuum.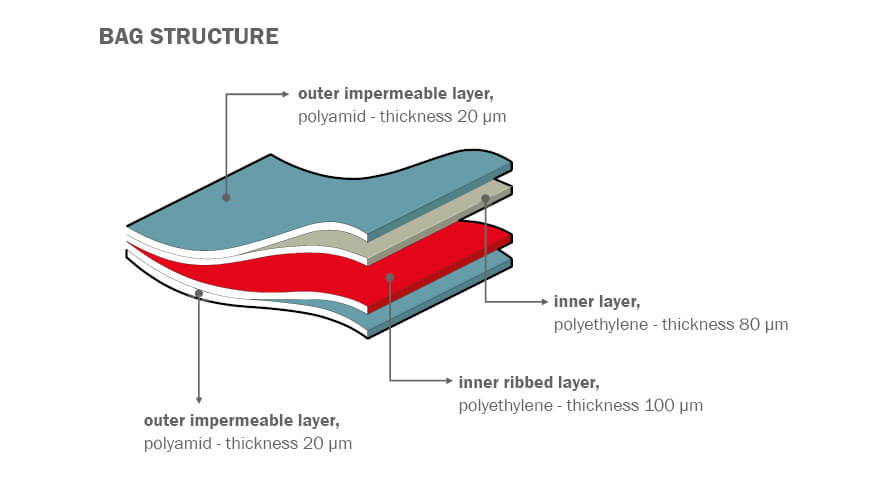 Status vacuum bag thickness
Status vacuum foil is the thickest available on the market. Its smooth layer is 100 µm thick and the ribbed layer measures 120 µm. Status vacuum bags are guaranteed to be impermeable and will seal to a high standard. For a more detailed explanation of our bags' material composition see the above sketch.
Storing foods in Status vacuum bags protects them from external influences because their professional-grade thickness works as a barrier protecting the stored food against freezer burn and other smells.
Vacuum foil roll: Materials
Material composition is also important because the foil is in contact with food. Materials used in food foil must have certificates proving the bags' suitability for storing food as well as for freezing and cooking sous vide. It is also important that the bags don't influence the taste and smell of stored foods or else your food items would get an unpleasant plastic aftertaste.
Status vacuum foil roll composition
Status vacuum bags are made from polyamide and polyethylene. Polyamide is airtight and is used in the outer foil layers. Polyethylene is the substance that ensures the bags will achieve a good quality seal. Status bags have the thickest layer of polyamide (20 µm) on the market, which makes them your best choice if you want your home-grown vegetables, meat, and dried meat delicacies stored to a high standard.
Why is high-quality vacuum foil ribbed?
The ribbed profile has a particular function. The shape of the ribs enables air to be extracted from the vacuum bags easily and more effectively during the vacuum packing process.
Status vacuum foil ribbing is special and protected
The ribbed profile of Status bags is 0.2 mm high and guarantees they will seal to the same quality standard on their fiftieth cycle as they did on the first. 
How does buying quality vacuum bags actually save you money?
Status vacuum bags can be reused several times. You can also wash the bags in a dishwasher and use them for as long as they are long enough to be vacuum-packed in the vacuum sealer. What this means for you is that you'll save quite a bit through the efficient use of your vacuum bags, which will remain unaffected by repeated washing and vacuum packing thanks to their high-quality foil composition.
Status vacuum foil roll: Certified Quality
Status vacuum packing foil is made in Slovenia and holds all the necessary certificates attesting that it is appropriate for food storage and that it doesn't affect the food's taste or smell. Status vacuum bags are also suitable for freezing and sous vide cooking.
Make a bag that fits your needs
Foil rolls are the best choice for when you're vacuum-packing foods of different sizes or preparing vegetable and meat packets for different meals. You can adapt the bag length entirely to the food item you want to vacuum pack. Narrow foil rolls are suitable for storing small pieces of cheese and meat, sliced steak and vegetables, peas and beans, berries, dried fruits, and other appropriately sized foodstuffs.
For easier vacuum packing and for vacuum packing several bags at a time we recommend the use of Status Stiki double-sided adhesive tape. Attach the Stiki tape to the edge of the vacuum sealer and it will hold the bag in place instead of you. Your hands will stay free and the bag will be sealed to a high standard without wrinkling.