Description
Do you swear by ecologically grown food, but don't have a patch of your own to cultivate your own vegetables? Did you start growing vegetables on your balcony? Home-grown vegetables and herbs are so precious that it would be a shame to let any of them go to waste. Dehydrating is one of the oldest methods of long-term food preservation; in recent years it has become established among people who swear by raw-food and paleo diets because it extends the shelf life of foods while preserving their nutritional value by treating them at lower temperatures than cooking. See how to use a food dehydrator in your home.
Dehydrated fruits and vegetables as part of a raw-food or paleo diet
Dehydrators enable the preparation of dishes that conform to the raw food and paleo diet. In addition to having fruits and vegetables completely raw, you can also prepare dehydrated snacks that last longer. Low temperatures used in food dehydration don't destroy the enzymes, vitamins, and minerals like standard cooking does.
Make healthy raw-food biscuits, crackers, and even tortillas as your more demanding dishes. Vegetable crisps will excite even those friends and colleagues that don't swear by raw-food diets.
Dehydrating herbs with our Fruit, Vegetable, And Herb Dehydrator
If your little herb corner of the balcony bore abundant yield, the Status 14-liter dehydrator will be the perfect solution for drying all types of herbs. It is just the right size for use on the balcony or in a small kitchen. For more precise instructions and recommendations refer to the dehydrator operation manual that comes with the appliance.
The usefulness of the dehydrator doesn't stop with drying foodstuffs; its precise temperature settings can also be used to make yogurts or leaven rising agents.
All that you can prepare in your dehydrator
The dehydrating machine has a variety of uses including making:
treats for your cat or dog,
decorations from citrus fruits and blossoms (potpourri),
essences of fruit and vegetables (from lemons, beetroot, spinach, etc.), which can also be used as a natural food dye for pastries.
For more ideas, see the attached user manual. You can also download the free e-book with recipes and tips.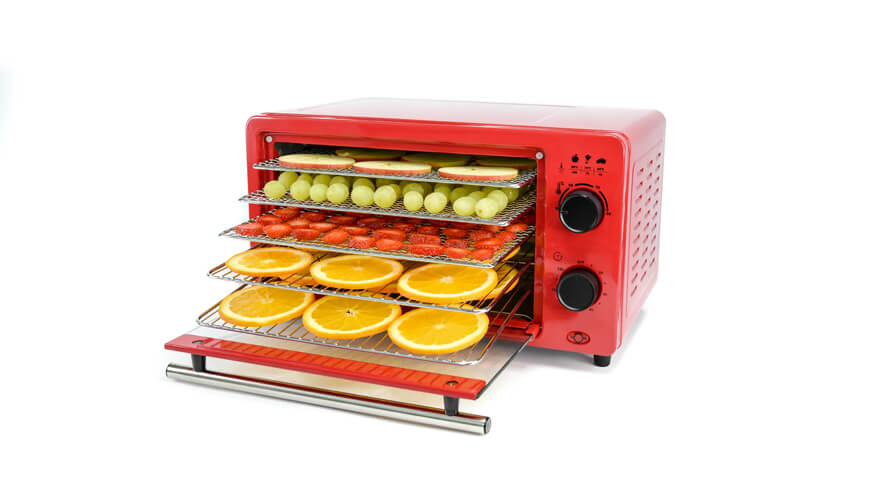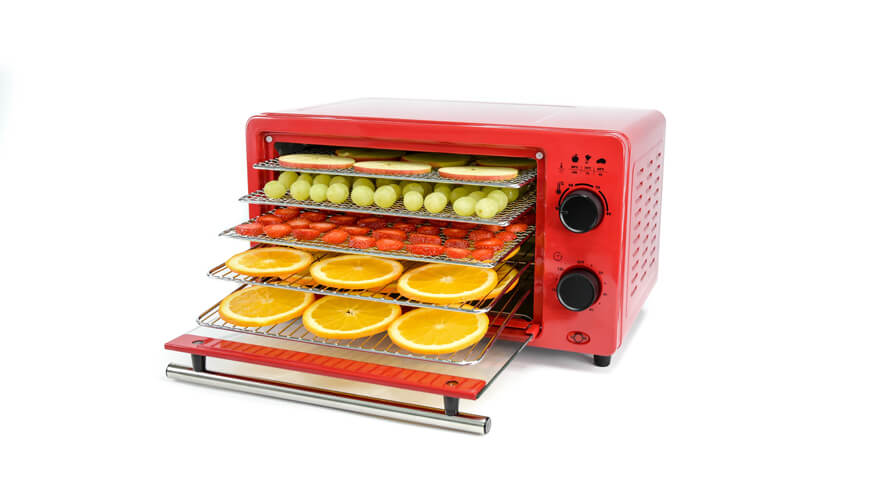 Storing dehydrated fruit, vegetables, and herbs
Dehydrated foods need to be stored impermeably as soon after the drying process as possible, so they don't rehydrate. We recommend the use of our vacuum bags and containers that seal hermetically and store the foodstuffs in an oxygen-free environment, which will ensure the longest shelf life. Vacuum-stored foods don't need to be frozen, you can simply store them in a cool place, such as the cellar.
Status dehydrator's advantages over the competition
The Status Dehydrator has a metal housing and interior to ensure better energy preservation and safety in comparison with plastic dehydrators. The metal housing retains warmth drying the foods faster and using less electricity. Better-quality dehydration is also achieved by its rectangular shape and horizontal airflow. When drying in round driers where air flows from above or bottom, you need to rotate the trays up and down to achieve evenly dried foods. When drying in the Status dehydrator, you simply turn the trays (if needed) – so that the food items closer to the fan are now away from it.
Status Fruit, Vegetable, And Herb Dehydrator, 14 l: use and components
Our smaller dehydrator includes 3 mesh trays for smaller food items and 2 grill trays for dehydrating apples, oranges, mushrooms, and other larger food items.
Dehydration is an active process, which is why we advise that you follow the dehydration of the food items and adjust the temperature and time of dehydration if needed. The speed of dehydration can vary according to external conditions such as air humidity and the quality of the food items – ripeness, food sort, etc.
Food dehydrator: maintenance and cleaning  
Before first use run the dehydrator empty for a minimum of one hour at its top temperature setting. After each dehydration wash the trays – either by hand or in a dishwasher. The easiest way to remove any crusty spots is by soaking the trays in warm water, and then brush the resilient clots away after a few minutes.
Materials and dimensions
The housing and trays are metal; the door is made of tempered glass.
The housing of the dehydrator measures 390 x 290 x 228 mm, and individual trays 270 x 200 mm. Combined, all five trays form 0.27 m2 of the useful food-dehydrating surface.