Description
Do you often find a glass of spoiled pickles somewhere in the back corner of your refrigerator? Use Universal Vacuum Lid 2 to reduce the amount of food that gets thrown away in your household.
Universal Vacuum Lid 2 fits smaller mason jars
The Universal Vacuum Lid measuring 8.2 centimetres in diameter fits the sizes of smaller pickling jars and tin cans. Use it to extend the shelf life of open of pickle jars of vegetables or canned foods you cannot use all at once. Due to the effects of air and temperature, open foods are constantly exposed to harmful effects such as oxidation, rotting, drying out, and mould.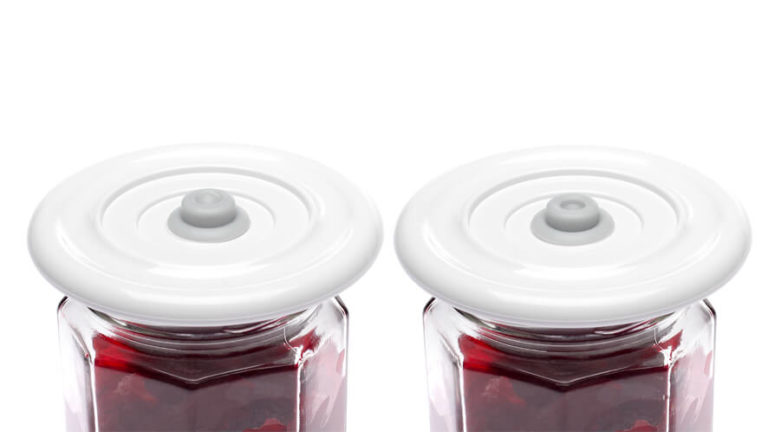 The Status Universal Vacuum Lid extends food shelf life
Vacuum storing stops the negative effect of oxygen on the foodstuffs. By extracting air from the packaging you greatly slow oxidation that would cause food to spoil. This way, foods keep fresh longer. By throwing away less food you'll save quite a bit of money on buying groceries.
Vacuum storing with vacuum lids is simple
Our vacuum lids are simple to use because all you need to vacuum seal is a vacuum pump. It can be either manual or electric. You can also use the special "Vacuum Container" setting on our vacuum sealer machine. It is however important that the edge of the container you want to vacuum seal is straight and smooth.
The Universal Vacuum Lid with a diameter of 8.2 centimetres fits various sizes
You can use one lid to vacuum seal pots and containers of various dimension. Our Universal Vacuum Seal 2 fits diameters from 4 to 7.5 centimetres. You can use it on glass, tin, plastics, ceramics, or metals.
Cleaning and maintenance of the Universal Vacuum Lid
When washing the Universal Lid, use ordinary dishwashing soap or wash it in the dishwasher. Avoid using powerful cleaning products and rough sponges or scrapers that could damage the gaskets.
Our Universal Vacuum Lid is made of food-safe materials
Our Universal Vacuum Lids are made of ABS plastics, which guarantees the products long-lasting quality. The gaskets on the bottom of the lid are silicone.
A vacuum pump is necessary to vacuum seal the Universal Vacuum Lid. It is bought separately and available here.
Vacuum storing slows oxidation but cannot stop it completely, so always store your vacuum-sealed foods in the refrigerator.