Description
Did you know that vacuum packing is the only entirely natural way to keep food fresh longer? Use Status vacuum containers for all kinds of foods in your refrigerator to extend their shelf life and keep them from losing vitamins and minerals. See more about rectangular vacuum container 0.5 L.
How to prolong the freshness and shelf life of foods naturally?
By vacuum packing them. Vacuum is space without oxygen, which is necessary for microorganisms to develop. When you remove the air from the container with the vacuum pump you also extract oxygen; this minimises the potential for the development of mould and bacteria, which cause food to spoil. By preventing oxidation you're also preventing degradation of vitamins, minerals and enzymes; this will also keep vacuum-packed fruits and vegetables much more nutritious.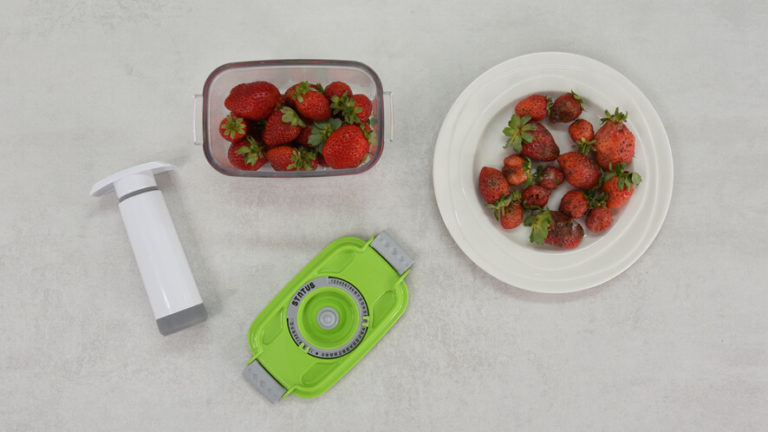 Vacuum packing in containers is practical for several reasons:
The stored food items will stay fresh for up to four times longer because foodstuffs are protected against oxidation preventing the development of bacteria and mould, which cause food to deteriorate. This also preserves the food aromas better so you'll throw away less food and save by not having to buy more.
Vitamins and minerals are better preserved in vacuum, because there is no oxygen, which is vital for microorganisms to grow and develop.
Vacuum packed containers are hermetically sealed and cannot open unless you release the valve on the lid. What this means for you is that you can also store soup in the container to take it with you when you go hiking in the hills or cycling to work. There will be no spillage.
Smells don't spread in vacuum. Use the vacuum container to store onions and garlic or other aromatic foodstuffs that would otherwise leave your refrigerator with an unpleasant smell.
What do you need in order to vacuum pack?
The container is sealed with either a manual or electric vacuum pump or using a special adapter with your vacuum sealer. Vacuum storing is simple and once you get the hang of it you won't settle for anything less.
Status vacuum containers are made to last
Status vacuum containers are made of top-grade tritan, which is shock resistant and guarantees the containers a long life-span. This way, by using reusable containers, you can also do a lot to reduce the amount of plastic waste polluting our environment.
Use our 0.5-litre vacuum container to store:
lunches for school or work to reduce the consumption of single-use packaging;
snacks for one, which will stay crispy longer;
leftover meals to extend their shelf-life and bring them to work or school;
sugar, coffee, and tea to keep them safe from pantry moths.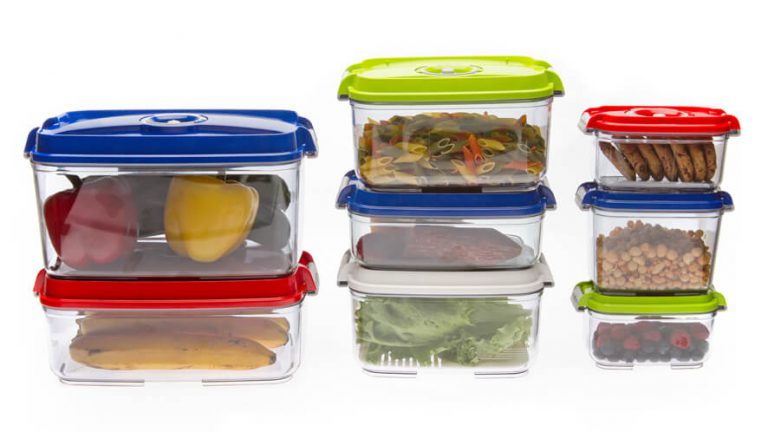 Status vacuum containers have additional advantages making your daily food packing easier
Our rectangular containers are designed to make maximum use of space. Their special lid shape enables containers to be stacked on top of each other. What this means for you is better use of space in your refrigerator or kitchen cabinet.
The container lids feature a handy calendar on which you can mark the use-by date or the date on which you stored your foodstuffs. This means that you won't forget when individual food items were stored in the refrigerator.
They are made of tritan, which is BPA-free. One of its significant advantages is that it doesn't stain when in contact with food or adopt its smell.
The 0.5-litre container has similar dimensions as the 0.8 litre container
The measurements of the 0.5 litre container:
length: 16 centimetres,
width: 9 centimetres, and
height: 8.5 centimetres.
The 0.5-litre and 0.8-litre vacuum container are of the same width and length, which makes it possible for you to stack them on top of each other to make the best use of the space in your kitchen.
Status vacuum containers are simple to maintain
Status vacuum containers are made of Eastman Tritan, which guarantees that the products will last a long time. Our containers are suitable for freezing and reheating in the microwave (for up to two minutes, without the lid).
You can wash them by hand or in a dishwasher. Refrain from using scrapers, rough sponges, or powerful cleaning agents. When washing the containers, be careful not to scratch or damage the fastening parts – the edge of the containers and the nozzle for the pump.
Status three-year guarantee
The quality of Status vacuum containers is guaranteed by a three-year warranty.