Description
Looking for practical and high-quality food storage containers, that promise a long life span and durability? You've come to the right place. Read more to find out why Status Full Tritan Vacuum Containers are the best choice for your household. See detailed information in the video.
Tritan is the best choice
High-quality plastic called Tritan is an extremely resistant and durable material that is a great choice for food containers because of its complete transparency and resistance to absorbing aromas and colours from foods. It is also BPA-free and freezer, microwave and dishwasher safe. What more could you ask for? Use quality food containers rather than cheap lunch boxes and single-use packaging for your food and contribute to the protection of the environment.
4.5-litre Full Tritan Vacuum Container for all kinds of foodstuffs
The biggest Full Tritan Vacuum Container is suitable for storing different kinds of food. By using dividers you can even store various food items in one container because aromas don't mix in vacuum environment. Here are some examples of what can be stored in a big vacuum container:
whole or diced fruits and vegetables,
bread, salami and cheese,
different kinds of sweet or salty treats,
pre-prepared lettuce for tomorrow's dinner,
dinner leftovers,
sauces and soups and many more.
Don't worry about storing tomato or pumpkin soup, because the container won't get discoloured from food.
We made sure to make it easy for you!
We listen to our consumers when we develop new products. That's why we integrated a vacuum indicator on the lid. The indicator will help you determine when enough air is pumped with a manual vacuum pump.
The lid also has an integrated calendar which enables you to mark the storage or the expiration date of food. No more doubts if the food is edible or not.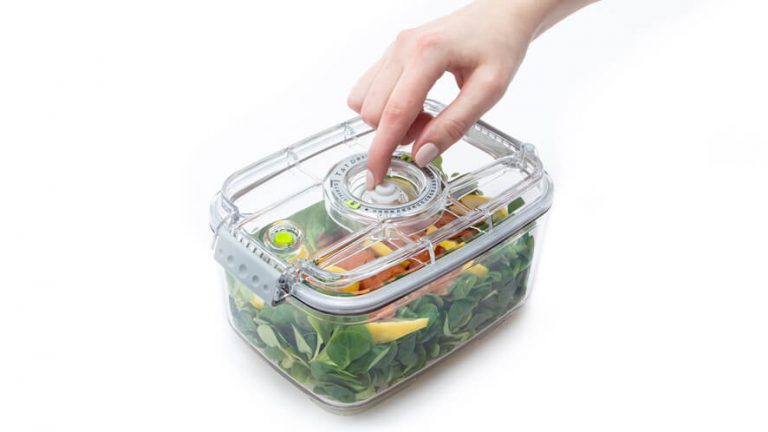 Vacuum food storage
Vacuum prolongs the freshness and the shelf life of food because it doesn't contain oxygen which is necessary for bacteria and mould growth. The food items will stay four times fresher in vacuum without using any preservatives or additives. By slowing down the oxidation process, you also protect valuable nutrients. Make sure your loved ones consume only the best food.
Food prep using vacuum
Use vacuum food storage to make food preparation easier for yourself. Take an hour during the weekend and slice the vegetables, clean the lettuce and marinate the meat in the food vacuum container. Vegetables will retain their freshness, vitamins and minerals for a couple of days and the meat will soak the marinade flavours better. When in a hurry, lunch and dinner will be ready faster, without the loss of nutritional value.
Status Full Tritan Vacuum Containers: Cleaning
Full Tritan Vacuum Containers can be washed by hand or in the dishwasher using regular soaps.
Materials
Containers and lids are made of Eastman Tritan, and the valves and seals are silicone. All materials are food-grade and BPA-free.