Description
Are you looking for a handy storage container you could use for all kinds of food in your household? Do you want to organise your pantry and protect your food against deteriorating? The Square Vacuum Container is suitable for storing all manner of foodstuffs; we also recommend it for marinating meat.
Square Vacuum Container with the capacity of 2 litres – measurements:
length and width: 20 centimetres
height: 10,5 centimetres
How does vacuum storing food extend its shelf life?
Vacuum packing prevents oxidation, which is the main culprit for food going bad. Microorganisms need oxygen to grow and develop. By removing the oxygen from the container, you extend your food's shelf life for up to four times and so reduce the amount of food that gets thrown out in your household. According to European Commission research this can save you several hundred Euros each year.
Oxidation also results in the loss of aroma and crispiness
Vacuum packing aromatic foodstuffs preserves their aroma and stops their scent from spreading around your fridge or kitchen. Proper coffee aficionados will immediately tell the difference between coffee that was stored in a vacuum container and coffee that was left to stand in permeable packing for a few days. Vacuum also preserves food's crispiness. Vacuum pack left-over crisps or wafers in our Square Vacuum Container, and they'll stay as crispy after a few days as they were on the day they were packed.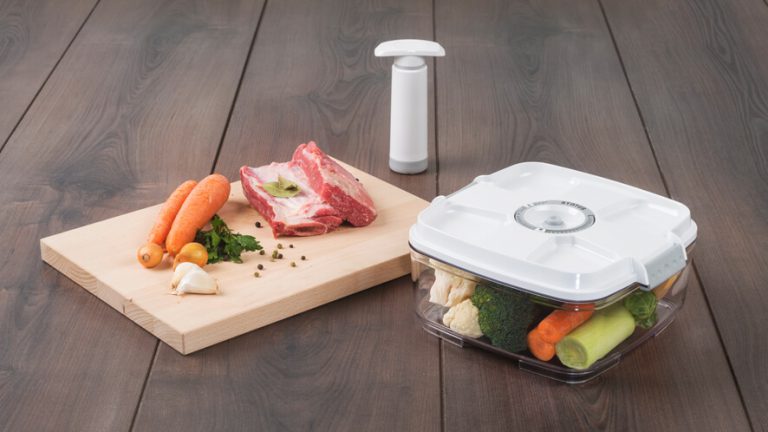 Does vacuum packing demand special equipment and a lot of time?
Status vacuum containers are truly simple to use. All you need to vacuum pack them is a vacuum pump, either electric or manual or a vacuum packing machine. A few pumps with the manual pump, or a simple press of the button on your electric pump or vacuum sealer, and the container will be sealed and your food safe from degradation. Truly simple and fast!
Why Status vacuum containers?
We manufacture our vacuum containers (as well as all other accessories), using top-of-the-line materials that guarantee our products will last long. Our vacuum containers are made of tritan, which is shock resistant and does not take on the colour or aroma of the stored foods; our lids are made of ABS plastic, while our valves and gaskets are silicone. All the materials are food-safe and BPA-free.
Free of charge replacement of damaged parts
The quality of our Square Vacuum Container is guaranteed by a three-year warranty. 
Using the two-litre Square Vacuum Container  
You can use our Square Vacuum Container to store all types of food that you want to last longer or protect against pests such as pantry moths or ants.
Vacuum pack sliced or whole fruits and vegetables. You'll prevent their rotting, oxidation as well as preserve their vitamins and minerals.
Store cured sausages and cheese and extend their shelf life for up to four times.
Protect your cereal, flour, and pasta from pantry moths.
Vacuum pack leftovers from your daily meal and enjoy them in a day or two, or bring them to work to snack on.
Use special inserts and divide the container in two segments
Buy special dividers for 2-litre square vacuum food container and divide the container in two compartments for storing two different kinds of food.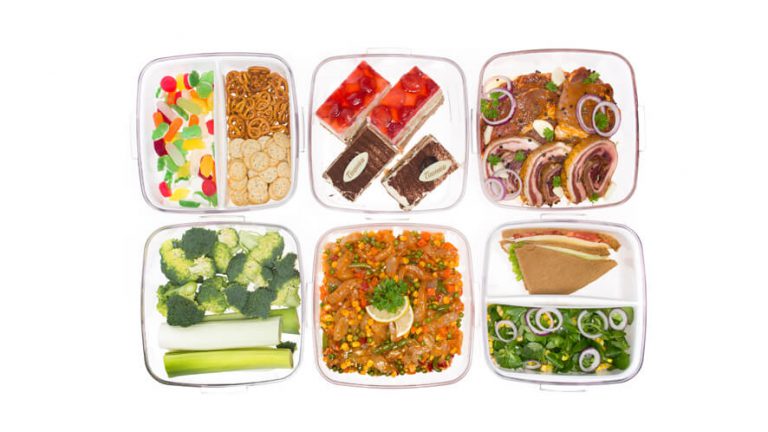 Also use our Square Vacuum Container for:
quickly marinating meat, as vacuum opens the pores making it easier for the spices to permeate the meat.
pre-preparing meals. Wash and slice your vegetables a few days in advance, cook your legumes or pasta and vacuum pack them. The vacuum will preserve your ingredients and you will have shortened your meal preparation time for a few stages.
transporting liquid foods. Vacuum sealing the containers closes them hermetically, which makes the contents completely safe from spilling.
freezing soups and sauces which cannot be stored in vacuum bags.
Special lids with inbuilt calendars
The special shape of the vacuum container lids allows them to stack on top of each other. What this means for you is that you'll be able to make efficient use of the space in your refrigerator or kitchen cabinets. Transparent walls make it easy to see what's inside the containers.
If you're prone to forgetting when you stored individual foods or what's their use-by date, use the calendar on the lid. Mark out the day and month and also let others in the house know how long the food will be safe to eat.
Vacuum packing significantly reduces oxidation but it cannot stop it completely, which is why we recommend that you keep your vacuum packed foods in the refrigerator.