Description
Do you feel like too much food gets thrown away in your household and want to make preparing your daily meals easier on yourself? It's time to start vacuum storing, which will also save on your grocery expenses.
Vacuum storing saves time and money
Vacuum storing extends your food's shelf-life in a natural way. All you need is a vacuum container and a pump, and you're ready to make vacuum – space without oxygen. Oxygen is the main culprit for food deterioration because this basic element causes microorganisms to grow and develop. By removing oxygen from the vacuum container, you destroy the optimal conditions for the development of mould and bacteria and so slow the deterioration of food without any additives. What this means for you is that you are going to reduce the amount of spoiled food in your household in the simplest way and save by grocery shopping less often.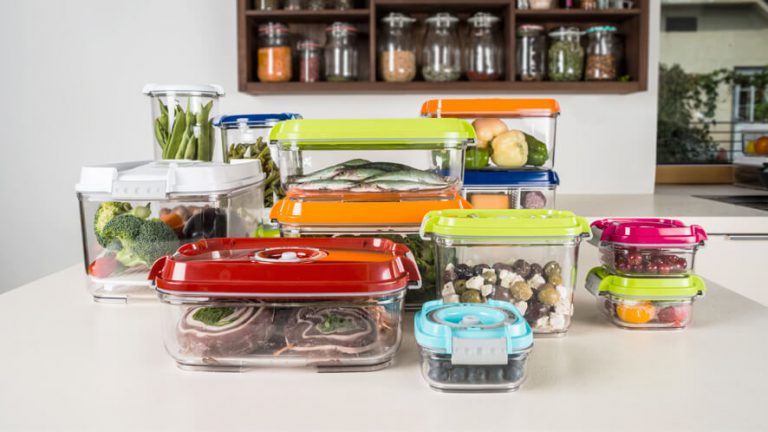 Make use of the advantages of vacuum and prepare fresh and wholesome meals for your family in spite of your busy schedule. Pre-cook your meals when you can spare the time and store them in our rectangular vacuum container. The meal will keep for a week in the refrigerator and a few months in the freezer.
Vacuum and a healthy diet
Vitamins and minerals are also preserved better in vacuum, because oxidation doesn't occur. Buy fresh fruits and vegetables at your local farmer or nearby farmer's market and store them in the Status 2-litre rectangular vacuum container. This will ensure that you are serving your loved ones the highest-quality seasonal foods filled with valuable nutrients.
Vacuum packing is simple   
All you need are vacuum containers and a vacuum pump. A few pulls on the pump will extract the air, create vacuum, and protect your foodstuffs from deteriorating. For faster and simpler air extraction, use the electric pump or the special function on the vacuum packing machine.
Aside from keeping foodstuffs fresh and extending their life-span, vacuuming is also a great solution to stop unpleasant odours from spreading in your refrigerator. Vacuum containers seal hermetically, which is why food aromas are limited to the containers. This also means that vacuum containers are the best choice for transporting liquid foods.
Rectangular vacuum containers are designed to make the best possible use of space
The special shape of the containers and their lids enables you to make the best possible use of space in your kitchen. Stack the containers on top of each other and organise your pantry to make it easier to easily tell which food items are stored in your refrigerator.
Marinating in vacuum
The 2-litre rectangular vacuum container is ideal for marinating meat for your barbecue. The pores open up in vacuum, making it easier for marinade to penetrate the food. This means that you no longer have to worry about your meat the day before the barbecue; seasoning and vacuum packing it in a vacuum container two hours in advance will do absolutely fine. Perfect flavour guaranteed!
Rectangular vacuum container is made with top-quality materials
Status plastic containers are made using food safe BPA-free tritan material. Among other things, it also has the significant advantage of not adopting the colour and smell of the food. The lids are made of ABS plastic, and the gaskets are made of silicone.
Rectangular vacuum container has a variety of uses in the kitchen
Their high-quality materials ensure that Status vacuum containers can serve a number of purposes. You can use them to freeze leftovers from your daily meal or pre-prepared meals, both of which can also be reheated in the microwave (up to two minutes, no lid). You can use vacuum containers to store various kinds of foodstuffs, because the stored foods will leave them with no stains or other lasting damage.
Three-year warranty
The quality of Status vacuum containers and other accessories (except for vacuum packing machines) is guaranteed by three-year warranty.
Though vacuum greatly slows oxidation it cannot stop it completely; this is why it is best to always keep vacuum packed foods in the refrigerator.