Description
Are you looking for a present to give an avid pasta lover? Would you yourself be happy to eat pasta three times a day? Our pasta set will ensure that spaghetti and other tasty sorts of pasta will be carefully stored and the parmesan freshly grated on top of your serving to add that extra final touch to the taste.
A set for Italian cuisine lovers
Our Set for Gourmets and Pasta Lovers makes an excellent gift for all those sworn Italian cuisine lovers as well as all those among you, who indulge in pasta several times a week and adore freshly grated parmesan cheese on your tasty pasta.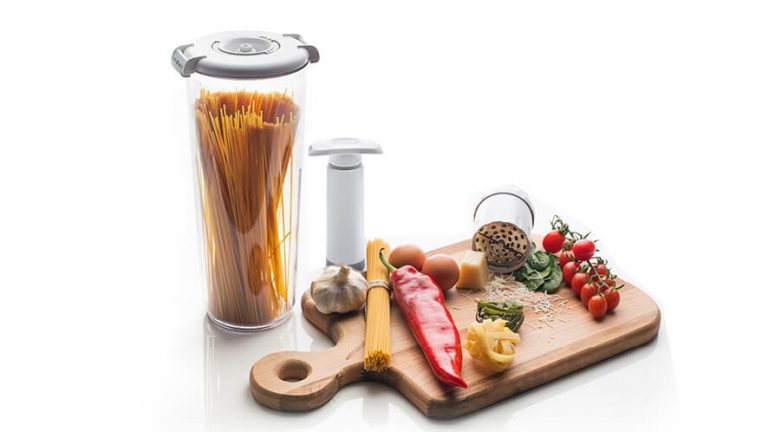 Storing foodstuffs in vacuum
Vacuum storing extends food shelf life and ensures that the stored food will preserve its aroma. By extracting the air from the container you prevent negative effects of oxidation such as food spoiling, rotting, going mouldy, losing vitamins, and unpleasant smells. Slow your foodstuffs' deterioration and throw out less food. You are looking at saving 300 € a year.
High-quality materials guarantee several years of use in any kitchen  
Vacuum containers are made using superior-quality Tritan, which doesn't adopt aromas or colours of stored foods, so you can also use the container to store cooked pasta with tomato sauce.
Vacuum containers are an excellent solution for you, if you want to organise your pantry and keep your foodstuffs safe from pantry moths. By hermetically sealing them in vacuum containers, you'll preserve their aroma and nutritional value as well as prevent pests from getting in.
Use the calendar on the lid of the container to indicate on which day and month you stored the item or its use-by date.
The Grater is a universal kitchen accessory with a variety of applications
Our Universal Grater is one of Status's first products and also one of our best selling items. You can use it to:
grate parmesan cheese to sprinkle on a serving of pasta;
grate chocolate and/or nuts to sprinkle on crepes and other desserts;
grate dried bread to make crumbs;
grate fresh horseradish to spice up roast beef at your family meal.
For more information on our Universal Grater refer to the product's description in the section on Food Preparation and Storage.
Materials
The 2.5 litre round vacuum container is made of Tritan, which is a BPA free material. The lid is made of ABS plastic, and the gaskets are made of silicone.
Our Universal Grater is made of ABS plastic and has stainless steel cutters.
All materials used are food grade and can be safely used with food.
Maintenance and cleaning
Wash the vacuum container by hand or in the dishwasher using ordinary dishwashing products. Do not use rough sponges so that you don't damage the edges of the container or its sealing components.
The hand vacuum pump doesn't require special cleaning because it doesn't come in contact with food in normal use. If needed, wipe it down with a damp cloth. After prolonged use, lubricate the internal tube with paraffin oil.
For easier cleaning disassemble the Universal Grater and wash it by hand or in a dishwasher. Leave to dry disassembled before using it again.