Description
If you're looking for high-quality food storage containers for professional kitchens you've come to the right place. Read on and see for yourself that a professional Tritan vacuum container is the best choice for your restaurant, pizzeria, or smoothie bar.
Why store in vacuum containers?
Vacuum containers are an excellent choice for storing foodstuffs in households or professional establishments; primarily because they extend the shelf life of stored foods, and at the same time they also keep the foods safe from kitchen pests (pantry moths, flies, ants).
Catering providers will gladly choose vacuum containers to safely transport food, because vacuum packing seals them hermetically making it impossible for them to come open without releasing the vacuum valve on the lid.
Not only will you organise your pantry and cold storage room for easier inventory, but by vacuum packing foodstuffs you will also prevent their aromas from mixing and spreading around your kitchen.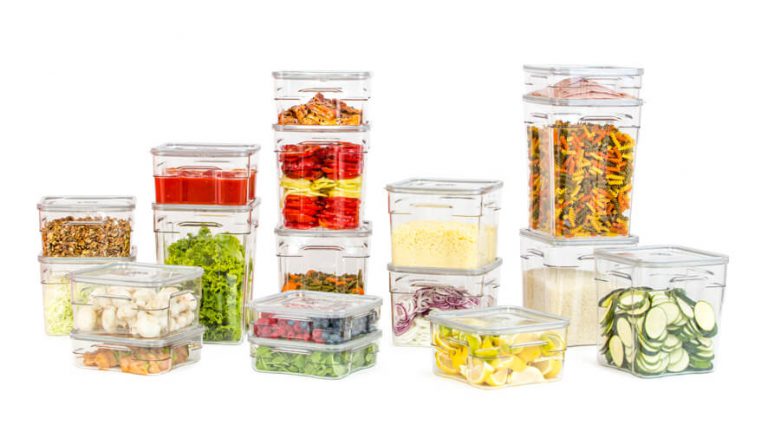 Why choose Status Gastro containers?
Status restaurant-grade containers are made of top-quality Tritan, which guarantees years of use in spite of daily use in a professional kitchen. One of Tritan's important distinguishing features is also its resistance to absorbing the contained food's aromas and colours; this makes our Gastro containers suitable for use with all types of foodstuffs.
Containers and their lids are transparent, which enables a simple inventory of your stored foodstuff provisions without having to open each container and needlessly expose the foods within to oxygen.
The litre and quarts scale markings enable you to quickly check your supplies and to more precisely mix ingredients in the recipe. The rounded corners help you pour the content without dripping.
The container dimensions and volumes are specifically adapted to professional kitchen conditions. All Gastro containers are of equal width and length, which is why you can stack them on top of each other and use the same lid size on all of them. This way you'll make smart use of the space on your counter and in your cold storage room.
The tough Tritan is also suitable for freezing and heating in the microwave and is dishwasher safe.
The 8-litre vacuum container for storing larger quantities of foodstuffs
The second largest professional vacuum container we offer at Status is suitable for storing:
larger quantities of washed and diced vegetables for preparing fresh meals as you go,
a number of whole vegetables and fruits, which you will adapt to the number of guests,
larger quantities of fresh marinated meat, which will soften quicker in vacuum and absorb more marinade,
washed leaf lettuce and diced cabbage that will keep completely fresh and crunchy for days, and
all other foodstuffs needed to prepare dishes that you want to be stored to a high standard.
How does vacuum work?
Vacuum is space without oxygen, a vital element needed for the development of microorganisms that cause food to spoil. By using the pump on the vacuum containers, you create conditions for four times longer food shelf life and freshness. This means you'll save on ingredient shopping because you'll have less spoiled food to throw out.
Materials
Status Gastro vacuum containers and lids are made of Eastman Tritan, which is classified as the highest-grade plastic material and is considered to be exceptionally resilient. Valves and gaskets are silicone.
8 litre Gastro Vacuum container is available in:
a single container without a lid or
6-pcs combo set, which includes 6 vacuum containers (volume 8 litres) and 6 gastro vacuum lids.