Description
Did you know there is no need to store cured sausages and other dried meats in the freezer?  If you want to preserve the meat's flavour, aroma, and quality, vacuum pack it. In high-grade vacuum packing bags, your sausage will taste just as good after a year in storage, as it did on the day you packed it.
Why vacuum?
Vacuum is a space without air (oxygen), which serves as food for microorganisms. These cause meat and other foodstuffs to deteriorate. By preventing oxidation, we significantly slow the development of bacteria and mould, which extends the food's shelf life by up to four times and preserves all of the food's original taste and aroma.
Vacuum is the best choice for dried meats
Homemade cured sausages and other dried meat products are preserved by salt and smoke. They mature through curing until they reach the ideal state for consumption. Since you cannot eat them all at once, these delicacies need to be stored well in order to preserve their perfect flavour. Dried meats are best stored in vacuum, which stops them from maturing and drying further.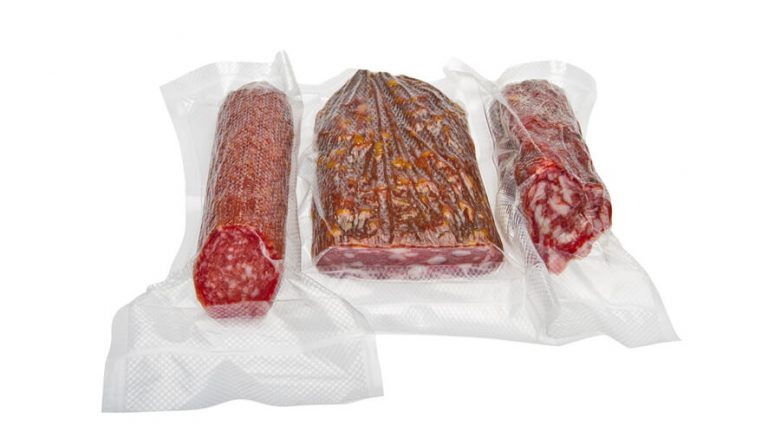 Vacuum storing cured and fresh sausages, bacon, and pancetta
Vacuum pack your dried meat delicacies and store them in a cool space – the cellar or refrigerator. Vacuum bags protect the food items from the air, which would cause it to go bad, and from potential pests (flies), so freezing is completely unnecessary. Instead, you can take advantage of the extra space in your freezer to store vegetables or fruits for the winter.
How to choose the most appropriate vacuum bags for vacuum packing cured sausage?
With Status foil roll for sausages, you can make your own vacuum bags entirely in line with your needs, to fit the size of the dried meat product or another food item you want to vacuum pack. It's suitable for storing cured and fresh sausages, bacon, pancetta, and even smaller cuts of prosciutto. If you cannot eat the whole cured sausage quickly enough, you can even save half or third of it without having to worry about its taste changes.
Bags for vacuum packing several kinds of food
Also use foil roll for cured sausages to store other kinds of food such as string beans, carrots, zucchini, nuts, spices, and all other food items of suitable shape. Simply measure out the appropriate length of foil to fit the food item and proceed with vacuum packing.
RECOMMENDATION: When vacuum-packing meat cuts with sharp bones, place paper towels on the sharp ends to protect the bag from tearing.
Why Status vacuum packing foil?
Status foil for vacuum bags is made from two thick layers of polyamide and polyethylene. Polyamide guarantees impermeability and is located on the outer layer of the foil. Polyethylene, on the other hand, ensures that the bags will fuse to the optimal degree. Status manufactures the thickest foil on the market. The smooth part is 100 µm thick, and the ribbed part is even thicker at 120 µm. For comparison: ordinary bags for freezing food are only 20 µm thick. The professional-grade foil thickness and a whole 20 µm of polyamide ensure complete impermeability and minimise the probability of physical damage during vacuum packing and storing.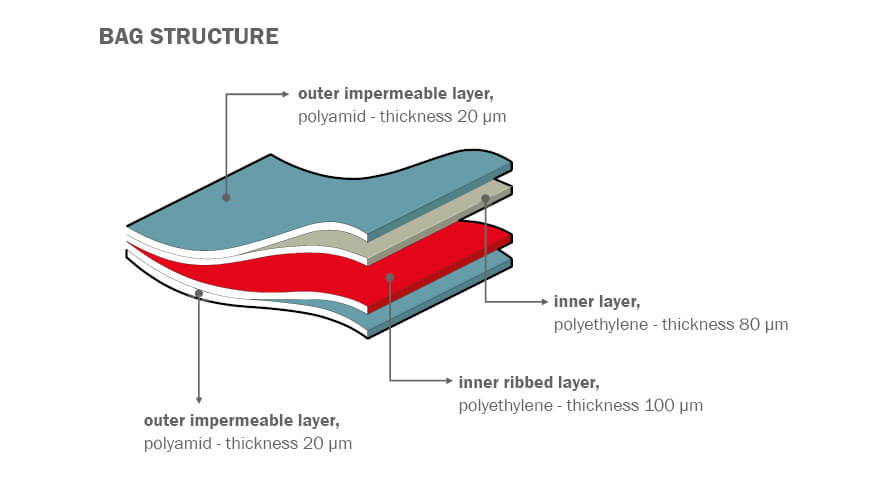 Why do certain bags stop holding vacuum after several cycles?
The special 0.2 mm thick ribbed profile contributes to all bags packing equally well, irrelevant of how many times they have been sealed before. The specifically tailored shape of the ribbed foil enables the vacuum packing machine to extract air more easily and effectively.
Is it safe to store food in plastic bags?
Status vacuum packing foil is made in Slovenia and all the materials are of European origin with all the necessary certificates. Our vacuum-packing bags are food safe and neutral in taste and smell. What this means for you is that you can use them to store all kinds of foods without a second thought and your food will preserve its taste and aroma. Our vacuum packing bags are also suitable for freezing and sous vide cooking.
Did you know you can wash our bags and reuse them several times?
Status vacuum packing bags can be washed, even in a dishwasher, and reused several times. Just be careful with the bags that contained raw meat or fish. You can take extra precautions by putting the meat in an ordinary bag before storing it in the vacuum packing bag to keep it clean. You can reuse the same bag over and over again for as long as it's long enough for the vacuum packing machine.
Status foil roll for sausages: the highest quality
The quality of our vacuum packing foil is attested also by the fact that you can use it with any good quality vacuum sealer. The composition and thickness of the foil guarantee that the food item will be vacuum-packed well and that the bag will be fused to a high standard. At any rate, for best results, we recommend the use of Status vacuum bags and vacuum packing machines.
Status Stiki for easier vacuum packing
Use Status Stiki and get the job done even faster. Attach the double-sided adhesive tape to the machine to make positioning the vacuum bag in the machine easier. Stiki will hold the bag in place, which will make it possible for you to vacuum pack two cured sausages at a time.