Description
Are you preparing to vacuum pack large quantities of food but you are unsure what size bags to get? With our 12-piece foil roll set, you can be sure you'll be able to make vacuum bags to fit all kinds of food items.
The 12-piece set of Status foil rolls contains foil rolls of three different sizes
Our foil roll set contains foil rolls measuring 280, 200, and 120 mm (11", 7.9", and 4.") in width and 3000 mm (11") in length, which can be used to make vacuum bags of various lengths, depending on your needs. Using foil roll is the most optimal and economic way to go because you can adjust the length of the bag exactly to the food item you are storing. What this means for you is that you will save twice, spending less on a more affordable set of foil rolls and use less foil.
Make a vacuum-packing bag that fits your food item exactly
Foil roll is intended for making bags according to the size and quantity of the foods you plan to vacuum pack.
Choose the wider foil roll (280 x 3000 mm / 11" x 118'') to make bags for vacuum packing larger pieces of meat, whole vegetables, or larger packets of sliced vegetables. Also use it for cheeses, bacon, and whole prosciutto.
A narrow foil roll (200 x 3000 mm / 7.9" x 118'') is suitable for vacuum storing smaller food items and whole or sliced dried meat products, allowing you to put out a cold cut in mere minutes. Use narrow vacuum packing bags for smaller pieces of cheese, dried fruits and nuts, sausages, berries, and small parcels of sliced vegetables.
Cured sausage foil roll (120 x 3000 mm / 4.7" x 118'') is suitable for salami and sausages as well as other food items, it can be made into bags that will fit the size of food items exactly. Use it to store spices, nuts, asparagus, and sliced fruits and vegetables that you want vacuum-packed in smaller parcels.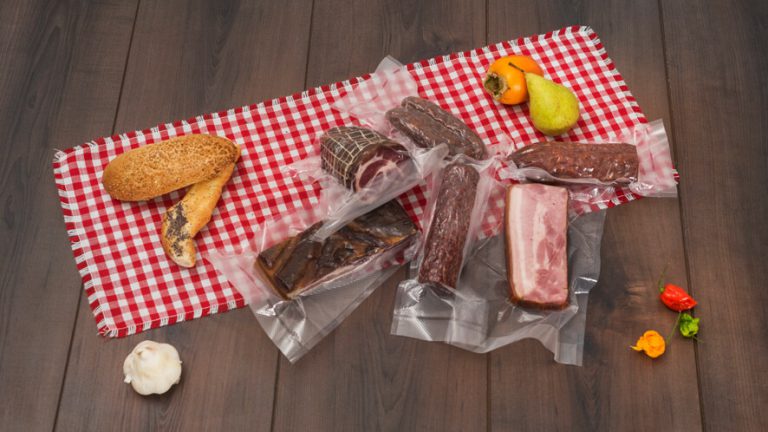 Vacuum packing protects (frozen) food from degradation and freezer burn
Vacuum packing in bags protects food items from oxidation, which means their shelf-life will be prolonged for up to four times. Vacuuming removes the air from the bag and greatly slows down the degradation of foodstuffs that would be reflected in the change in their colour and aroma. It is even more important to use high-quality vacuum bags for freezing because bags of sufficient thickness will protect the foods from freezer burn, which also causes food to go rancid.
The vacuum packing foil is made from high-grade materials
Status vacuum packing foil is made in Slovenia using certified high-grade materials, which ensure that the foil is food safe. This also means that the foil does not influence the taste or smell of the stored foods, so your frozen food items will not develop any unpleasant plastic aftertaste.
Status vacuum-packing bags are made from polyamide and polyethylene. Polyamide is used on the outer layer of the foil and ensures that the bags are airtight. The polyamide layer is as thick as 20 µm. The inside layer is made from polyethylene, which is, according to the latest research, one of the most suitable materials for food storage. It is also crucial in producing a good seal. Status foil roll is 100 % BPA-free, it is also dishwasher safe and suitable for sous vide cooking.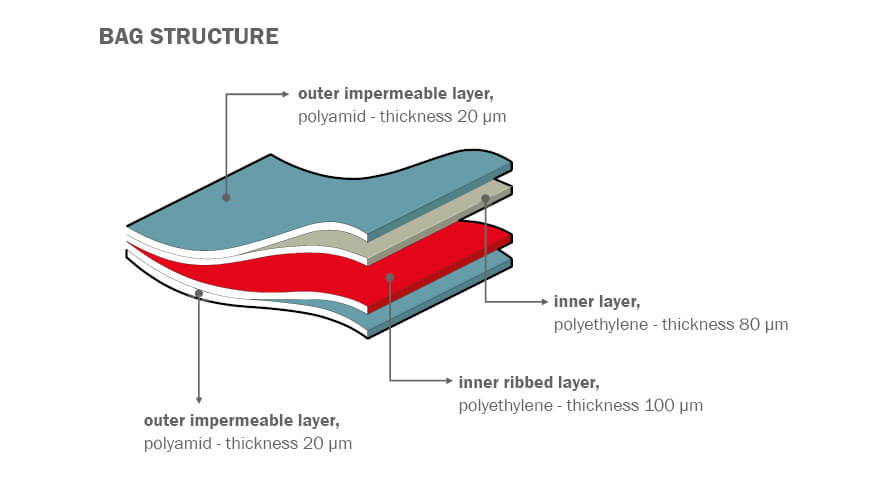 The Status vacuum packing foil roll's advantages are its thickness, materials, and ribbed profile
The Status vacuum packing foil is the thickest on the market, with the ribbed layer measuring as much as 120 µm. Together with the 100 µm-thick smooth layer they form a barrier against outside influences such as freezer burn and the aromas of other non-vacuum-packed foods.
The ribbed profile is a detail but it is important for efficient air extraction; it allows the vacuum pump to remove the air from the bag completely and ensures no air pockets are left around the vacuum-packed food items.
The depth of the profile also performs a specific task. Status foil profile measures 0.2 mm to ensure the bags will always be vacuumed to the same standard as they were the first time. People using other bags often experience issues such as longer vacuum packing processes and blame the machine; however, high-quality vacuum packing is more dependent on using good-quality bags.
Status vacuum-packing foil is the best choice for extending the durability and freshness of your foodstuffs because it is:
impermeable,
food grade,
neutral in smell and taste,
BPA-free,
suitable for reuse, and
safe for sous vide cooking.
Status Stiki makes it easier to position the bag during the vacuum packing process
Use double-sided adhesive tape to position the bag more easily in the vacuum packing machine. Place the bag onto the Status Stiki tape, which you have attached to the edge of the machine. It will hold the bag in place instead of you so that your hands will be free during the vacuum-packing process. Stiki will also save you foil and stop it from creasing during vacuuming.