Description
Do you find yourself unable to vacuum pack a whole prosciutto, ham leg, or cheese wheel? This is no longer a problem. 350 mm (13.8")-wide vacuum bags are suitable for storing larger pieces of meat and other large food items using vacuum packing machines whose sealing strips are at least 36 centimeters long. 
What makes Status vacuum bags better than the competition?
Status vacuum bags are the thickest on the market. The inside layer of the bags is made from polyethylene (the ribbed layer contains 100 µm, and the smooth 80 µm), which research has shown to be the best choice for food storage and is BPA-free. Polyethylene also guarantees optimal fusing with all high-quality machines available on the market.
Status bags have the thickest outside layer of polyamide, which protects foods from the negative effects of oxygen. What this means for you, is that your food items will be stored to a high standard and that they will preserve all of their nutritional value and aroma until the day they get used.
The ribbed profile of Status vacuum bags is as thick as 0.2 mm. It also plays an important part when you're vacuum packing with a machine because its thickness guarantees an even seal irrelevant of which vacuuming cycle in a row you're performing. Its special pattern ensures that no air pockets will form around vacuumed food items, which would influence the durability of the stored food.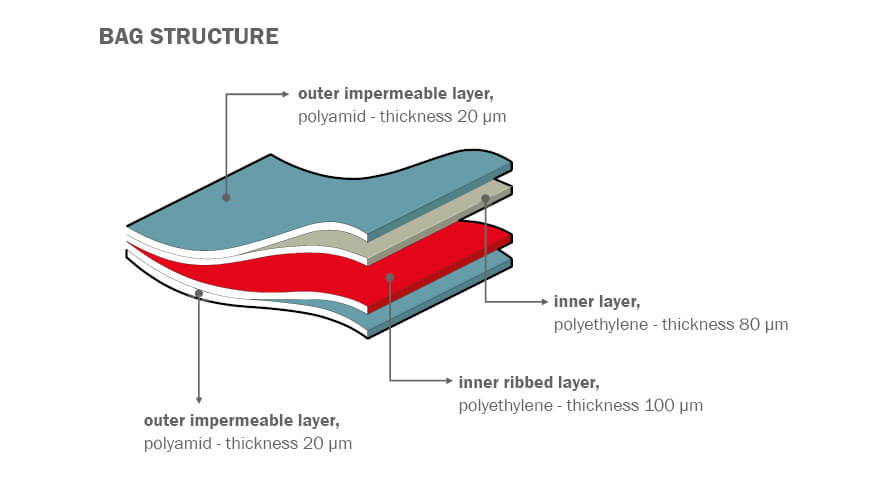 European quality XL food vacuum bags
Status food vacuum bags are manufactured in Slovenia using European materials, which are certified for food safety.
They are BPA-free and neutral in taste and smell, so your stored foods won't develop an unpleasant plastic aftertaste even after having been stored in the bags for a year or more.
Due to high-quality manufacture with top-of-the-line materials, you can wash the bags (even in a dishwasher) and reuse them several times.
We recommend using Status bags for sous vide cooking because the materials are also suitable for use at high temperatures.
Extra-large food vacuum bags resolve the issue of storing large pieces of meat
Use XL food vacuum bags to store:
rib stacks,
fish,
cheese wheels,
loaves of bread, and
whole squash and other vegetables.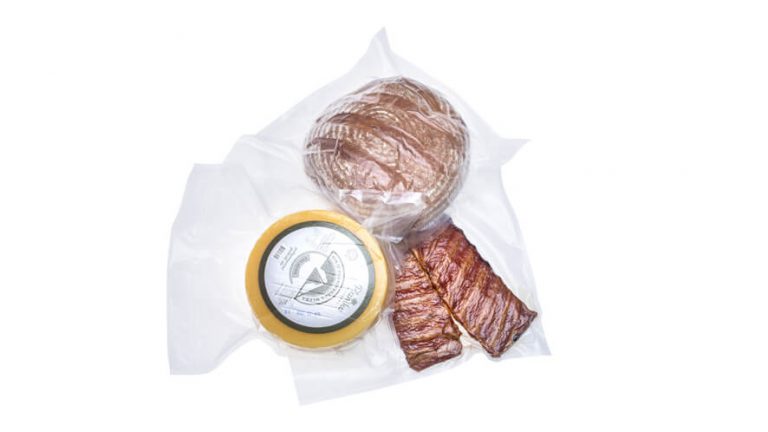 For best vacuum packing results, we recommend Provac 360, Status's professional-grade vacuum sealer, with a sealing strip length of 36 centimeters. 
Vacuum storing protects foods
Vacuum storing severely limits the harmful effect of oxygen on foodstuffs, which makes them last longer, retain a richer aroma and taste, as well as preserve their nutritional value. Vacuum bag storage is appropriate for all kinds of food:
fruits and vegetables,
bread, cakes, and dry biscuits,
dried and fresh meats,
nuts and dried fruits, and
fish and cheese.
Though vacuum packing limits oxygen's effect on food, it cannot stop it entirely; this is why we recommend that you also store your packed foods in the refrigerator.
Status Stiki
Status Stiki helps you position the bag for the vacuuming process. The bag adheres to the Stiki double-sided adhesive tape at first touch so you don't have to hold it. It also makes straightening the bag easier ensuring a quality seal without wrinkles.