Description
Do you take care of your health and make freshly squeezed juice to detoxify your body and boost your immune system?  Do you use a juicer, but can't spare the time to make fresh juices several times a day and clean the juicer afterwards? The answer is the vacuum juice storage kit.
Freshly squeezed juices to detoxify your body
Fresh juices are filled with vitamins, minerals, and enzymes. Those stimulate life processes in our bodies and work to prevent as well as cure various illnesses. Enzymes are a living matter that builds up our immunity, and like vitamins and minerals, protect us against various illnesses.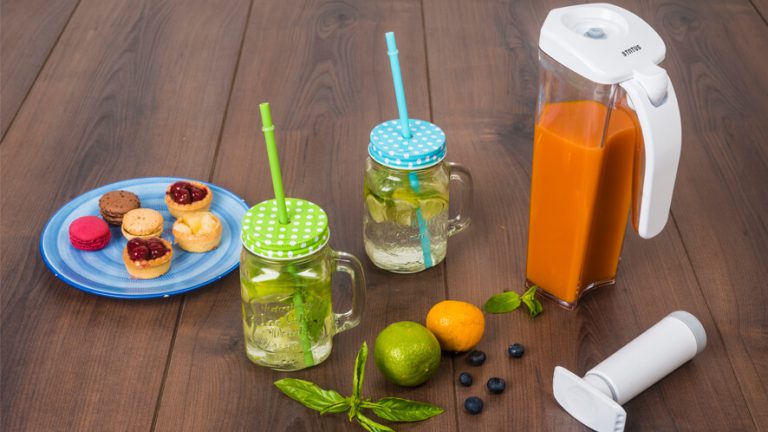 Why vacuum pack fresh juices and other homemade beverages?
Vegetable and fruit juices left out in the open oxidise quickly. That means that they lose most of their precious healthy ingredients. Vacuum packing removes air (oxygen) that causes enzymes, vitamins, and minerals to degrade. By removing it, we keep our cleansing juices fresh longer and preserve their healing properties. What this means for you is that you can prepare a larger quantity of fruit and vegetable juice in advance and safely store it in vacuum. There it won't lose its valuable healing micro-elements. You'll also save yourself the hassle of having to clean the juicer several times a day.
How to preserve the vitamins and minerals of our freshly squeezed fruit-vegetable juices?
Our vacuum flask is intended for storing freshly made juices, all other homemade beverages, and milk. By vacuum packing homemade drinks, you aren't only preserving their vitamins and minerals but also extending their shelf-life and keeping them fresh and aromatic. Because removing oxygen prevents the development of bacteria, which would cause food to go bad.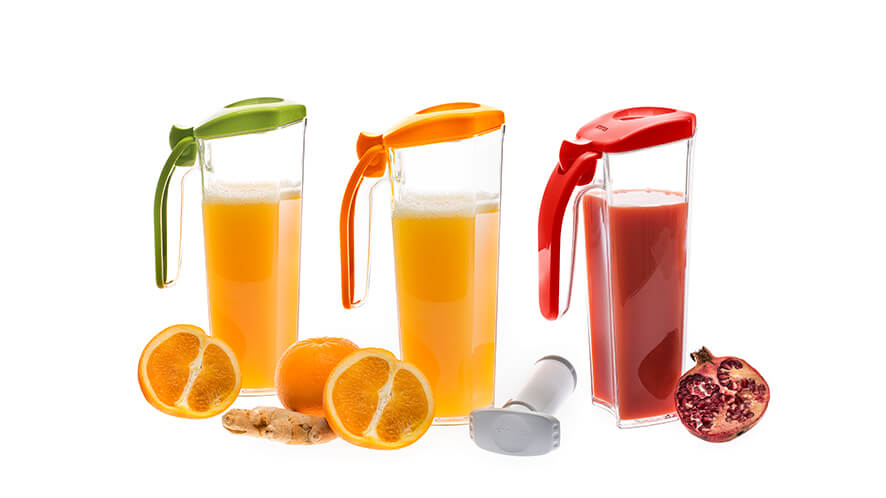 The Status Vacuum Jug is made for your refrigerator
Vacuum greatly slows oxidation but cannot stop it entirely, so keep fresh juice and milk in the refrigerator. To make the pitcher even handier, its dimensions are adapted for storage in the refrigerator door:
height: 27 centimetres,
width: 14.5 centimetres, and
length: 10 centimetres.
The best way to store fresh unpasteurised milk
 The volume of the vacuum flask is 1 litre. That is the ideal quantity for storing freshly squeezed juice, which is recommended to be used in one to two days. Also, use the jug to extend the shelf-life of locally sourced unpasteurised milk. Unlike store-bought heat-treated milk (UHT) usually sold in cartons, unpasteurised milk is filled with vitamins, minerals, and beneficial lactic acid bacteria. They benefit our health and are preserved in vacuum.
The best lemonade at the picnic?
The vacuum water jug is also great for safely transporting liquids without spilling them. The vacuum-sealed lid is impossible to open without releasing the vacuum valve. Make a refreshing lemonade, elderflower juice, or non-alcoholic cocktail and take it with you on your travels or nature hikes. Indulge in healthy refreshments, even when you're away from home!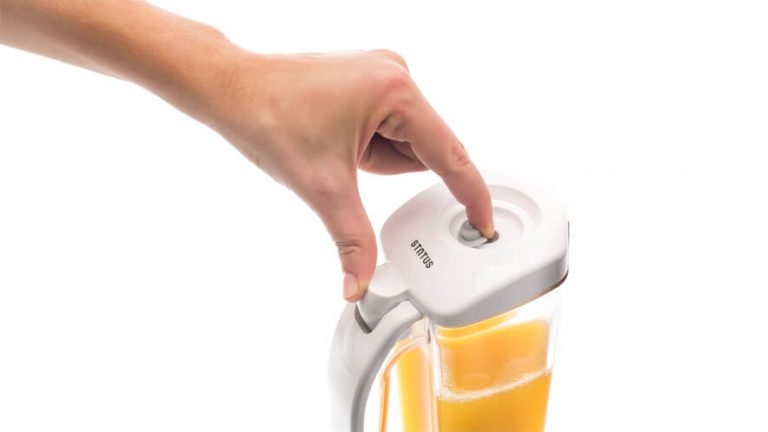 Quality guaranteed by three whole years of warranty
The Status vacuum jug is made using food-safe BPA-free materials. Eastman tritan is among the highest-quality food-storing materials and does not adopt food's colour or aroma. What this means for you is that you won't have to worry about using the same vacuum bottle for storing carrot juice and milk, or lemonade and coffee. Tritan is a highly durable material, so your vacuum juice bottle will serve you well for years, even if you're washing it in the dishwasher. We guarantee the quality of Status accessories with a three-year warranty.
Ways of vacuum packing
To vacuum pack liquids in the pitcher, you need a vacuum pump, which is not included in the starter set. You can also vacuum pack the jug using a Status vacuum packing machine.