Description
Are you looking for the simplest way to vacuum pack leftovers in the pots you already have at your house? Our Universal Vacuum Lids vacuum seal almost all pots in your household: glass and ceramic bowls and cups, plastic bowls and tins, metal and INOX pots. The one important thing is that the containers must have straight edges to make it possible for the vacuum to be created.
How does vacuum extend food shelf life?
Oxygen serves as food for bacteria and other microorganisms that cause food to spoil and deteriorate. Vacuum reduces oxidation, which severely slows the development of mould, loss of taste and aroma. The foodstuffs stay fresh longer, and their shelf-life is extended by four times. What this means for you is that you'll be throwing fewer foodstuffs away and eating healthier food.
Vacuum storage is the only perfectly natural way of extending food shelf life
Storing in a vacuum keeps food fresh without using harmful additives, which makes it the best way to store all kinds of foodstuffs for all users in the household. Vacuum pack:
open store-bought baby food in glass jars,
snacks for children,
leftover meals for the whole family, and
fruits and vegetables to keep them fresh.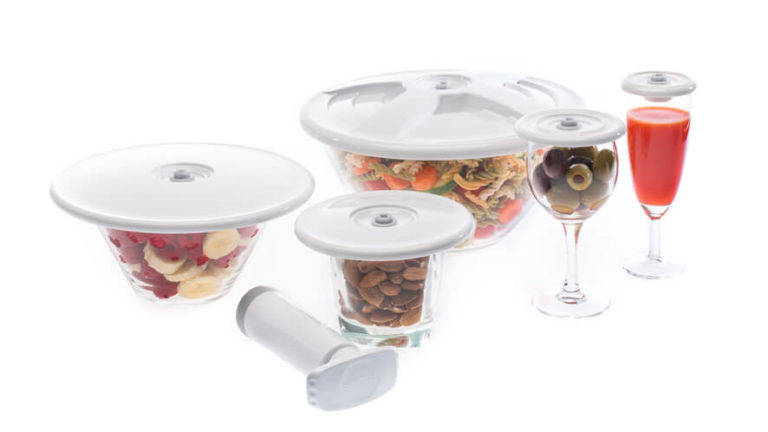 Our set of Universal Vacuum Lids is the simplest way to extend the shelf life of your leftovers
Our Universal Vacuum Lids will fit almost any pot in your house. This means that you can simply vacuum store your leftover meal in the same pot you cooked it in or the dish you ate it from. Using fewer dishes means less washing up. The use of Universal Vacuum Lids is environmentally friendlier than using single-use stretch foil.
Make a double portion of a sauce or soup and vacuum store it using the appropriate universal lid. It will keep in the refrigerator for a few days, for you to have a quick lunch or dinner at hand.
How do Universal Vacuum Lids work?
Each universal lid has a wide gasket on the bottom, which allows individual lids to fit kitchenware of various sizes. Choose the appropriate lid that fits the dimension of the receptacle you want to vacuum seal. A few pumps with the included pump will extract the air and the content will be vacuum sealed. With our 6-Piece Set of Vacuum Lids, you can vacuum seal most of your kitchenware.
Using our Universal Vacuum Lids
Our set of five different vacuum lids will let you vacuum seal anything from a glass to a pot of stew.
What do I need in order to vacuum seal using Vacuum Lids?
In addition to five lids of various sizes, the set also includes a manual vacuum pump. You can use it to vacuum pack all Status vacuum accessories. You can also vacuum seal our Universal Vacuum Lids using our electric vacuum pump or the special "Vacuum Container" setting on Status vacuum packing machines.
Cleaning and Maintenance of our Universal Vacuum Lids
Vacuum lids can be washed using standard dishwashing liquids or in a dishwasher. Don't use scrapers, coarse sponges, or powerful cleaning agents. When washing the lids, be careful not to scratch or damage the sealing components – gaskets and valve attachments for the pump.
Materials
Our Universal Vacuum Lids are made of ABS plastic, which ensures their durability and practicality. The gaskets on the lids and on the pump, and the valves are silicone. All materials are food-safe.
Vacuum significantly slows oxidation but cannot prevent it entirely, so always store your vacuum packed foodstuffs in a cool place – the refrigerator.