Description
Are you familiar with our Onion Cutter that dices half of an onion in even cubes with one stroke? Try our supplementary attachment for dicing larger pieces.
Make preparing homemade fries child's play
For a healthier version of French fries, use our supplementary attachment for cutting 12 x 12 mm strips and prepare a tasty snack quickly. Insert the potato in the cutter and press down. In one press the entire potato will be diced into strips for French fries.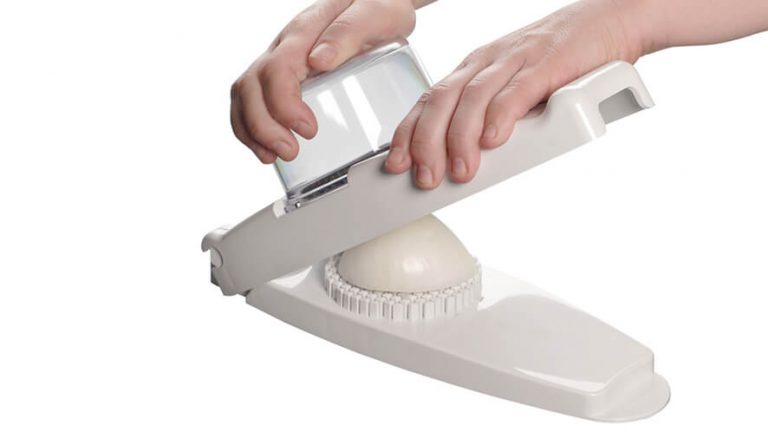 The XL Blade Attachment is great for dicing fruits and vegetables
Also, use our supplementary attachment to cut:
fruits to serve your children as snacks or make healthy fruit salad. This is also the ideal method for introducing solid foods into your baby's diet because it allows them to hold their own food.
vegetables for minestrone and soups. Make dicing easier by using the XL blade instead of a knife and cutting board. Your carrots, zucchini, celery, leeks, and cucumbers will be diced in one stroke.
cheese and cured sausage for those delicious pasta salads.
The advantages of dicing with the Onion Cutter accessory
The cutter also enables you to cut cubes – insert your cut strips horizontally and cut again. The otherwise demanding cutting process only takes a few seconds and two cuts.
Cutting with the onion cutter is particularly practical because no pieces fall on your counter, instead, they go straight into the collecting container, which is attached directly above the blades. This means your work surface will stay clean and you'll have less tidying up to do after cooking. You can also use the collecting container to store the diced food items – use the Universal Vacuum Lid 3.
When dicing with the cutter there is no danger of cutting yourself. Under your supervision, it can also be used by children.
Maintenance
The Blade Attachment can be washed by hand or in a dishwasher. Disassemble the accessory before washing it – detach the upper component and container. Dry well before reassembly.
Materials
The cutter is made of ABS plastic, which is a resilient and shock-resistant material. The collecting container is made of Tritan and the blades are stainless steel. All materials are food-safe.