Description
If you manufacture matured cheese, you are already aware how important good quality vacuum bags are in storing your end product. Particularly when you want to preserve all the effort and hard work you've put into making it. Vacuum storage protects food items from harmful influences of oxygen. 350 mm (13.8") wide foil rolls are also suitable for use in your household when you want to store large cuts of meat fresh from the butcher's or a whole pumpkin from your garden.
What makes vacuum the best choice for storing meat and other food products for sale?
By vacuum storing your food in impermeable vacuum food bags you protect it against oxidising. Oxygen is the main element enabling the development of bacteria and mould, which cause food to go bad, rot, or change its aroma and taste.
By simply removing the air from the bag (or container) you extend your food's shelf life in a perfectly natural way with no additives that would influence the preserved food's taste, aroma, or appearance. Even after they've been stored for a while, your food items will taste exactly the same as they did on the day you packed them.
Status vacuum bags protect the stored foodstuffs completely
Vacuum packing foods extends their shelf life and:
protects the products from external influences while they are stored,
enables safe transport with no damage, and
works as suitable packaging for retail.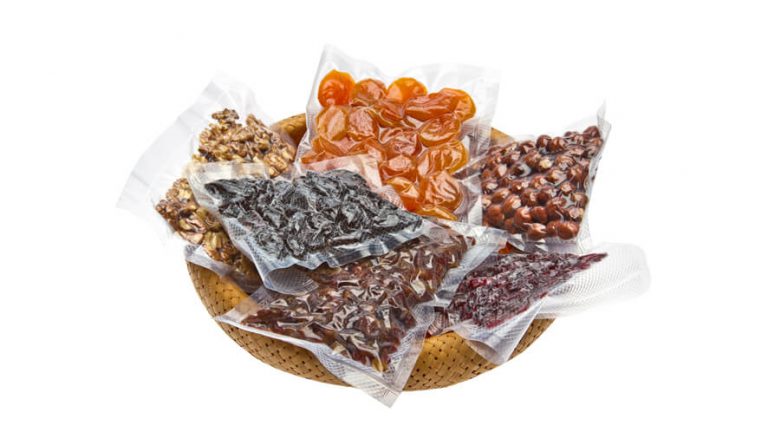 XL-sized vacuum packing rolls can be used in the home or professionally
350 mm (13.8") wide vacuum foil rolls can be used to make your own vacuum bags that correspond entirely to the length of the food item, which is why it is suitable for storing a variety of foods such as:
large cuts of fresh meat you want to freeze (pork chops and ribs);
dried meat products you want to keep in one piece – prosciutto, bacon, smoked ribs;
wheels of cheese;
loaves of bread;
a whole fruit cake, and
whole large vegetables, such as pumpkins.
Vacuum packing products is as suitable for home use as for transport and retail.
Status foil rolls are the superior choice for vacuum storing
The composition of materials, thickness of the foil, and height of the ribbed profile are the three factors that distinguish poor-quality foil from high-grade foil. Status foil is the result of several years of research and use of top-of-the-line materials of European origin. This is why it guarantees the best possible protection of your stored food items, which will preserve all of their unique flavours and aromas.
Their material composition is vital in ensuring the bags are impermeable and that stored foods are well protected 
Polyamide guarantees that the bags will be impermeable and protects the stored food items from unwanted effects of oxygen. The outer layer of Status vacuum foil roll contains as much as 30 and 20 µm of polyamide, which is significantly more than the competition. The inner layers are made from polyethylene, which is food safe and ensures the bags will seal to a high standard when fused.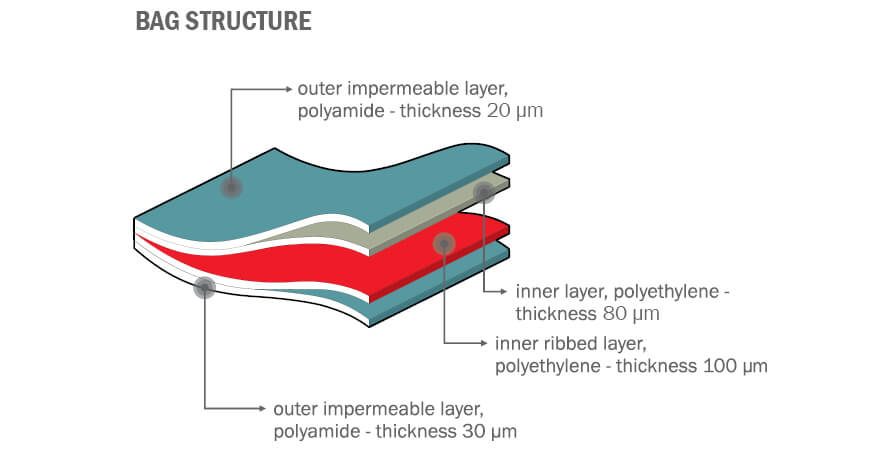 Status vacuum packing foil roll is the thickest on the market
Vacuum bag thickness is important because it guarantees that food items will be stored to a high standard without danger of piercing or braking and that it will fuse at high temperatures without melting through the bag. Status vacuum packing foil has one ribbed and one smooth layer. The former is 130 and the latter 100 µm thick. This is professional-grade thickness, which ensures that foods are stored safely even in the freezer, where they rub against each other.
Why is it so important for the foil to be ribbed?
The ribbed profile plays an important role in the air extraction and fusing processes. It ensures that vacuuming does not leave air pockets that would cause food to spoil. It also makes it easier for the air to be extracted from the bag. Otherwise the layers would stick together and prevent the rest of the air from being extracted.
The thickness of the ribbed profile guarantees that the bags will fuse well even after a long series of fusing cycles. The profile of Status bags is 0.2 mm thick, which ensures that bags are vacuum packed evenly and to a high standard in initial vacuum packing cycles as well as later. Poor fusing of the bags and their resulting inability to hold vacuum are problems, which arise frequently with poorer-quality bags. In such cases users often suspect a fault with their packing machine, but fortunately it's the bags that are the problem.
Status vacuum packing foil roll is:
made in Slovenia,
BPA free,
appropriate for sous vide cooking,
impermeable,
suitable for reuse,
food safe,
neutral in smell and taste.
Status Stiki makes vacuum packing easier
Status Stiki is a double-sided adhesive tape, which holds the bag in place during the vacuuming process. This simple solution also prevents the bags from creasing while they are being vacuum packed, which also helps you save foil. You can use Stiki with any Status vacuum packing machine.