Description
Do you need food storage canisters for storing your foodstuffs that won't just look good but also seal hermetically to extend the shelf life of your foodstuffs and prevent it from losing its aroma? If you want to organise your pantry and keep your foods 100 % safe from pests, then choose Status vacuum containers.
Using our 5-piece set of round vacuum containers  
Our 5-piece Set of Round Vacuum Containers is primarily aimed at storing foodstuffs in kitchen cabinets, however, it is also a good choice for storing leftover meals and fruits and vegetables, vacuum packing them to prolong their freshness.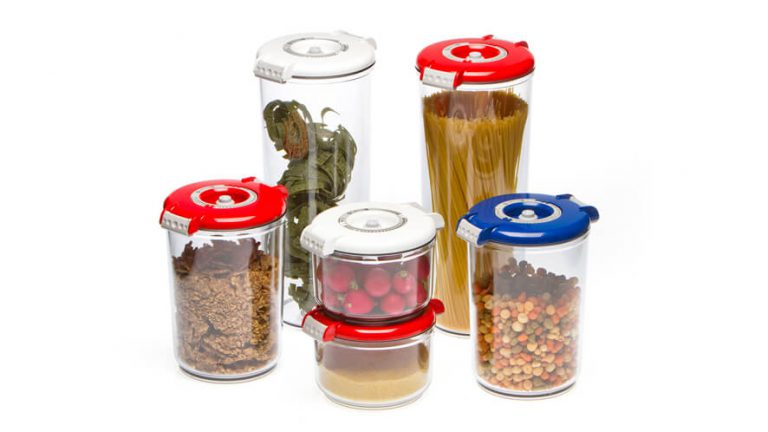 Why is it better to store foodstuffs in vacuum than in ordinary storage containers?
Foodstuffs stored in vacuum are shielded from oxygen, which causes oxidation. This means a much slower development of microorganisms and mould that cause food to go bad, lose its nutritional value, and alter its taste. Vacuum packing is the only natural method of extending food shelf life because it requires nothing but a receptacle with a vacuum valve and a vacuum pump. Save by vacuum storing (sensitive) foodstuffs in the refrigerator because you'll throw away less food.
Foodstuffs stored in vacuum will stay good longer, taste fuller, and be much more nourishing than those exposed to oxygen in ordinary storage containers.
Store vacuum-packed sensitive foods in the refrigerator because vacuum packing cannot completely prevent the effects of oxygen.
Choose high-quality storage containers for your carefully selected foodstuffs
Materials used to make storage containers are an important factor in quality food storage. The plastic of lesser quality can have a bad influence on the contained foodstuffs, which can adopt a plastic smell or even harmful chemical substances. Status vacuum containers are made of high-grade Tritan, which is BPA-free and guarantees your food will be stored safely in your pantry, refrigerator, or freezer without taking on any odours.
Stack our round vacuum containers on top of each other
The Status 5-piece Set of Round Vacuum Containers is also suitable for smaller kitchens, where space available for storing foodstuffs is an issue. Simply stack the vacuum containers one on top of the other to make the best possible use of the space in your refrigerator, freezer, or counter.
Mark the date and save
Use the calendar on the lid to indicate the food's use–by date or the date you stored your leftovers. Don't let yourself be taken by surprise by a spoiled food item in your fridge or pantry. By storing wisely, you will throw away less food and save up to 300 € yearly.
Maintenance
You can wash our round vacuum storage containers by hand or in a dishwasher using standard non-aggressive dishwashing products. Be careful not to damage the sealing parts when washing them. If necessary, wipe the pump down with a damp cloth. To ensure perfect sliding, lubricate the inner tube with paraffin oil.
Materials
Status containers are made of Tritan, lids are made of ABS plastic, and drip trays are made of polypropylene. The hermetic seal is provided by silicone gaskets and valves. All materials are BPA-free and safe for use with food.