Description
Do you want to vacuum pack a large cut of meat or prosciutto but you can't find vacuum bags large enough? Do you manufacture cheese and need high-quality packaging to pack your product appropriately for transport and retail? See how to use  our professional food vacuum bags below.
Vacuum bags measuring 350 mm in width
XL vacuum bags are intended for vacuum packing larger food items you want shielded from oxidation. By vacuum packing foods, you protect them against spoiling and make them last for up to four times longer. By removing oxygen from the packaging, you stop microorganisms from developing, which allows your foodstuffs to keep their original flavour, aroma, and colour.
Use XL vacuum packing bags for larger whole food items
XL vacuum bags sized 350 x 400 mm (13.8" x 15.7") are large enough to store:
several cuts of fresh and dry meat,
cheese wheels,
larger-sized fish,
larger baking goods, such as a loaf of bread or fruitcake,
large vegetables, such as pumpkins.
Status vacuum packing foil is neutral in taste and smell, so your packed food items will have no plastic aftertaste.
Status vacuum–packing bags comply with the strictest food storing regulations  
For high-quality vacuum food storage, we recommend the use of Status vacuum packing bags, which are the result of several years of research and development, and so comply with the strictest food storing regulations. They are made from high-grade materials whose combination guarantees impermeability and superior fusing with all vacuum sealers available on the market.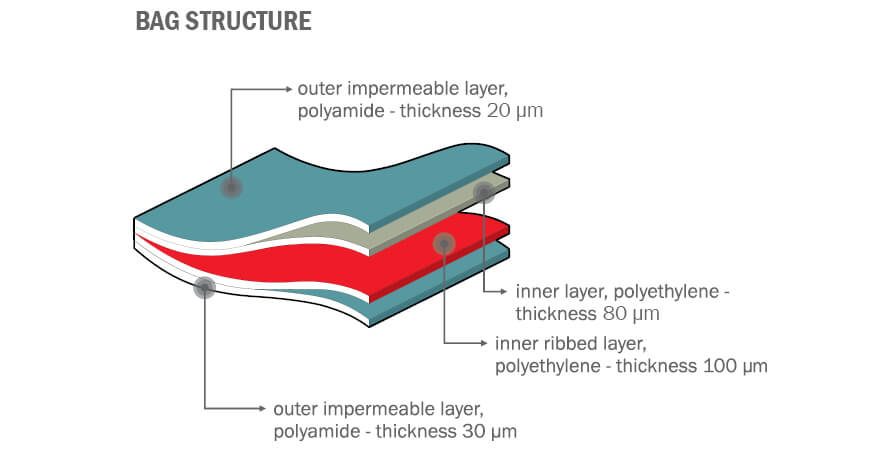 What distinguishes Status vacuum packing bags from the competition?
Status vacuum-packing foil has two layers, which ensures they'll be impervious to outside effects and protect all kinds of foods either during freezing or sous vide cooking.
The impermeability of Status bags is ensured by the thickest outside layer of polyamide – 30 and 20 µm. This is the highest polyamide content on the market. Polyamide functions as a wall against outside influences, such as oxygen and aromas given off by other foods.
The inner foil layer is made from polyethylene, which is one of the best materials for storing food and guarantees airtight fusing. The thickness of the polyethylene measures 100 µm in the ribbed part and 80 µm in the smooth part of the foil. Both materials are BPA free and food safe.
The 100 to 130 µm thick Status dual-layer foil is the thickest and highest-quality foil available on the market and is suitable for home as well as professional use. Just keep in mind that your vacuum packing machine's vacuum channel and sealing thread must be sufficiently long (at least 360 mm, i.e. 14.2"). We recommend Status Provac 360 Professional Vacuum Packing Machine.
Did you think that the ribbed profile on XL Status vacuum packing bags was just ornamental?
The few millimetres of pattern on the ribbed layer of the foil is also very important for the quality of vacuum packing. It ensures that the air is extracted from the bag effectively without leaving any air pockets around the stored food items. The thickness of the ribbed profile is also important. The 0.2 mm ribbed profile gives Status bags the advantage of allowing many successive vacuuming cycles. It ensures that all bags are vacuumed and sealed evenly and impermeably. Thinner bags made by our competing companies will often be vacuum packed adequately the first few times after which the sealing strip will overheat, the bags will melt, and the vacuum won't hold. For high-quality storage of household foodstuffs as well as food products intended for retail, we recommend that you use Status vacuum packing bags and a Status vacuum-packing machine.
Materials    
Status vacuum-packing bags are made with European materials with food-grade certification. All manufacture takes place in Slovenia under constant quality control. The bags are tested for use in freezers and sous-vide cooking.
Make vacuum packing simpler by using Status Stiki tape
If you find it difficult to correctly position the bag in the machine for vacuum packing, we recommend Status Stiki double-sided adhesive tape. The bag adheres to it upon touch and no longer needs to be held in place. Stiki also prevents the bag from creasing and thereby ensures a strong seal, which holds vacuum.