Description
Do you think glass is safer for storing foods than plastics? Do you prefer multi-use containers because your kitchen space is limited? Examine the unique range of Status glass vacuum containers.
A Set of Glass Vacuum Containers solves the problem of overflowing kitchenware cabinets
The Set of Glass Vacuum Containers is intended for:
vacuum storing,
preparing,
serving, and
reheating food.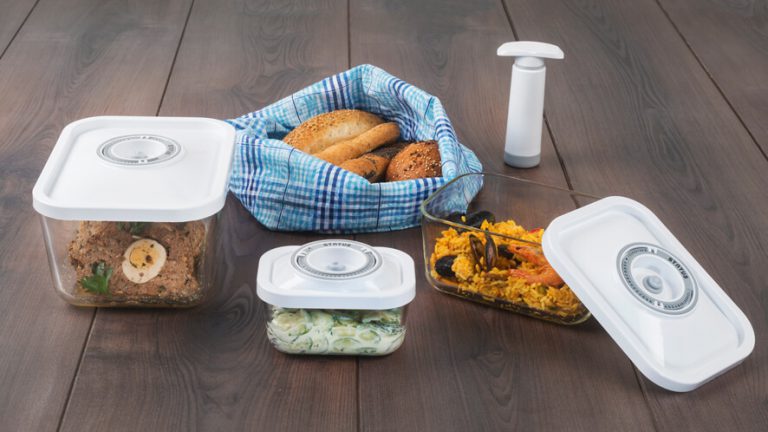 Their high-grade borosilicate glass can be used at temperatures -20°C and +300°C, which makes the containers suitable for use in:
freezers,
refrigerators,
ovens,
microwaves, and
dishwashers.
Glass vacuum containers are perfect for pre-preparing meals
Assemble the lasagna and vacuum store it in the three-litre glass vacuum container. The lasagna will keep all of its taste without adopting any smells from the environment, no matter if you freeze it or store it in a refrigerator for a few days. When it's time to make dinner, take the lasagna directly from the freezer or refrigerator to the oven and bake it. Your tasty, fast, and fresh meal is ready. You can do the same with various vegetable sauces or side dishes and meat.
Cook a double portion of food when you can spare the time and save half of it in a glass vacuum container – use the 0.5-litre container for one meal, 1.5-litre for two, and the largest, 3-litre vacuum container, for the whole family. Freeze-store and reheat in the oven in the middle of the week, when your day is full. You won't even have to be in the kitchen while the meal is cooking.
Glass vacuum containers organise your cabinets  
Our glass vacuum container lids are designed to allow containers to stack on top of each other and save space in your refrigerator, freezer, kitchen cabinet, and on your counter. This works both with containers of equal and different volumes. The containers are transparent, so you can easily see what they're storing.
Status's Set of Glass Vacuum Containers also has the added benefit of enabling you to store empty containers inside one another freeing up space for other kitchen accessories.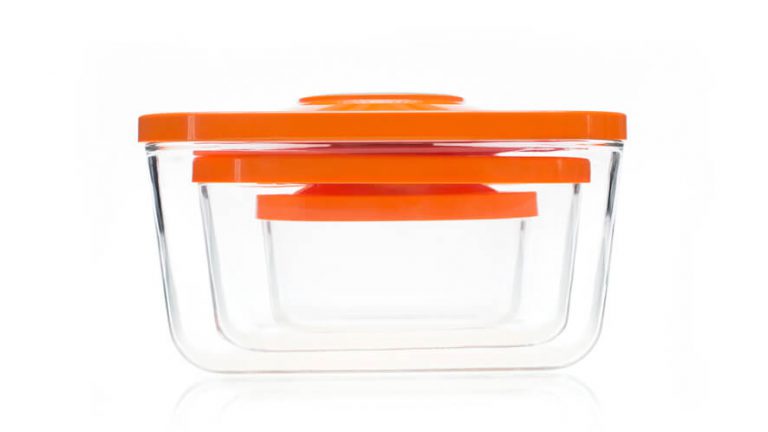 So you won't forget how long the meat has been sitting in the refrigerator
Another advantage of Status vacuum containers is the calendar built into their lids, which can be used to mark the date you've stored foodstuffs or their use-by date. This way you are constantly reminded of how long the food is good for.
You can vacuum pack glass vacuum containers with either a manual or electric vacuum pump or vacuum sealer appliance. Use them to vacuum store all types of foods:
to keep fruits and vegetables fresh longer (sliced or whole);
pre-prepared meals or leftover food;
salty or sweet snacks;
to marinate meat in vacuum.
You can freely store a variety of foodstuffs in glass containers because their high-quality glass will not stain from contact with food and won't take on its aroma.
How does vacuum work on foodstuffs anyway?
Vacuum storing prevents oxidation so that foodstuffs won't go bad as fast. By removing air, you're actually removing oxygen, which enables bacteria and mould to develop. The food's shelf life is extended by up to four times in vacuum; vitamins and minerals are also preserved better. What this means for you is that you'll be eating fresher food of higher nutritional value.
Vacuum slows food degradation, but cannot prevent it entirely so always keep your foodstuffs in the refrigerator.