Description
Does it bother you when your refrigerator is filled with food smells? Are you looking for the best way to store finished meals and want as few additional accessories and containers as possible? Allow us to present the simplest vacuum storage method that will extend your food's shelf-life and stop unpleasant smells from spreading in your refrigerator.
Use our Universal Vacuum Lid to create a vacuum in any pot or container with a straight rim
Vacuum storage is the best way to prevent your food from spoiling because it extends food shelf life by up to four times without harmful additives or influencing the food's flavour. A vacuum is space without oxygen, which means that microorganisms don't have the optimal conditions to grow and develop. By slowing down oxidation you also slow down rotting, mould, loss of colour and aroma, and loss of nutritional value. What this means for you is that your food's shelf life will be extended while you'll be eating healthier foods of higher nutritional value.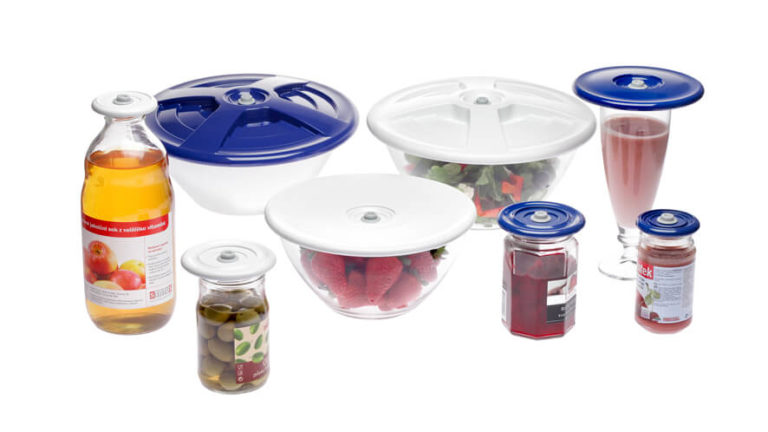 Our largest Universal Vacuum Lid 5 is intended for vacuum storing finished meals in pots
Use our Universal Vacuum Lid with a diameter of 25.5 centimetres to vacuum store large amounts of food in the same pots they cooked in. We all know that stews, broths, goulash, and stuffed peppers are better a day or more after they were cooked. Apart from extending food shelf life, vacuum packing also has the important advantage of stopping smells from spreading in your refrigerator.
You can use our largest Universal Vacuum Lid on pots and containers made of a variety of materials. Vacuum store foods, such as:
washed lettuce in a glass, plastic, or ceramic bowl;
whole or sliced fruits and vegetables in a container or bowl of the appropriate diameter;
pre-prepared dishes and foods in metal or INOX pots, for example, peeled and sliced potatoes.
Our Vacuum Container no. 5 fits straight rims with diameters between 18.5 and 24.5 centimetres. This means that you will be able to use the same lid to seal pots and other containers of almost every dimension.
To vacuum store, you need a vacuum pump, which can either be manual or electric. When vacuum sealing pots of larger volumes, we recommend the BVP130 electric pump, which can create the appropriate evacuated pressure at a single press of a button. You can also use the special pre-set "Vacuum Container" function on Status vacuum packing machines.
Simply wash the Universal Vacuum Lid in the dishwasher
The Universal Vacuum Lid is easy to clean; you can wash it the same way you would any dish, either by hand or in the dishwasher. Don't use aggressive detergents or rough sponges so you don't damage the sealing components on the bottom of the lid.
The Universal Vacuum Lid 5 is made of food-safe materials
In the manufacture of our Universal Vacuum Lid we used ABS plastic, which guarantees the lid will be resilient and function for several years. The gaskets and valve are silicone, which ensures high-quality vacuum sealing. The materials used are safe for storing food.
Recommendation
Vacuum storage substantially slows the influence of microorganisms on foodstuffs but cannot completely stop the food from spoiling; this is why we recommend that you keep vacuum stored foods in the refrigerator.