Description
Do you abhor daily grocery shopping and would ideally prefer to visit the store once a week only? Do you want an organised refrigerator free of unpleasant smells? If you're running out of time to prepare healthy meals and are looking for a way to pre-prepare your lettuce and other vegetables in advance without them withering and beginning to rot, consider the benefits of storing in vacuum containers.
Vacuum store your way to more free time
Status vacuum storage containers with the capacities of 3 and 4.5 litres are the right solution for keeping (pre-prepared) vegetables fresh. Visit your local farmers' market or store only once a week or less and store your bought vegetables in vacuum containers to keep them fresh and aromatic. Storing in vacuum containers cuts down the time you spend preparing meals, leaving you free for more pleasant things such as spending time with your children and partner or good old couch fun time.
How to use the Status 5-piece set of vacuum containers?
Wash the leaf lettuce, slice the cabbage, tomatoes, and peppers for your salads and store them in a vacuum container so they'll keep fresh for up to 14 whole days.
Slice onions, zucchini, leeks, and other vegetables for your sauces, casseroles, or sides and store them in a vacuum container of the appropriate volume. The smells of aromatic foods will not spread in your refrigerator because vacuum containers are hermetically sealed.
Prepare several kinds of fruit for your smoothies or snacks for the whole family and vacuum pack them in Status containers. This way, you'll no longer have the excuse that healthy drinks or snacks take too much time and preparation.
Get the breakfast for yourself and your children ready the day before. Store a bread roll or croissant, a slice of cheese and ham, or something else to put in the bread, in the vacuum container. The baked goods will stay fresh and the cheese and ham won't dry out. This will make your mornings much less stressful, while you and your children will face the challenges of a new day on full stomachs.
What purpose do vacuum container drip trays serve?
In addition to two containers, the set also includes two drip trays with divider inserts intended for wet and delicate food items. Drip trays are ideal for freshly washed lettuce, keeping it from sitting in water and turning black. Dividers enable you to separate different kinds of food. Aromas don't spread in vacuum, so your stored bread won't smell of salami.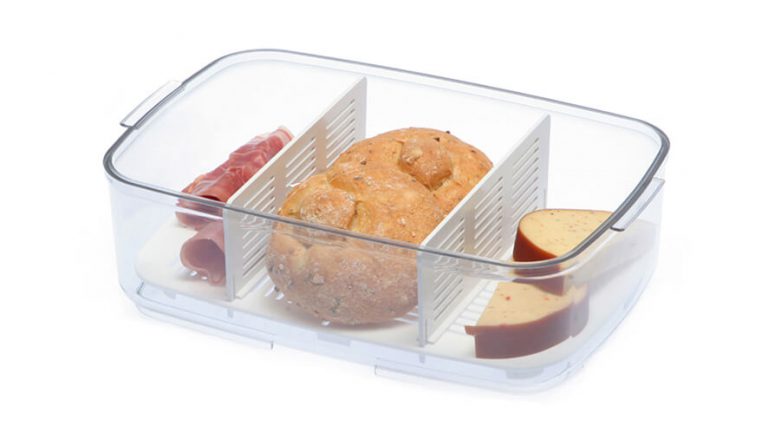 Vacuum storing keeps lettuce fresh longer without harmful additives
Vacuum storing is the best choice for prolonging the shelf life and freshness of delicate foods such as leaf lettuce, spinach, strawberries, and baked goods. Simply extracting the air from the container with the vacuum pump also removes oxygen. This slows oxidation, which causes food to deteriorate, and stops the development of microorganisms in a perfectly natural way. The foodstuffs retain their original taste (unlike preserving them with salt or sugar), their crispiness, aroma, and nutritional value.
Vacuum storage containers prevent unpleasant odours in your refrigerator
Vacuum holds food aromas in the container so you won't be surprised by unpleasant smells in your refrigerator anymore. Since vacuum containers seal hermetically, they are also the ideal choice for transporting foodstuffs (including liquids), without having to worry about the contents spilling out or food smells spreading.
Vacuum packing your way to savings
Vacuum packing extends food shelf life and, in addition to shopping time, also saves you up to 300 € each year because you're throwing out less spoiled food. Vacuuming pays! By buying vacuum containers in sets, you're saving even more.
Status rectangular vacuum containers are the highest-quality choice for your household  
Status vacuum storage containers are made using high-quality materials that guarantee several years of faultless use. Our transparent containers are made of Eastman tritan, which is BPA-free and is guaranteed to be safe for use in the freezer and microwave as well as for washing in the dishwasher.
The shape of the containers is designed for optimal utilisation of space in your refrigerator. The lids are shaped in a way that allows containers of different sizes to be stacked on top of each other.
The calendar on the lids serves to mark when you stored the food or its use-by date. What this means is that you won't have to worry and wonder whether the contents of your refrigerator are still edible.
Food aroma stays in the container so you'll never again be surprised by an unpleasant smell coming from the refrigerator.
The set also includes two drip trays with divider trays for storing wet and delicate food items. This is ideal for freshly washed lettuce or for when you want to store a whole healthy snack in a single container (bread, cheese, and fruit).
Materials
The containers are made of BPA-free tritan, the lids are made of ABS plastic, and the gaskets and valve from silicone. The drip trays are made of PP (Polypropylene). All our materials are suitable for safe long-term food storage.
Maintenance
Our Vacuum containers are suitable for washing in the dishwasher or by hand. Don't use rough sponges or aggressive cleaning agents to avoid damaging the sealing components.
100 % vacuum cannot be achieved on Earth, which is why even vacuum-stored foods are exposed to minimal amounts of oxidation so the delicate foods need to be stored in the refrigerator.