Description
How to increase profits in the food business? By making better use of the foodstuffs you use daily. Store unused foods to a high standard and extend the time you have to use them; this way there'll be less spoiled food you'll need to throw out. See below, to learn about other advantages of storing in Gastro vacuum containers.
Why is it better to store foodstuffs in vacuum containers?
Vacuum prevents the effect of oxygen on foods. By limiting oxidation, you are also limiting the development of bacteria and mould. This makes food keep longer and preserves its aroma and freshness. The shelf-life and freshness of vacuum-stored foods are extended by four times giving you four times as much time to use up your foodstuffs; this way you'll throw away less unused food, which would deteriorate far quicker in unsuitable storage. Apart from extending the food's shelf life, vacuum is also a great solution for preventing food contamination in the pantry and cold storage room, as well as preventing aromas from spreading and mixing.
Why choose Status restaurant-grade containers made of exceptionally high-quality Eastman Tritan plastic?
Status Gastro vacuum containers are distinguished by high-grade materials, which we at Status have been using in our domestic vacuum containers since 2005. Experience has shown that this material is exceptionally resilient guaranteeing many years of use. In times of rampant plastic waste problems, it is the responsible choice both for household use and in professional kitchens. Aside from its longevity, Tritan also has the following advantages:
it is transparent, enabling you to see what's stored in individual containers without opening them;
it doesn't absorb food's colours or aromas, which means that, after washing it, you can use the container to store an entirely different sort of food without exposing stored foodstuffs to unpleasant smells. This also means that you'll be able to use Status Gastro vacuum containers for years without them staining or smelling bad;
it is safe for use in the freezer, refrigerator, microwave, and dishwasher;
it is exceptionally resilient and shock resistant, which makes it an excellent choice for professional kitchens.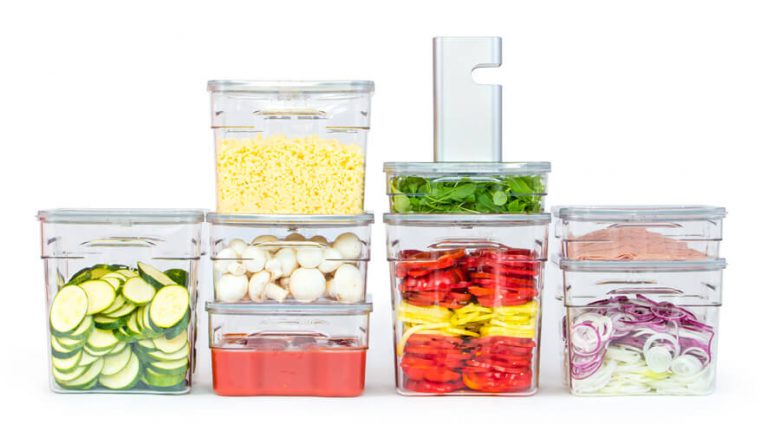 Gastro vacuum containers with the capacity of 6 litres
Our medium size vacuum container is intended for use in professional kitchens such as bars, all kinds of restaurants, motels and hotels, pizzerias, smoothie bars, and other food providers. The 6-litre container is large enough for storing whole or sliced fruits and vegetables and most other foodstuffs. Allow us to list a few examples of practical use:
Store washed leaf lettuce, rocket, lamb's lettuce, sliced tomatoes, peppers, cucumbers and other vegetables to use as you go for making fresh salads or decorations.
Get ready for increased turnover at lunchtime and pre-prepare all the ingredients you need to make pizza – grated cheese, sliced ham, tomato sauce, mushrooms and all other ingredients.
Slice lemons, oranges, kiwis, and other fruits needed for decorating desserts or making fresh juices and smoothies.
Marinate fresh meat since marinade penetrates food more readily and quickly in vacuum fully seasoning your meat in mere hours instead of all night.
Store sliced onions, carrots, parsley, and other foodstuffs that serve as the basis of almost all dishes.
Preserve the freshness of herbs used for seasoning or food decoration.
Store leftover meals that can be eaten for several days, such as various sauces, stew, and goulash etc.
Tomato sauce, soup stock, salad dressings and other versatile liquid foods will keep their freshness, flavour, and aroma in vacuum containers.
6 litre Gastro Vacuum container is available in:
a single container without a lid or
6-pcs combo set, which includes 6 vacuum containers (volume 6 litres) and 6 gastro vacuum lids.
Advantages of Status vacuum containers, developed specifically for professional use  
Round corners of the containers enable pouring content out without spilling or dripping.  
Scale litre and quart markings provide an easier inventory of your supplies as well as mixing ingredients according to the recipe.
Hermetic sealing protects the stored foods from pests such as pantry moths, ants, and flies, as well as enables safe transportation without fear of spillage (ideal for catering jobs).
Containers of all volumes are of equal lengths and widths, which gives you two key advantages – you can stack containers on top of one another, and the same lid will fit all volumes.
Materials
Gastro vacuum containers and lids are made of Eastman Tritan, a high-quality and extremely durable BPA-free plastic. Gaskets and valves are silicone.