Description
Have you tried many food containers but they all seem to be of poor quality and discolour after storing tomato sauce and other similar foods? Check the benefits of Status Full Tritan Vacuum Containers and learn why they are truly the best choice for your household.
The quality of food containers
It is extremely important of what materials food containers are made of. Firstly because they are in direct contact with food which we later consume. All materials for Status containers are food grade and BPA free. Secondly, quality materials mean long-term use and the ability to use the containers in the freezer, microwave and dishwasher.
Why vacuum?
Vacuum is the best choice for storing food, because it prolongs its freshness without using any harmful additives. It's completely natural – all you need is a food grade vacuum container and a vacuum pump. By removing air you minimise oxidation which causes spoilage, mould and foul aromas. The process of vacuum packing is extremely easy and once you get a hang of it you will never store food in permeable packaging again.
Full Tritan Vacuum Container, 2 litres: examples of use
Middle sized container with the capacity of 2 litres is great for storing food for everyday use.
Store fruit and vegetable to protect their nutritional value.
Store bread and baked goods to prevent them from drying out.
Marinate steaks for dinner – vacuum opens the pores of the meat so that the marinade penetrates faster and deeper.
Store flour, sugar, and other ingredients to organise your kitchen cupboards and pantry. At the same time your foods will be completely safe from pests.
Vacuum pack leftovers to prolong their shelf  life and to prevent aromas from spreading inside your refrigerator.
Pack lunch for work or school. Vacuum containers are hermetically closed and won't open up in your bag.
Store snacks in vacuum to prevent them from losing their crispiness and becoming soggy.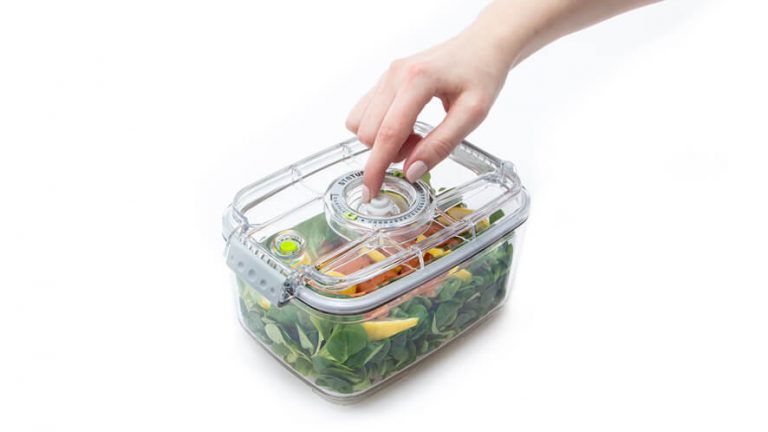 2-litre Full Tritan Vacuum Container is an upgraded version of our classic rectangular vacuum container
Full Tritan containers have an additional indicator for vacuum pressure. When vacuuming with a manual pump, observe the green valve on the lid. When it concaves, enough vacuum pressure is achieved. You can also use electric pump BVP100 or EVP300 or even a special attachment on the Status vacuum sealer.
Cleaning and maintenance
Use regular detergents to wash the container and lid by hand or in a dishwasher.
Materials
The lid and container are made of Eastman Tritan, while the valves and seals are from silicone. All materials are food grade and BPA free.