Description
Choose high-quality professional food storage containers that will help you extend the shelf-life of your pre-prepared meals and leftovers and serve you for years to come.
Advantages of vacuum storing
Foodstuffs in vacuum are shielded against the effects of oxygen, which makes them last four times longer. What this means for you is more time to use them up and therefore less spoiled food to throw out saving you money on grocery shopping.
By removing oxygen from the vacuum container you are ensuring that microorganisms will not have suitable conditions to develop; mould won't develop and foodstuffs won't spoil or change their appearance or aroma. Vacuum storing is also the best protection against food contamination and aroma mixing in the cold storage room.
Status gastro vacuum containers can be vacuum sealed with a handy Gastro Vacuum Pump BVP300 or professional vacuum sealers Provac 360 and Solid 300.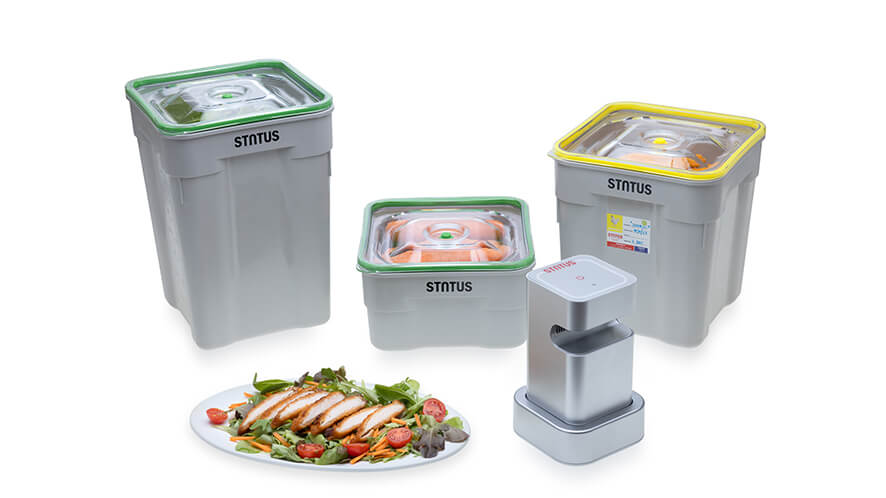 Gastro vacuum container with a capacity of 4 litres
Our second smallest professional-grade food storage container is suitable for smaller or sliced foods, which you either make in advance or have left from preparing daily meals. By storing it in vacuum containers you will keep your food from losing its freshness and aroma.
We recommend the 4-litre vacuum container for storing:
meat skewers and marinated meat – marinating is much faster in vacuum, because the pores of the meat open up allowing the seasoning to penetrate much faster;
sliced tomatoes, cucumbers, zucchini, cabbage, and other vegetables needed to make salads, sauces, or decorations;
washed and sliced leaf lettuce, lamb's lettuce, rocket, or fresh herbs for flavouring your finished meals;
sliced onions, which are the basis of almost all dishes;
tomato sauce, soup stock and other liquid foodstuffs to use as you go, which you can store prepared in the vacuum container for several days;
ground parmesan or any other cheese, which vacuum will keep safe from drying out and losing aroma;
any leftover foods or finished meals that will wait safely in vacuum until the following day.
4 litre Gastro Vacuum container is available:
as a single container without a lid or
in 6-pcs set, which includes 6 vacuum containers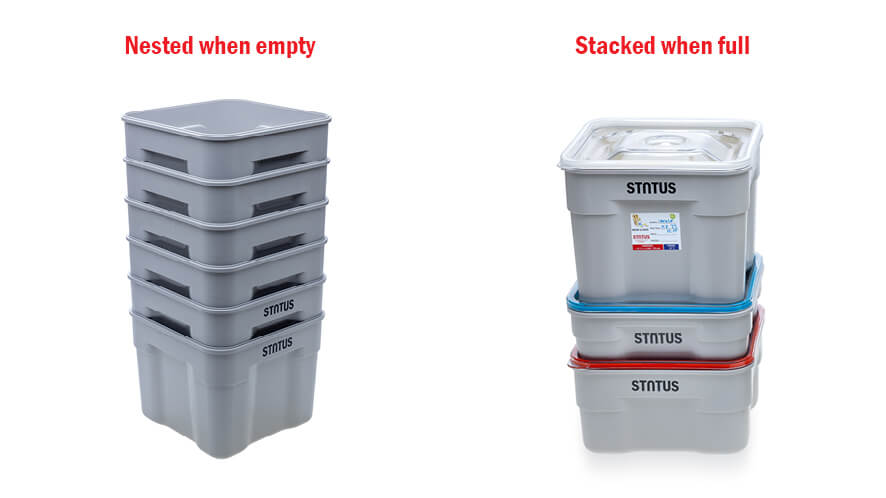 In addition to their innovative design, the professional Status vacuum containers are also distinguished by their exceptionally high-quality material
Status Gastro vacuum containers are an upgrade of our standard vacuum containers for household use. The containers are made of high-quality Xarec material, which ensures they'll give you years of use without cracking or staining. Their volumes, shapes, and methods of use are also adapted to the strict hygiene rules and work practices obligatory in professional kitchens such as pizzerias, restaurants, motels, hotels, and bars. With colourful lids, you can organize them by HACCP categories:
red for storing raw meat,
green for storing vegetables,
white for dairy and bread,
blue for raw fish and other seafood,
yellow for safe storage of poultry,
brown for cooked meat and
neutral grey for other categories.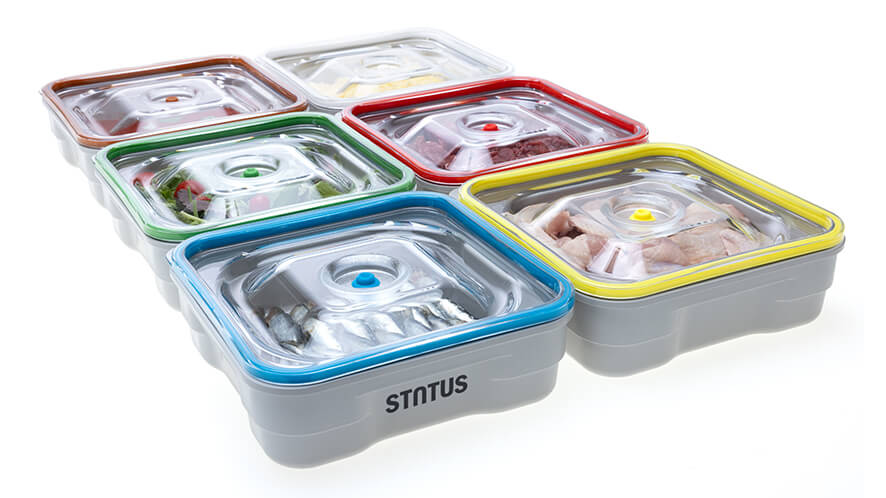 Status professional food storage containers, which guarantee many years of practical use in professional kitchens, are distinguished by the following qualities:
Transparent lids allow easy inventory of the stored food items without having to open them and expose the stored foods.
They are suitable for use in refrigerators, freezers, and microwaves and can be washed in the dishwasher.
All professional vacuum containers are of equal lengths and widths, which allows them to be stacked on top of each other and make the best possible use of space on your worktop or in your cold storage room. This also means that no matter their volume, one lid size fits all containers.
The containers feature litre- and quart-measurement scale markings that make it easier for you to measure out the ingredients for your dish and keep account of your supplies.
Rounded corners enable the simple pouring of liquids without spilling.
Storing foods in vacuum containers also keeps them safe from kitchen pests such as pantry moths, ants, and flies.
Vacuum packing seals the containers hermetically, which makes vacuum containers ideal for transporting liquid foods (catering).
Materials
Professional vacuum containers are made of high-quality BPA-free Xarec. The material is exceptionally resilient and suitable for rigorous use in professional kitchens. Xarec is certified safe for use with food.