Description
Our 5-piece vegetable cutter set is handy for experienced homemakers looking to shorten their preparation time as well as for beginners who have yet to master their knives.
Onion, Vegetable, and Fruit Cutter for easier food preparation
The advantages of cutting with the Status cutter:
onions and other foods are cut straight into the specially fitted receptacle keeping your work counter clean and onion juice free;
no danger of injury as you aren't touching any knives while cutting;
you can cut the foodstuffs in strips or cubes (by simply placing the strips horizontally on the blades and cutting again);
the pieces of diced food items will be evenly sized – you can choose between two sizes – 6 x 6 mm and 12 x 12 mm;
it only takes one press to dice half an onion, a whole potato, or a piece of another food item, which is particularly useful when you're preparing larger quantities of fruit or vegetables;
when cutting, you don't come in direct contact with the sliced onions avoiding unpleasantly smelling hands and space as well as teary eyes.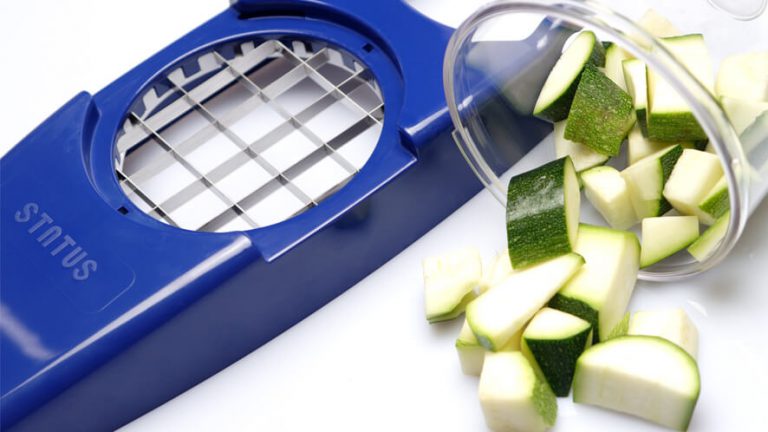 Dice a wide variety of foodstuffs with a single press
The cutter is suitable for cutting fruits and vegetables as well as cheese and cured sausages. Select the appropriate attachment and dice:
carrots, potatoes, pickles, and eggs for Olivier salad – use either the smaller or larger attachment, whichever you prefer;
apples, pears, peaches, and bananas for fruit salad or as snacks by using the larger XL attachment;
onions, carrots, potatoes, leeks, and other vegetables for tasty stews or sauces – both cutting sizes are suitable;
new potatoes for a healthier home-cooked version of fries – select the XL attachment;
two pounds of onions for goulash using the smaller attachment.
With our Universal Vacuum Lid 3, you can store diced foodstuffs right in the included receptacle.
Materials
The body of the cutter is made of durable ABS plastic which guarantees the cutter a long lifespan; the blades are made of stainless steel and the collecting receptacle is made of Tritan, which doesn't adopt the food's colour or aroma. The materials are food-safe.
Maintenance and cleaning
All the cutter's components can be washed by hand or in a dishwasher. When cleaning the cutting attachment, washing it by hand is somewhat more advisable to preserve the blades. For easier cleaning, disassemble the cutter and wait until it dries before assembling it again.
3-year quality guarantee
We guarantee the quality of Status accessories with a three-year warranty.