Description
Food professionals and wine connoisseurs are well aware that wine is good for a maximum of two days after uncorking because exposing it to air sets off unwanted processes that change the wine's aroma, taste, and colour. Discerning guests and wine enthusiasts will immediately recognise even the smallest deviation in quality, which makes it exceptionally important that wine, like other foodstuffs, is stored to a high standard and that you only offer your visitors the best. This is a guaranteed way to get loyal regularly returning customers.
How does vacuum work with wine?
When wine is exposed to air – oxygen, an unwanted process takes place, which transforms alcohol into acetaldehyde. This causes white wines to lose their pleasant colour and becomes brownish as well as start to smell of dried fruit, while red wines lose their vibrant colour. Vacuum sealing your wine shields it from contact with oxygen and slows the process of oxidation, which would cause the noble beverage to decline in quality; this way the aroma, flavour, and colour are perfectly preserved for up to a few days, even weeks, depending on the wine sort.
Vacuum storing enables you to offer even more premium wines and enchant your guests with your wide selection and superior quality.
Advantages of vacuum storing wine
With vacuum stoppers, wine bar owners, restauranteurs, and other providers of premium wines, can save money because they need to discard less wine. Also they will always be able to offer their customers a glass of premium quality wine, even though the bottle was opened the day before or earlier.
At the same time this means that your menu can include more wine sorts because vacuum storing enables you to save even half-drunk bottles of wine until they are next ordered.
Vacuum stoppers seal the bottle hermetically, so even after the bottles have been opened, you can still store them on their side in wine racks and refrigerators, without risk of leaking.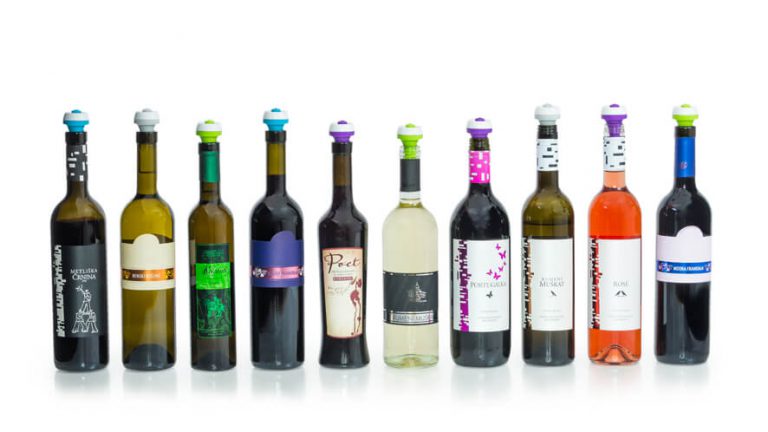 The simple use of vacuum wine stoppers
Out 13-piece set includes everything you need to extend your wine's shelf-life: 12 vacuum stoppers and a manual vacuum pump. Vacuum stoppers are very quick and easy to use and equally suitable for red, white, and rosé wines.
As soon as possible after opening and pouring the wine fit the stopper and extract the air using the included vacuum pump; 2 or 3 pulls should be enough, depending on how much wine is left. You can also use BVP130 electric pump, which vacuum seals the bottle at a single press of a button. You need to be somewhat careful when removing the electric pump after the vacuuming process stops – it is important to move it sideways so you don't pull the stopper out of the bottle.
Wine stoppers are suitable for use in the refrigerator and for washing in the dishwasher.
Vacuum stoppers are also suitable for storing fruit juices, however we advise against using them for vacuum storing carbonated drinks or sparkling wine.
Materials
The stoppers are made of durable and food safe materials with no adverse effect on health. The white part is made of ABS plastic and the grey part is silicone.
The vacuum pump housing is made of ABS plastic while the gasket is made of silicone.
Cleaning and maintenance
High quality materials enable simple and efficient cleaning – silicone does not adopt the stored liquid's colour or aroma. Wash vacuum stoppers by hand or in a dishwasher. Don't use aggressive cleaning agents or rough scrapers, which could damage the gaskets.
The vacuum pump doesn't need to be cleaned separately. If it gets dirty, wipe it with a damp cloth.
Gastro vacuum stoppers are developed and made in Slovenia, their quality is reflected in their 3-year warranty.